Here is a taste of the Arizona portion of my Salt road trip last April when I went to see the Grand Canyon.  I accidentally chose spring break so it was insanely busy.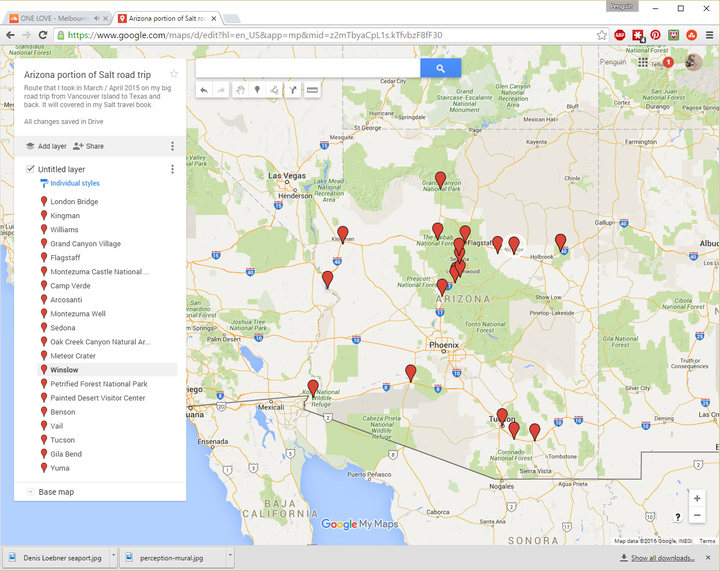 Here is the link to Google My Maps Arizona portion of Salt road trip
1. London Bridge, Lake Havasu City
I had just driven east into Arizona and some Roadrunner / Coyote style mountains appeared. I crossed the Colorado River and then saw a sign for London Bridge. This was too enticing. I had to follow the road off the highway as it wound around hills until it emerged at Lake Havasu City. An eccentric millionaire bought London Bridge, had it dismantled, brought it from England all the way to Arizona, and rebuilt it. The area around the bridge has many British touches but I can't complain since I live in Victoria, British Columbia. A kind gentleman happened along as I was trying to get a picture of Penguin with the bridge. He took a photo of both of us.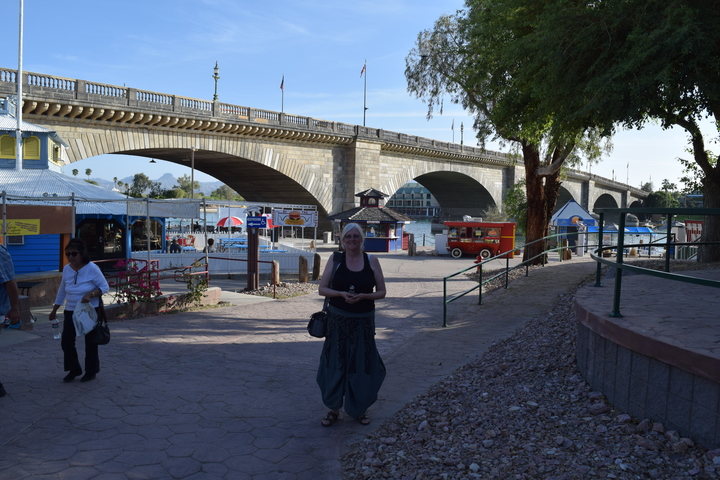 2. Grand Canyon
This was my main destination but by the time I got there, I was exhausted and the crowds overwhelmed me at the main store. Trying to sell me souvenirs when I hadn't even glimpsed the canyon yet. You take a shuttle bus along the South side from point to point. This woman was doing yoga poses against the magnificent backdrop.
3. Riordan Mansion, Flagstaff
I thought I should see something in Flagstaff instead of just the Walmart parking lot. This mansion is near the university. It is built in an American Arts and Crafts style. I have that style of furniture at home so was interested to see it. No photos are allowed inside but the tour is well worth it.
4. Montezuma Castle
I saw the sign for this and took the exit. I filled up with gas and saw there was a casino with a hotel called a castle. The clerk told me how to get to the real one and it was unlike anything I had ever seen before in my life. The name is misleading as it wasn't built by the Spanish and it had nothing to do with Montezuma. The native Indians a long time ago lived in these cliff dwellings.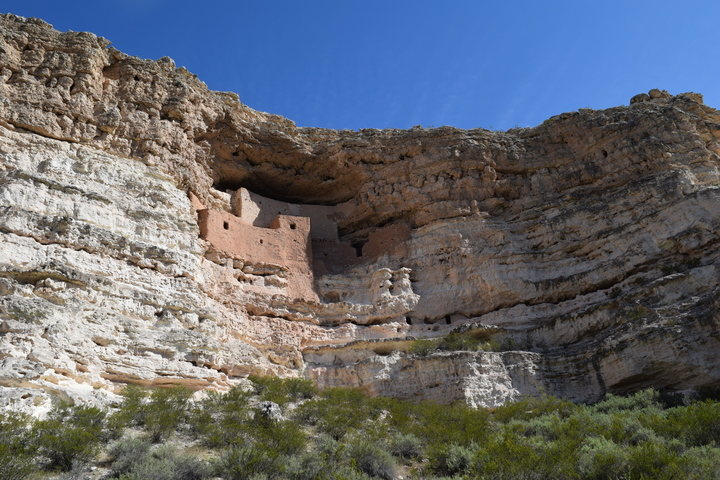 5. Montezuma Well
Not far from the cliff dwelling, is this sinkhole with a spring pushing water through in great amounts. There were some more cliff dwellings around it. The natives built an irrigation system below it to water their crops.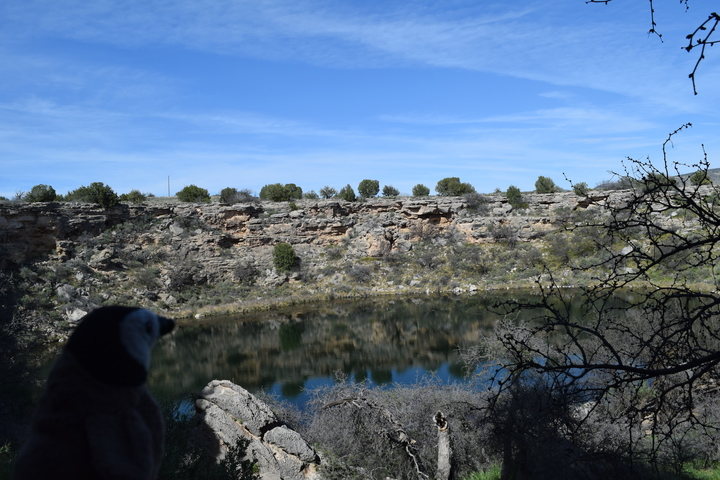 6. Arcosanti
My friend, Nick, suggested that burners would be interested in seeing Arcosanti. I wrote it down and had to phone my brother to find out exactly how to get to it. Arcosanti is an experimental town designed by architect, Paolo Soleri. He felt that people should live in marginal land not good agricultural land. There is a visitor trail that I took while I waited for the time for my tour. I also had lunch and everything was delicious and homemade. The tour showed where they build bells both clay ones and bronze ones. Arcosanti felt a bit like university residence, and I absolutely loved it there.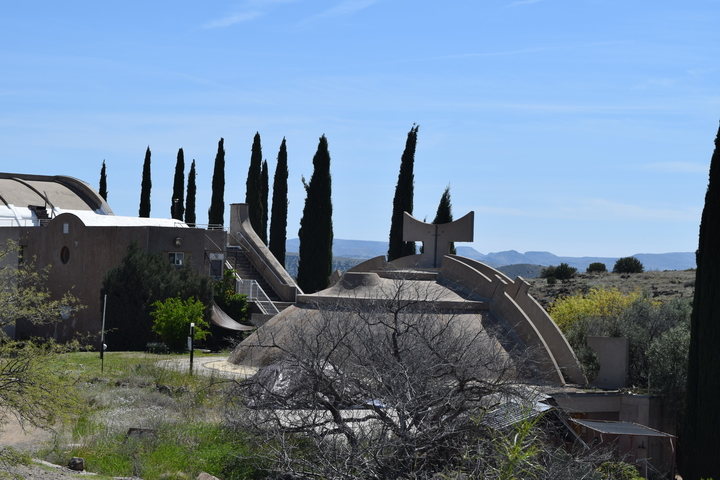 7. Sedona
A few years ago I saw a World Hoop Day video by a hooper who lives in Sedona. The greens against the red rock were spectacular. It's just as good in person.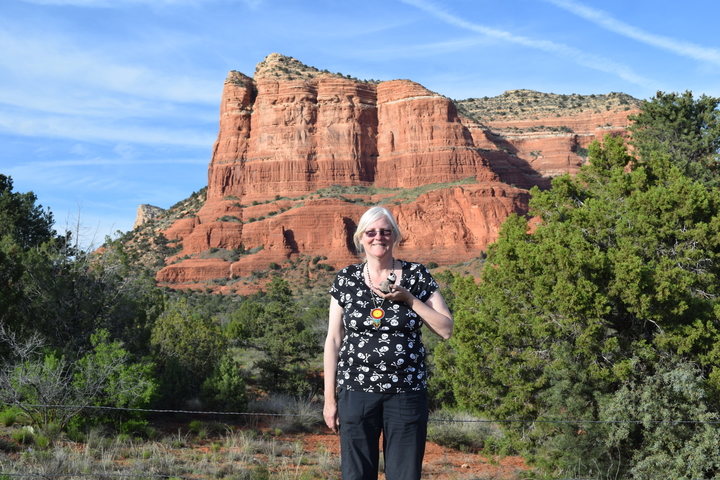 8. Meteor Crater, Winslow
I saw a billboard for Meteor Crater so I took the exit. This may have been the meteor that changed the climate on the dinosaurs.
9. Petrified Forest  (Painted Desert)
When I saw this on the map I had envisioned standing petrified trees. Fellow travellers in California informed me that they were logs lying down. Many had been carted away by train a long time ago. There are many colours in the wood and sometimes crystals.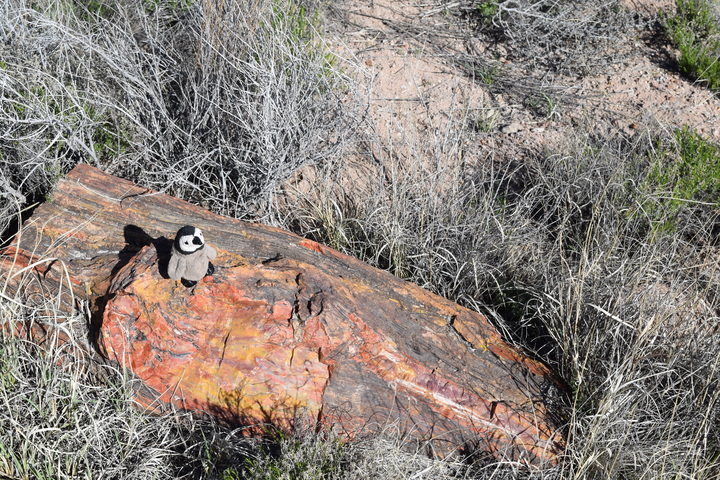 10. Old Tucson, Tucson
I was going between the two halves of the Saguaro National Park, when I saw a sign for Old Tucson. I had no idea what it was so I decided to stop. There was a very large parking lot. Against one end of the lot was a large wall with a ticket area. The tickets seemed expensive but I bought one and went in. I didn't know if it was an amusement park or what. It turned out to be the studio set where many of the old westerns were filmed. There are re-enactments of all kinds and well worth going to.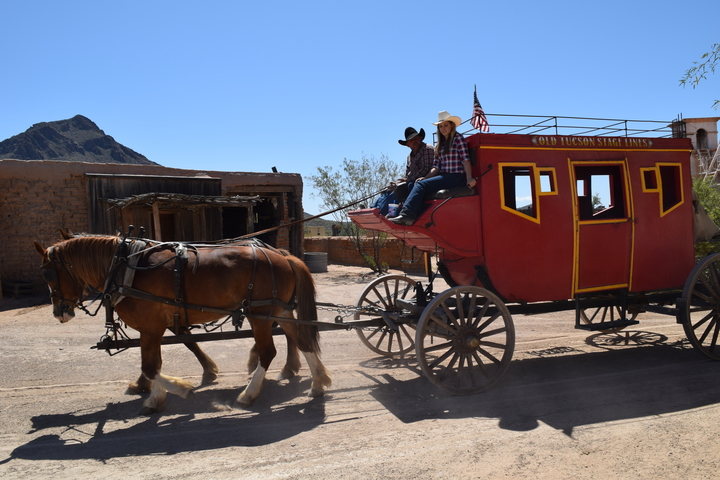 I had never been to Arizona before. I really enjoyed my visit. When I drove to Texas I went through the northern part of Arizona with a side trip south to Arcosanti. When I returned from Texas, I took the southern route. Have you been to Arizona?