This video on how to be a cool parent was filmed at the Communicators Toastmaster Club. This is the transcript of the speech. It takes about seven minutes to watch.
Toastmaster Speech – Storytelling Manual – Project 5 – Bringing History to Life
The speech was titled "A Quiet Night At Home – Not".
So after a long week at work, what do you do on a Friday night? TV? Anybody?
So I was settled in the old easy chair, the old lazy boy, feet up, relaxed for the night, watching tv when the phone rings. I was over at my Mum's, around the corner from my house. I answer it and it's my daughter. And my daughter says, "Stanley was supposed to pick me up and take me to this rave out in Sooke but he says now that he's too tired and he just wants to stay home. But I promised my friend, David who's running this first event all on his own. I promised him at the Sunset Room last week that I was going to come to his little festival in the woods but now I have no way of getting to Sooke and going to his event and I'm upset." And she was in tears.
Madame Toastmaster, Fellow Communicators, and Honoured Guests – This is the story of how to be a cool parent.
Having lost my husband a long time ago, and just raising my kids alone, I've probably spent a lot more intensive time with my children – because they're my best friends.
So of course, I had to get up, throw on a little coat, and go pick up my daughter. Drove her to Sooke. On the way she tells me "Someone's going to pick me up in Sooke. It'll be fine. Take me to Sooke. Drop me off and then you can go home to tv."
So we're driving along. We get to Sooke and she tells me "oh, I can't contact my friend.
There doesn't seem to be any cell phone (service) at this little event in the woods."
So, okay.
She said "So we're supposed to go, find this parking lot along Sooke Road. Then we'll be fine because there's someone there to tell you where this event is."
We go along and we see a parking lot. We drive into the parking lot. We look around. There's nobody there. It's empty. So then we get back in the car and we drive. So we know that it's between Sooke and Jordan River. I'd only been to Jordan River maybe twice in my life.
We continue along and we get to Jordan River, and we don't know what to do.
But then my daughter said "Look at those cars." There were like seven cars, and they were going like this. We turned around at Jordan River because we knew it was between there and Sooke.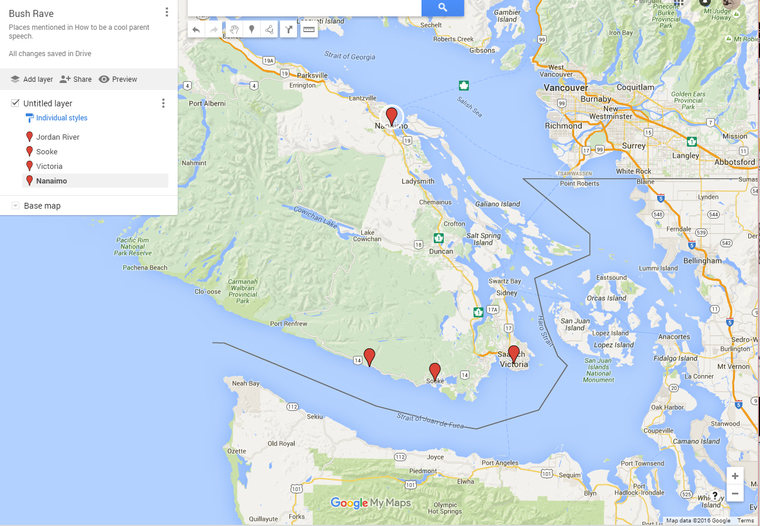 Note: The map above is for readers who are unfamiliar with the geography of southern Vancouver Island. Victoria where I live is at the southeastern tip. Sooke is southwest and Jordan River is farther along the wild west coast. It takes over an hour to drive from Victoria to Jordan River.
We kept going back and forth. We kept seeing this little convoy of seven cars going back and forth.
My daughter said "I'll bet their looking for the same event."
So then we found out that it was supposed to be on a gravel road. She managed to get that much information out of the phone.
So we drive along, and see a gravel road. Logging road. So we go up it a ways. And there by the side of the road are two young girls in rave clothes. Tutu, tights, fishnets. Totally inappropriate for a night out by themselves. So picked them up.
They said "Oh, we're going to that same rave."
I said "Get in!"
My daughter said "What? What? You never pick up hitchhikers! What are you doing?"
I said "You can't leave kids on the side of the road in rave clothes. You can't."
So they said "Our buddies say it's up this gravel road."
So we went up this gravel road, the logging road. We twist around, and there is a gigantic bonfire. It was like this tall. It was as wide as this room. Because it's a logging place so there was lots of junk. And there were all these redneck guys with their big big beards, and their bottles of beer, and they're blasting rock and roll music, and they got their women.
So my daughter, in her little rave outfit little tutu, fishnets, she goes over to these rednecks and says "Hey, do you know where the bush rave is?"
And they say "You're like the twelfth person to come up here, and ask that. It's at this other gravel road off Sooke Road, and you go up like this."
So we go back to Sooke Road, and we find this place. It goes like this. It's like a really nasty road with a cliff on the edge. I think "I don't know that I want to be the one going up that to see if that's the right road."
Then the convoy came the other way. So they came. They all turned around. Then the first brave soul went up and then I followed up this and that was it.
So we got parallel parked in the woods. It was the best job of parking that I've ever done in my life because I had these two guys telling me "Up a little, back a little. We got to get everyone in."
So we got parked, and we went up, and the two girls found the two boys that had travelled. And the two girls, I said to them "How old are you?"
"Oh, I'm almost sixteen."
"Do your parents know where you are?"
"Ya, we said we were going to a party."
"And you live where?"
"Oh, Nanaimo." (Note: a two hour drive from Nanaimo to Jordan River – never mind how long hitchhiking takes.)
So we got to the rave. I ended up staying because it was so far out of town.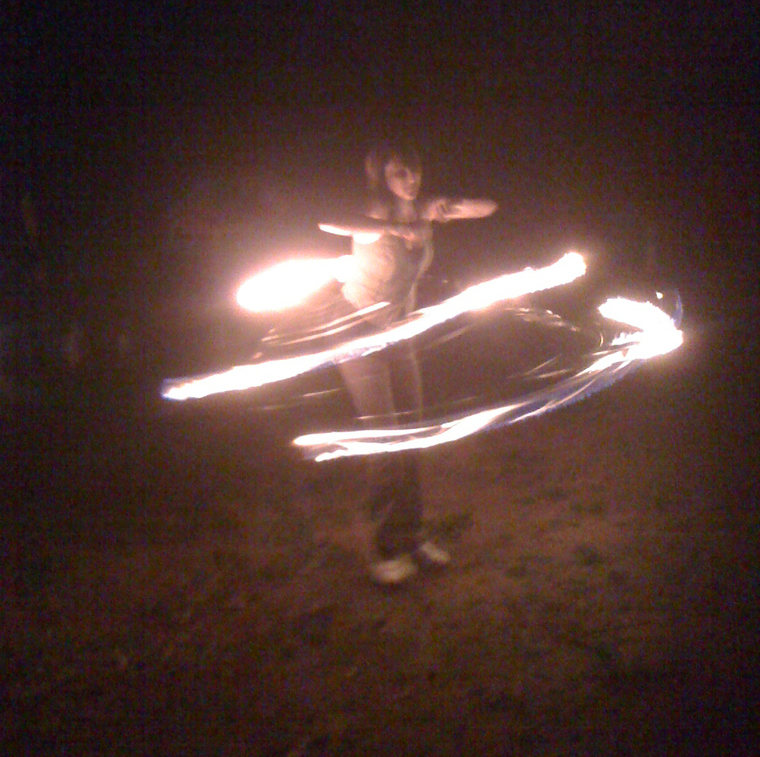 In the morning I packed her up, and I took her home and that's how you become a cool parent.