Have you been looking for a family friendly holiday for Labour Day weekend on the west coast? Look no farther. Faerieworlds held just outside Portland, Oregon could be the vacation you're looking for.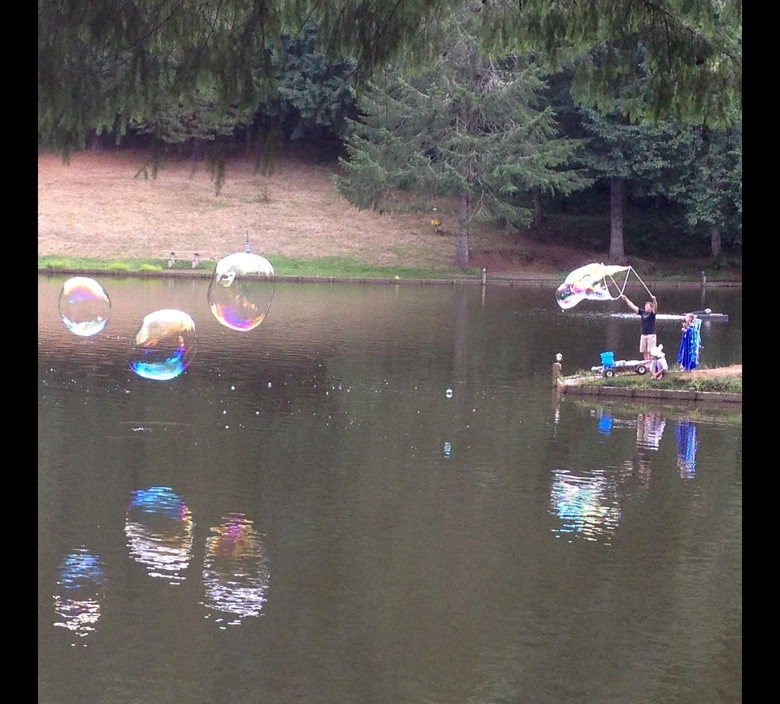 Seeking out new experiences is a driving force in my travel itineraries. I think I learned about Faerieworlds from a friend in Oregon. I had met her online via John Halcyon Styn's weekly Hugnation broadcasts. She had made a set of handmade Tardis (from Doctor Who) practice poi that I arranged to buy from her. We stopped to meet her on the way to Burning Man. From her I learned about pirate parties where she goes as a mermaid, and about the bands Steam Powered Giraffe, and Abney Park.
In 2015 I went to Florida in May. That was to be my Burning Man substitute. I still wanted something to do the week of Labour Day, so I decided to drive down to Portland and check out Faerieworlds.
Travel – Getting There
As usual we came down from Vancouver Island. Here's the map of our route. There's also a ferry from downtown Victoria to Port Angeles, WA but it is better booked in advance as it is much smaller and less regular than the Tsawwassen ferries.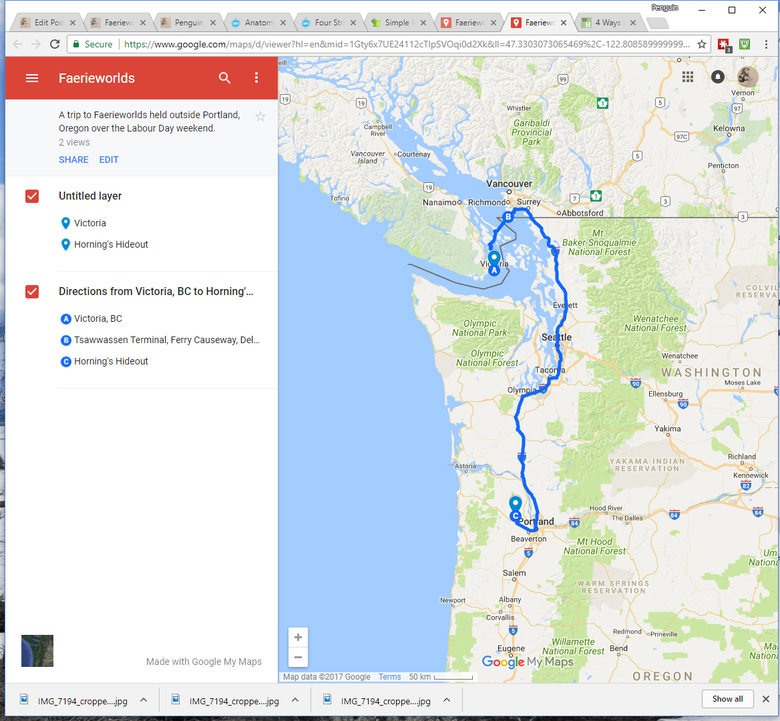 The ferry crossing reminds us every time what a beautiful part of the world we live in.
Once on the ferry we could relax. It had been a rushed week getting Hannah a passport.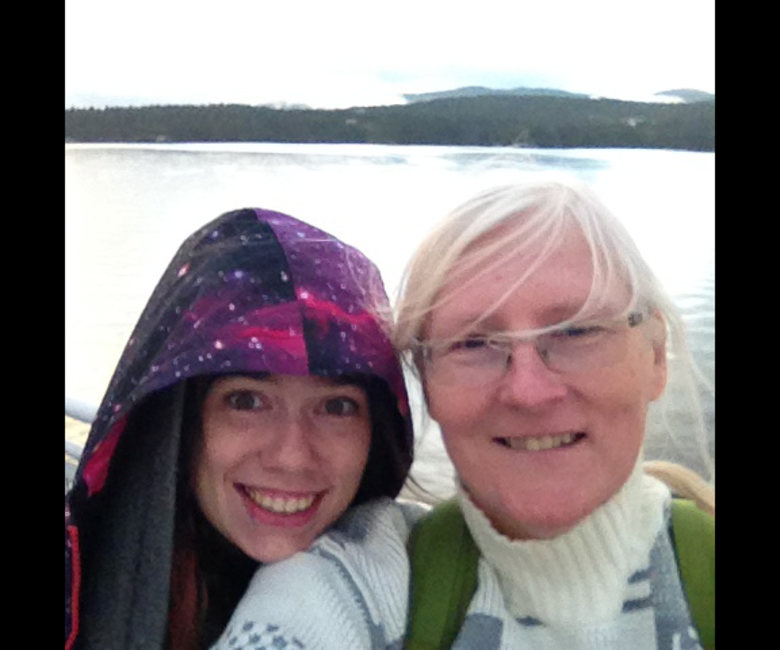 Camping
The site is at the bottom of a canyon. RV camping was on the top of a small hill. The event did warn people to bring levelling blocks for trailers and RVs. I didn't and it became a question of what orientation was preferred for sleeping: blood rushing into your head with your feet raised or head up with feet below? The small bed was easy as it was perpendicular. I chose head up. Two years later and I still haven't bought any levellers yet.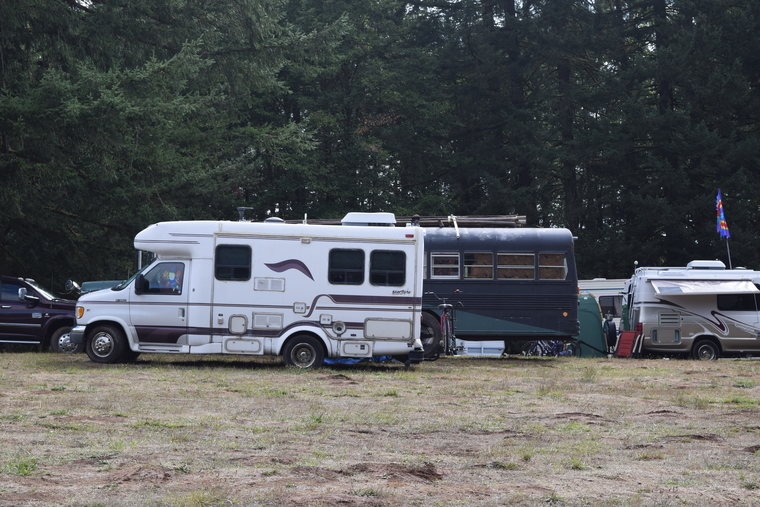 We were parked on quite a slant which is supposed to be very bad for propane fridge operation.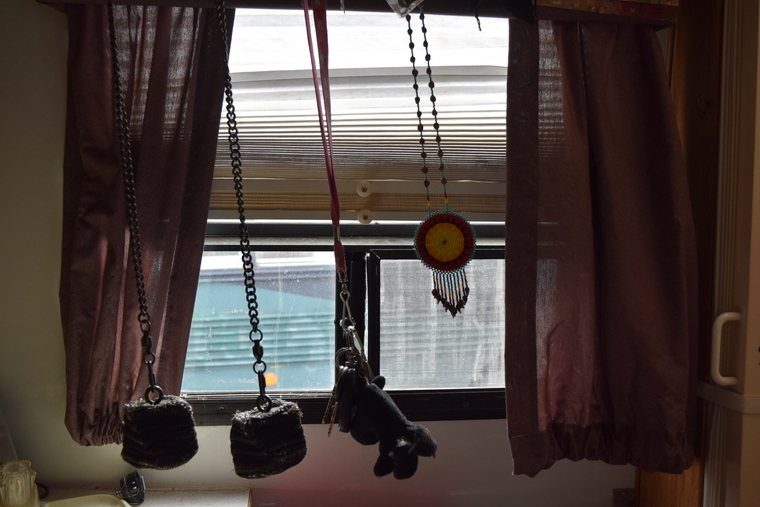 They used to hold Faerieworlds in Eugene, Oregon at the end of July. This was the first year at the new location and it was cold and raining all Labour Day weekend. Subsequently there were no mermaids lounging in the water of the lagoon.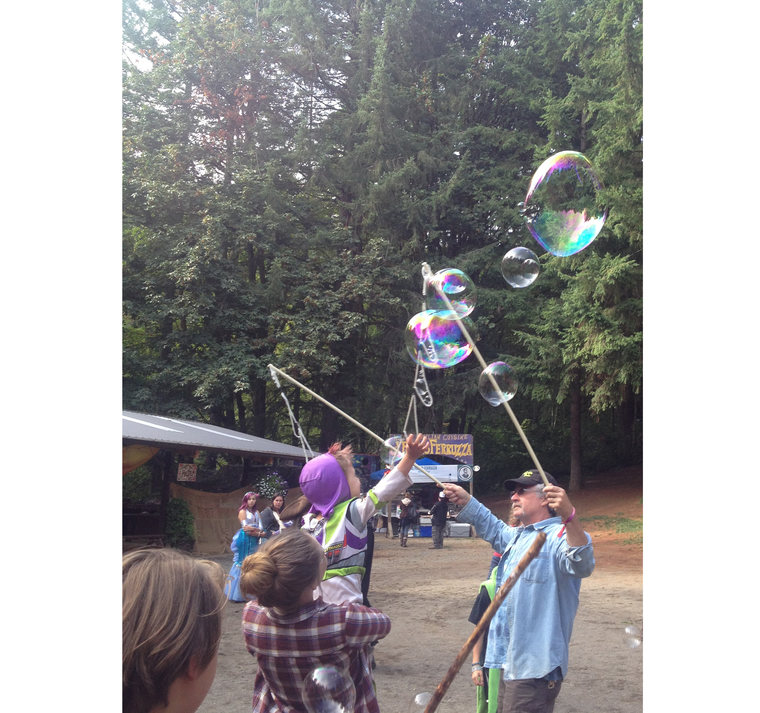 This festival is family oriented with plenty of children. There was a ceremony at the beginning of the festival when everyone held hands and followed each other. I overheard an adult woman telling a young girl that these people would become "family".
Nature
On the hill leading down from the RV parking area, we saw a few families of peacocks.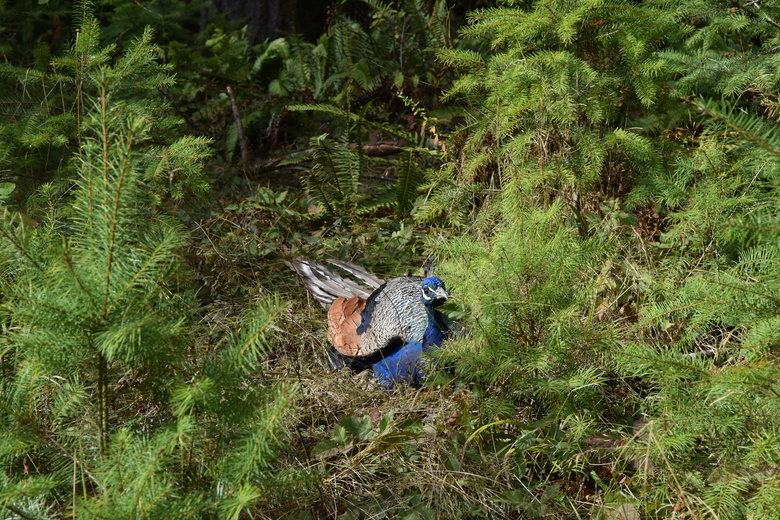 Art
This festival had art pieces scattered around the venue.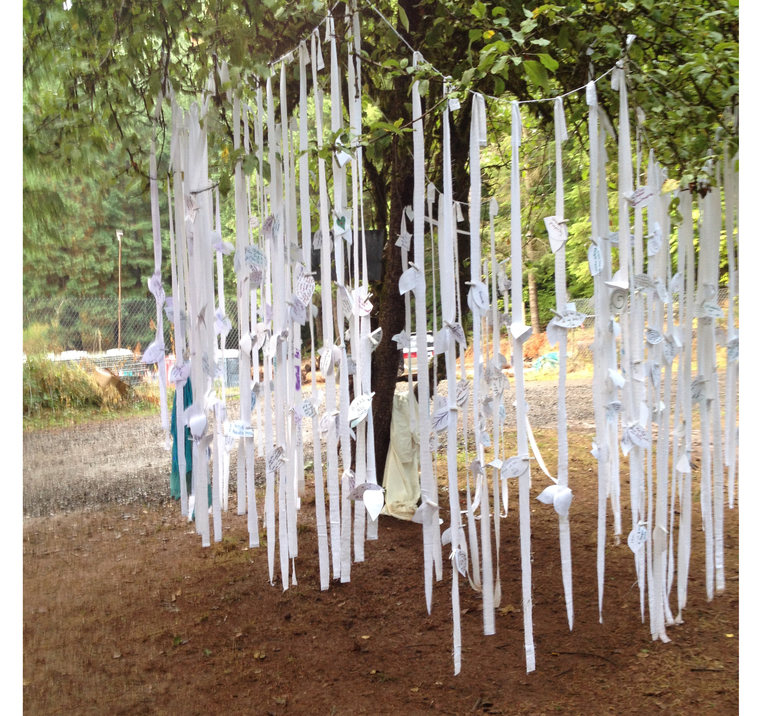 Even the yurt where you could drink tea had a beautiful ceiling.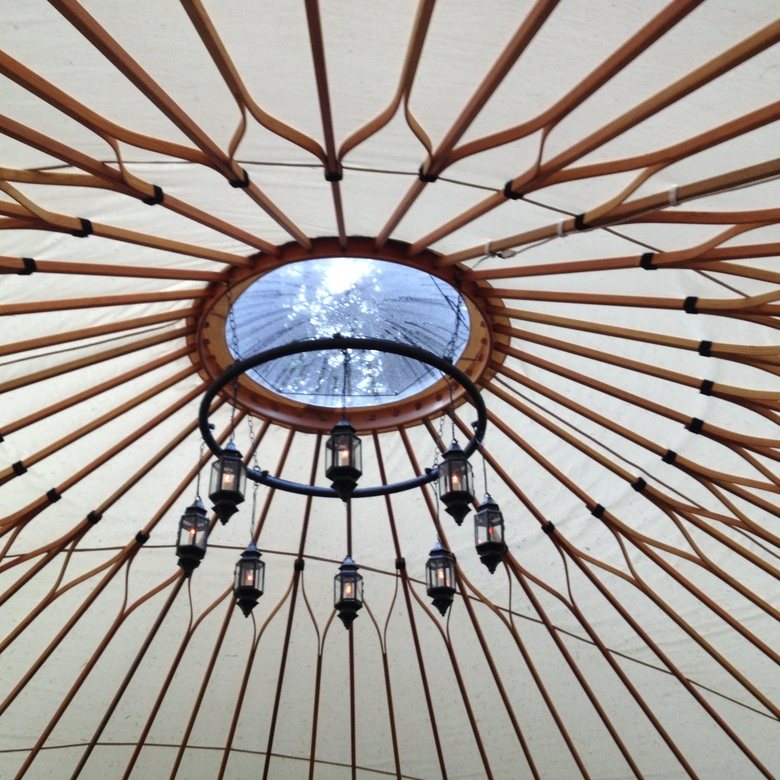 There were many craft and food booths. I bought a handmade cape. Ironically handmade in Canada.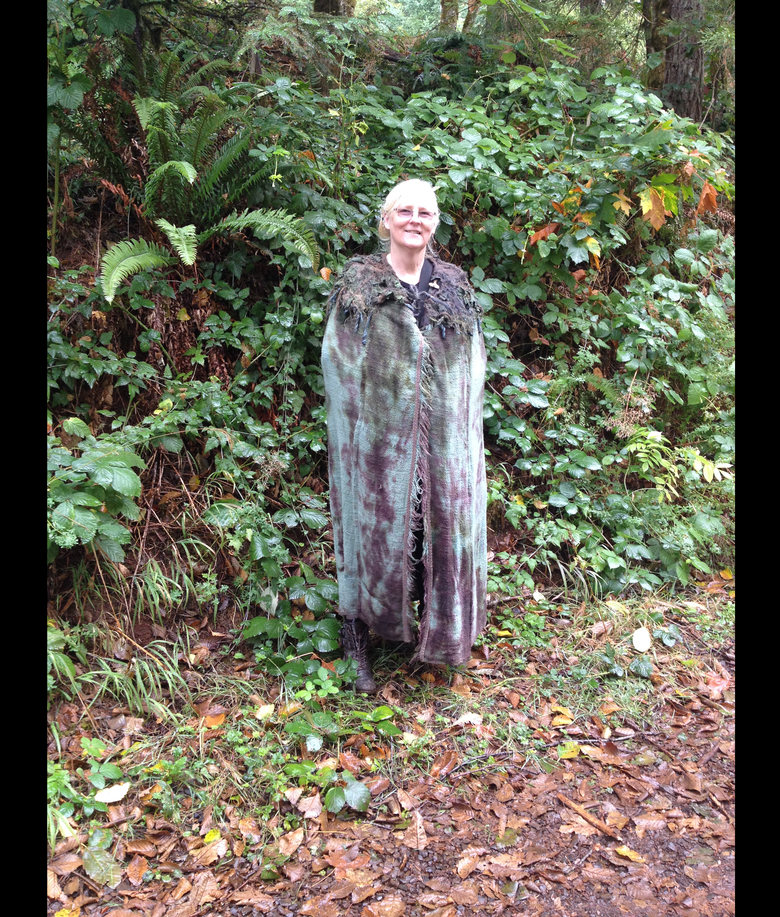 It had a very complicated opening. I had to email the person who made it and ask how to do it up.
Hannah bought a handmade wand and a mask.
I bought a wood engraving of rabbits. I have bunnies and like collecting pictures of them. The owner of that booth had been in Canada studying under native elders.
Music
I was looking forward to the European bands that were going to play as well as Vancouver's Delhi to Dublin. I wanted to attend a workshop on Nordic runes but it was full.
Omnia didn't play the year we went but they are for 2018. My favourite video of theirs is Earth Warrior.
Travel – Homeward Bound
On the way home we stopped at the Smokey Point Rest Area in Washington between Seattle and Bellingham.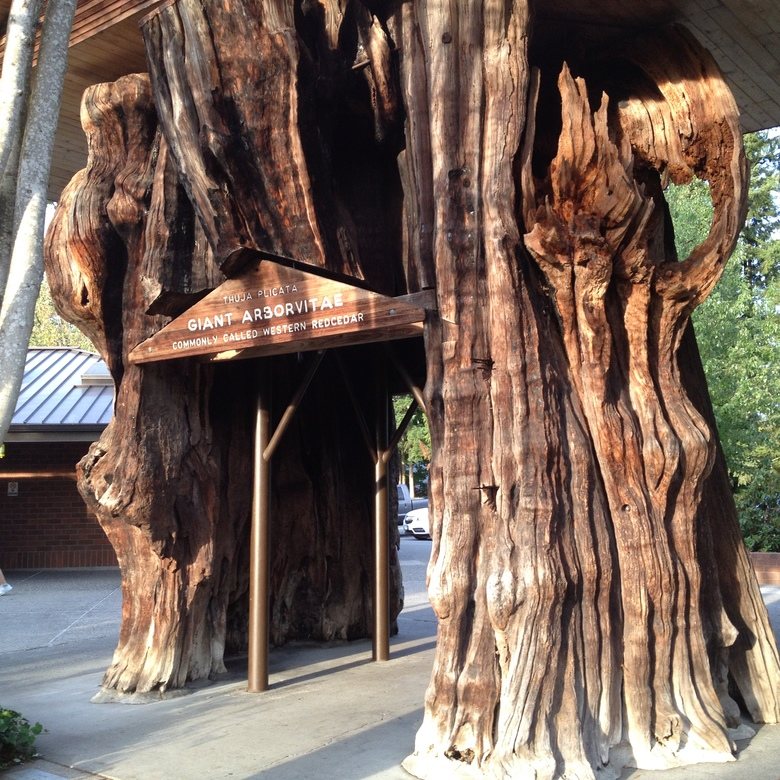 Summary
For more details check out the official event's web site FaerieWorlds.
I personally didn't make any connections while at the event. I wasn't feeling well and the weather was cold and rainy. Where the RV camping was entailed a great deal of walking up and down hills. Better weather and a healthy body would have made it a more enjoyable experience. Hopefully better next time.