As part of my new career as a travel writer, going to visit relatives in Scotland was a high priority. I booked a return flight to Glasgow. As a bit of an adventure I also decided to attend The Borderland. It's the Scandinavian Burning Man regional event. In July 2014 it was held in a rock quarry on the island of Gotland. So for two weeks in the middle of my British trip I had a visit to Sweden. Gotland is southeast of the mainland and is a favourite beach destination for Swedes. At the northern tip is Fårö, the island that filmaker Ingmar Bergman loved.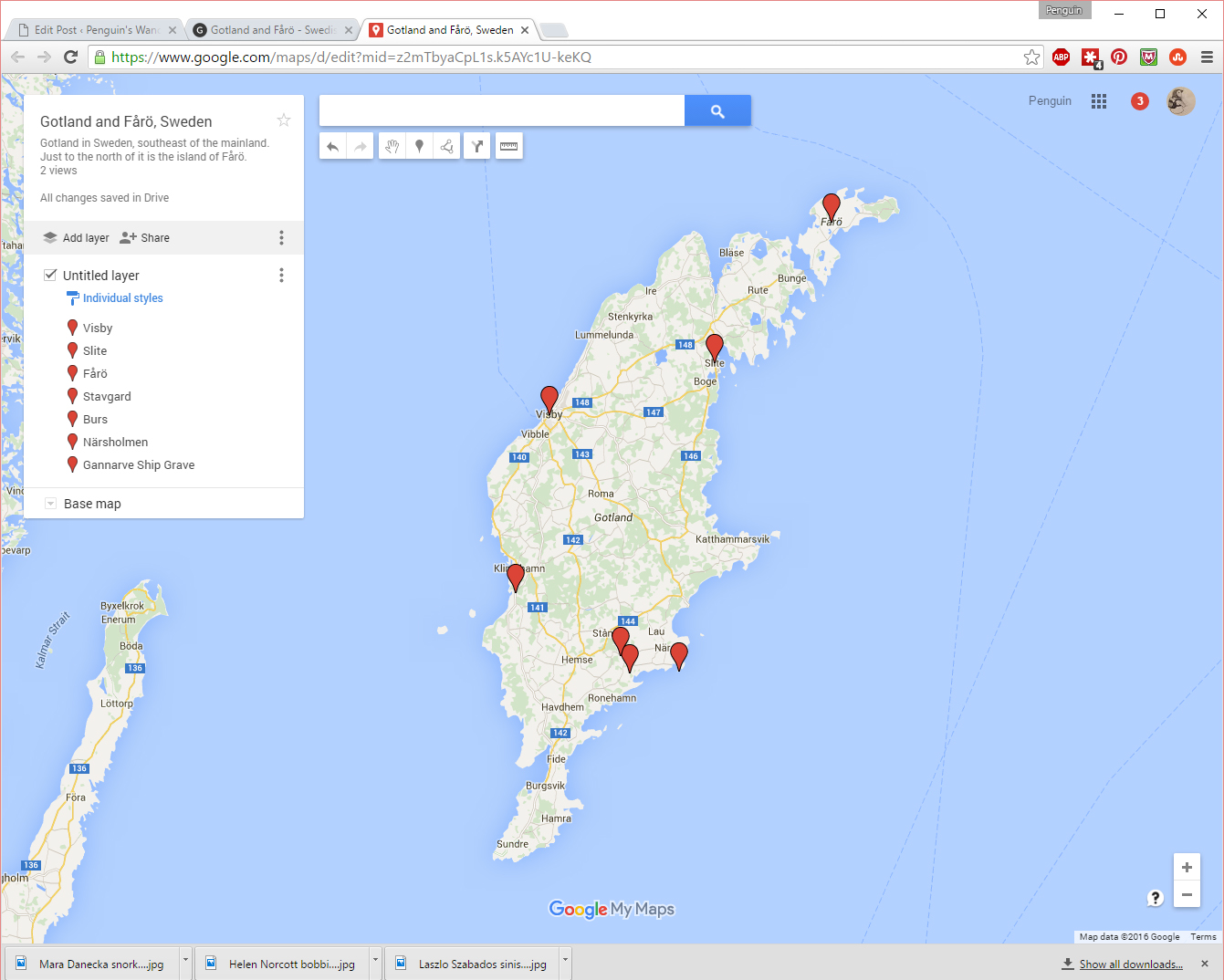 Here's the link to Google My Maps Gotland and Fårö Map
When I arrived in Oslo, Norway I was asked "What will you be doing in Norway?"
I said "Nothing. I'm going to a festival in Sweden."
The border agent told me to have a good time. I hadn't realized that was it for border crossings. When I got to Visby, Sweden on Gotland there was no one asking me questions. The European Union has simplified that for everyone. On my European trip though I didn't have any use for Euros. The Scottish had Scottish pounds, the English had English pounds, the Norwegians had Norwegian kroner, and the Swedish had Swedish Kronor.
I rented a car through a company that Norwegian Air listed. When I arrived at the airport in Visby it turned out to be a man waiting outside with the car. It turned out to be standard transmission which seems to be the norm in Europe. I learned to drive on a manual Ford Cortina that my dad bought the year we lived in Oxford, England when I was a teenager. So I was fine with the gears. The parking brake had a very odd interface that I never worked out. The car's manual was only in Swedish.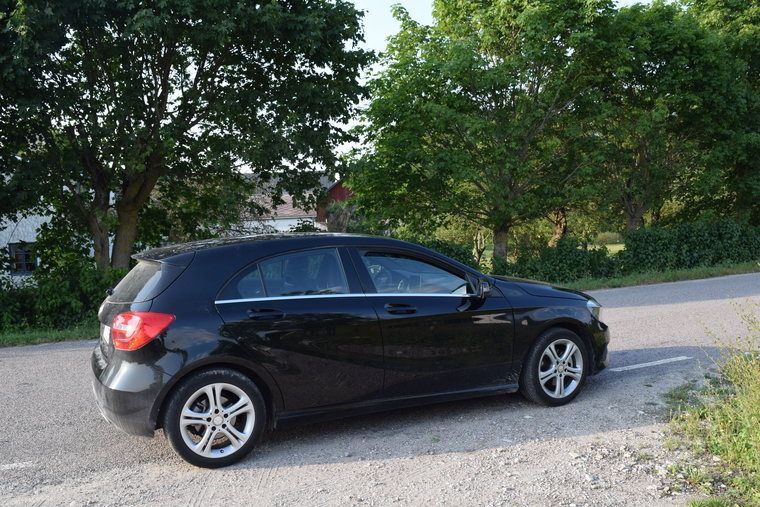 I met a couple who had been on my flight from Oslo, Norway. They were also headed to the Borderland. We waited for a couple more friends coming from Gothenberg. There were three more friends instead of two. When we got out to the car it was obvious that with our luggage that we weren't all going to fit. Four of us headed off and two more stayed behind. They had phoned their camp mates who were out buying groceries but who would then pick them up. It was a Sunday and although camp was reachable by public transit it was reduced service. The event wouldn't start officially until Monday but Danish friends coming had said it was alright to arrive the day before and set up camp.
There were so many great theme camps and activities that I was busy all week. One Danish camp built Le Moulin Bleu and had a cabaret inside with blue drinks.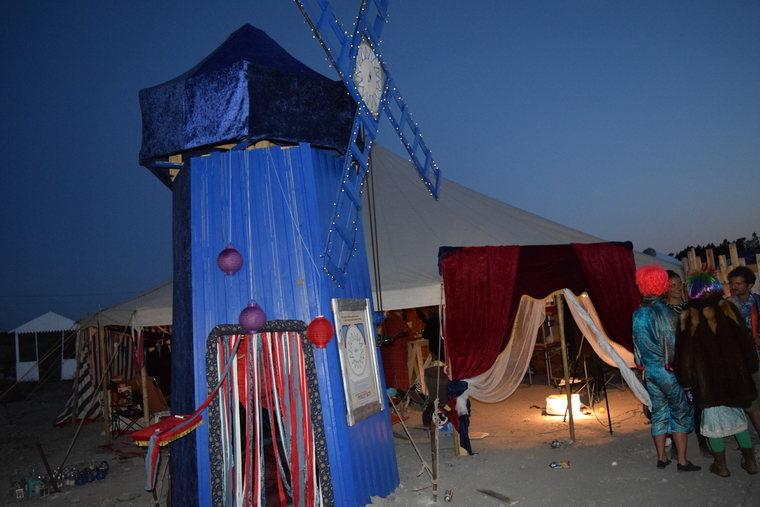 I was surprised that English was the main language of the event. There were attendees from fifteen different countries even though it was about the same size as our regional, about three hundred people.
I had my biggest relationship with the unilingual Swedish coffee maker. It taught me when it needed water, cleaned, or coffee.
There was one art car that was part of the Viking  Save the Ice environmental campaign. Here it's transporting performers to Le Moulin Bleu for the evening show.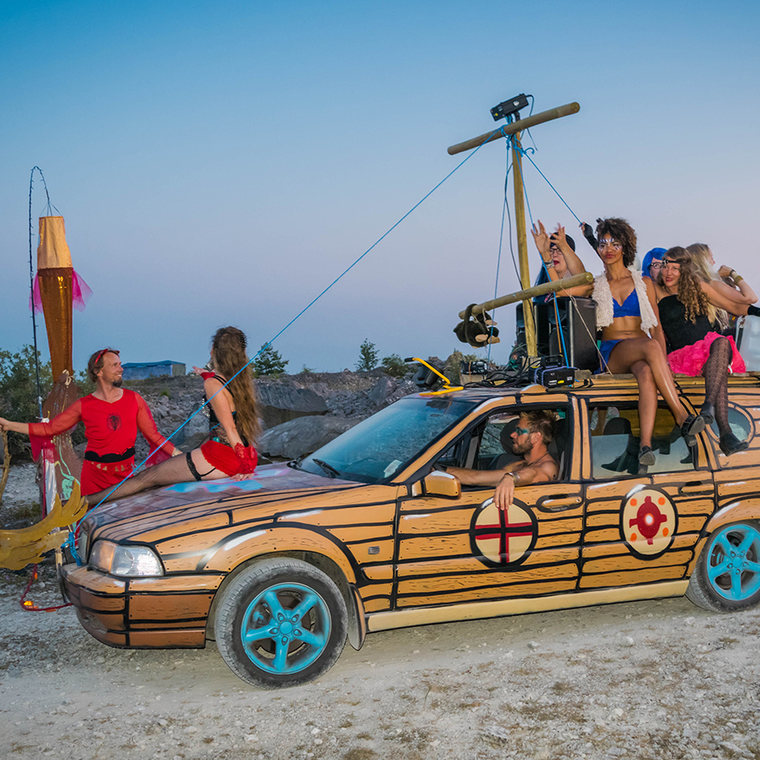 When I drove to the nearby town of Slite for groceries, the car's emergency flashers came on just as I turned onto the highway. I had no idea how to turn them off. The highway was empty going through forest. A bicyclist was traveling towards me on the other side. I called to the man and he came over and helped me. He assumed I was an American which is always an irritation when you're Canadian.
The weather was excellent all week at The Borderland; hot and dry. We went swimming in the Baltic Sea, two or three times a day.
Many people left on Sunday. Since I had one of the few cars, I drove my Danish friends Peter and Mette, and my Swiss friend, Christophe into Visby. We walked into the walled city and enjoyed coffee and Kanelbulle (cinnamon buns) on an outside patio.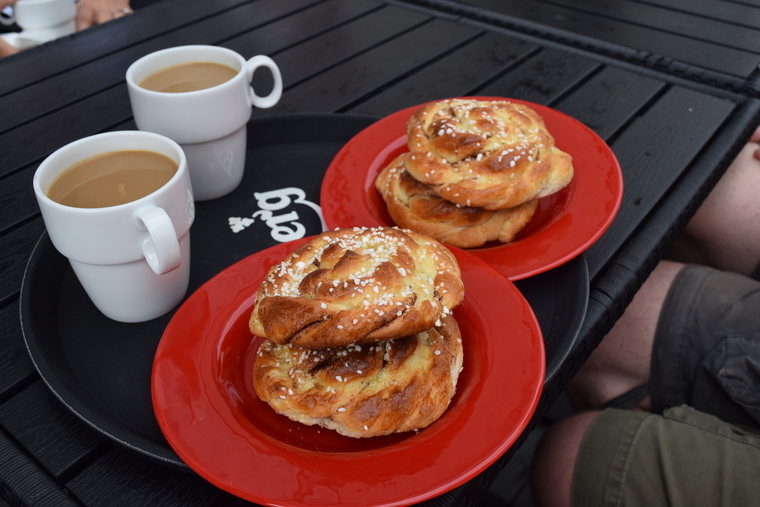 Afterwards it was time to say goodbye before dropping them off respectively to the airport or ferry. Christophe had camped next to me in the forest above the quarry.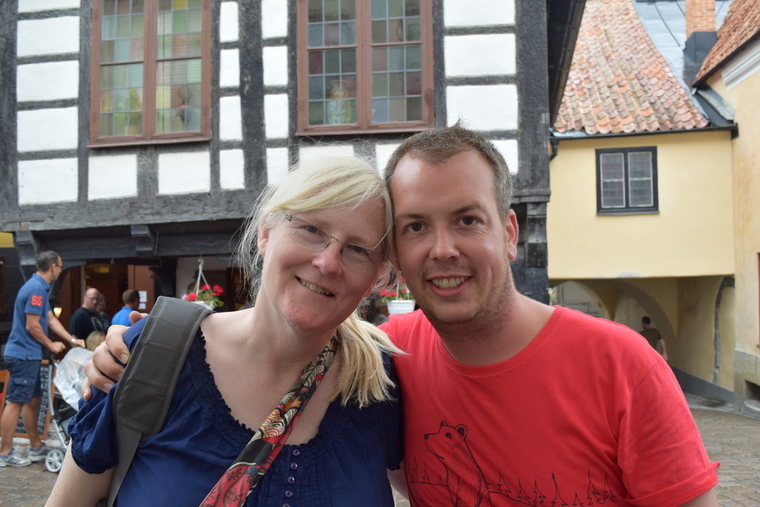 When I came back to camp, I went for a walk along the shore to a row of fishing huts.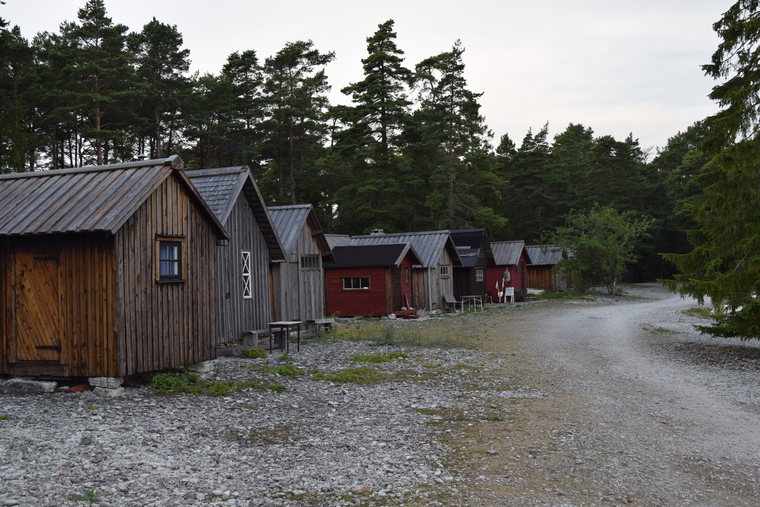 I wasn't leaving until Monday morning. Early in the morning the sky darkened. When I looked across the quarry, I could see the darkness of a big storm coming. I didn't know whether to take down my tent before or after. I packed everything up and trekked it to the car. There was a huge thunderstorm. I met my friends near the event's entrance just as the storm abated. We had loosely thrown around the idea with friends to maybe go to the nearby swimming quarry. It was dark, cool, and damp so we decided to head straight north to the small island of Fårö. The five of us squeezed into my car with all our stuff. It was a good thing that it was a very short drive to the ferry. Soon we arrived on Fårö and made our way to the Bergman Centre for a look and lunch.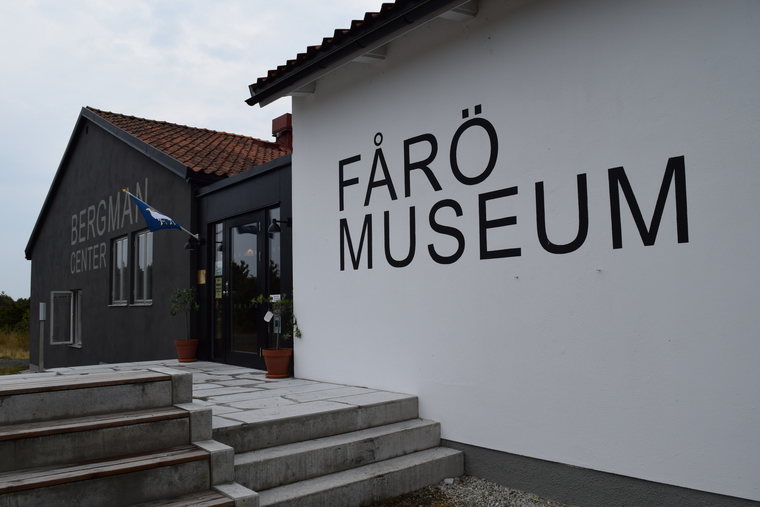 We went to Crêperie Tati for dinner and ran into some other Borderlings (our Finnish friends from The Borderland). They were just heading back to their car having already eaten. After a short reunion we parted and headed to the restaurant. The building had been a gas station and there were many rusty bikes and cars. It was a warm day so we ate outside in the back. I had my first meal with meat since before The Borderland. The Rabbit Hole camp had been vegetarian.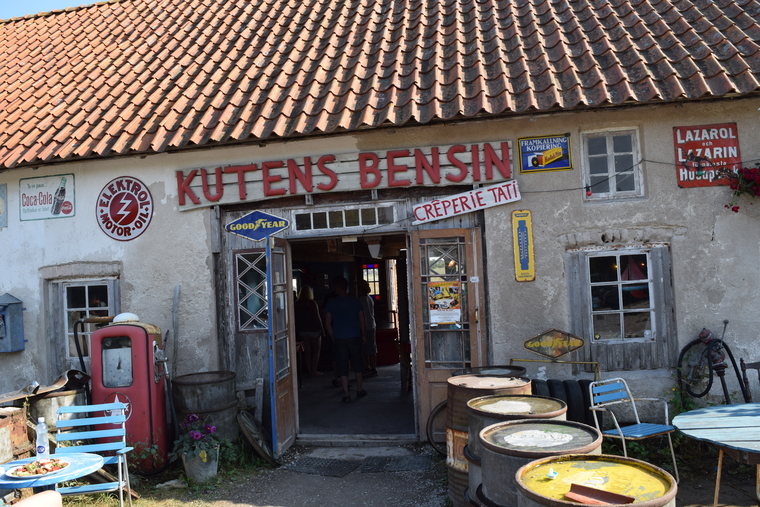 We continued to a beach, found a place for our tents, and set up camp for the night. Fårö is known for its "light".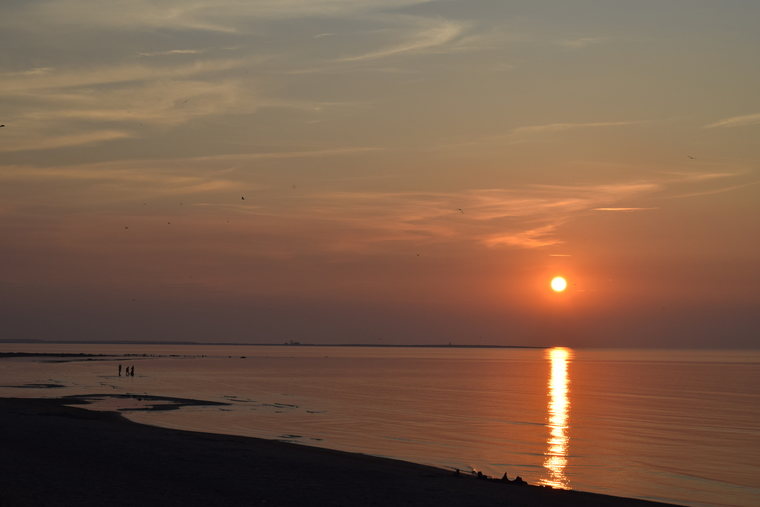 Before we left we went to see the sea stacks, large rock formations.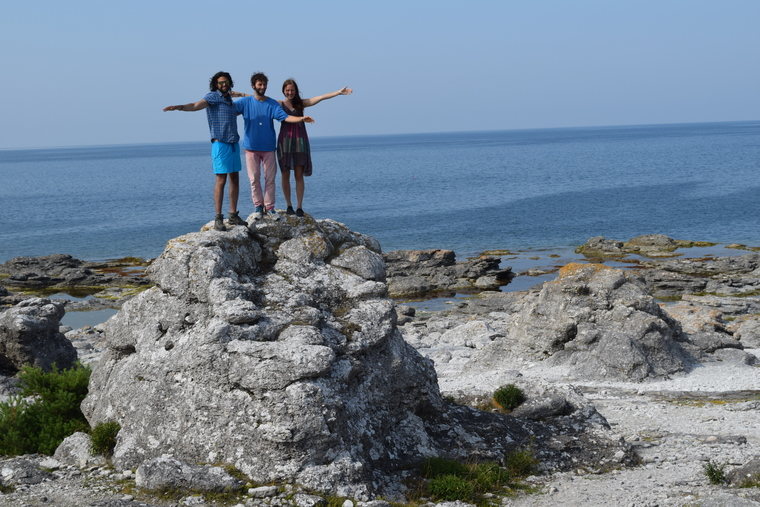 Then we took the ferry back to Gotland and drove south to our friend Daniel's family home in Burs near Hemse. In Burs there is a wooden statue of the tallest man in Sweden. Karl Edman was known as the Giant. When I saw the statue I wondered why his one arm was outstretched. I learned from the Internet that it was so people could stand under it to show how big he was. At 5′ 9″ I always have to look up to my big brother was 6′ 6 1/2″ tall. Karl Edman was 8′ tall and the eleventh tallest in the world according to the Guinness Book of Records.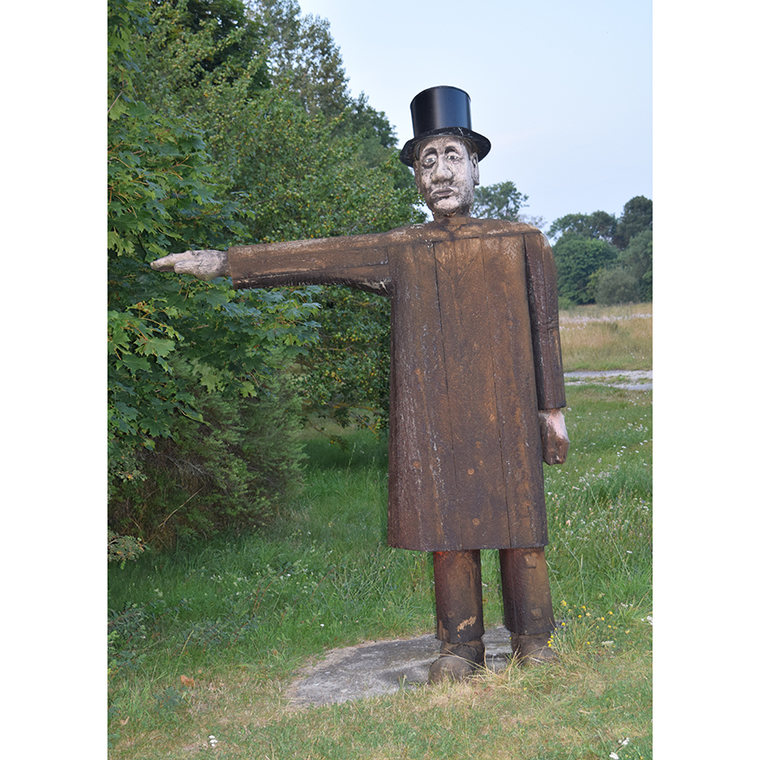 Here's the Burs church back lit by the sunset.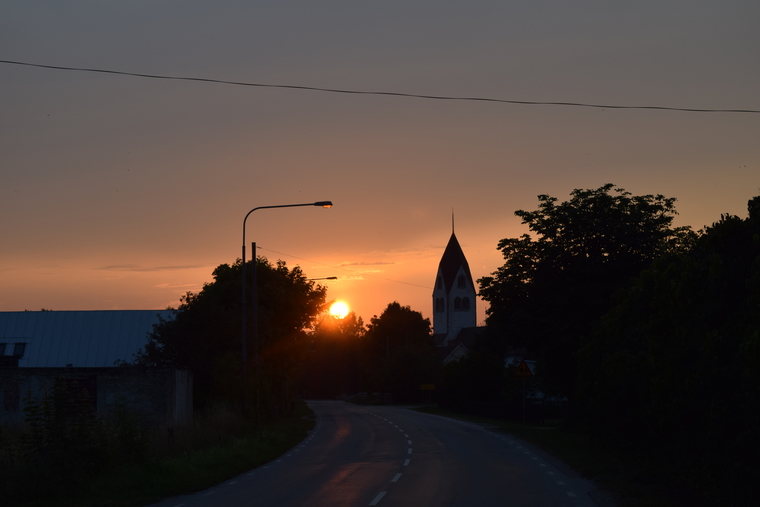 We went swimming in the ocean at Närsholmen.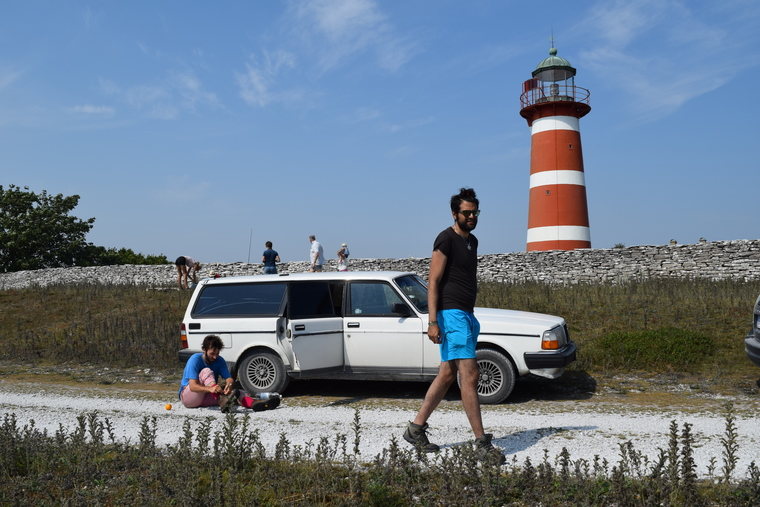 Daniel took us to Stavgard; a Viking village. As you might have guessed, the sign below says "welcome to Stavgard".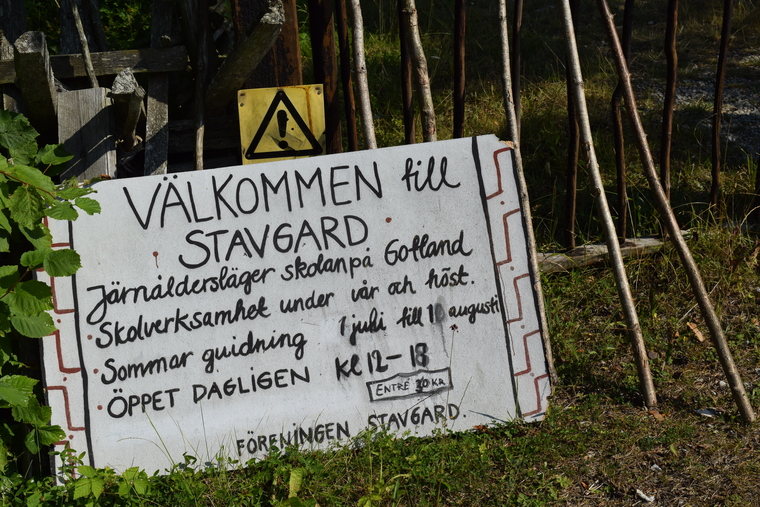 The shopkeeper was nice enough to pose for a picture. I bought a t-shirt because I like collecting them from places I visit. When I wear them I can reminisce about where I was.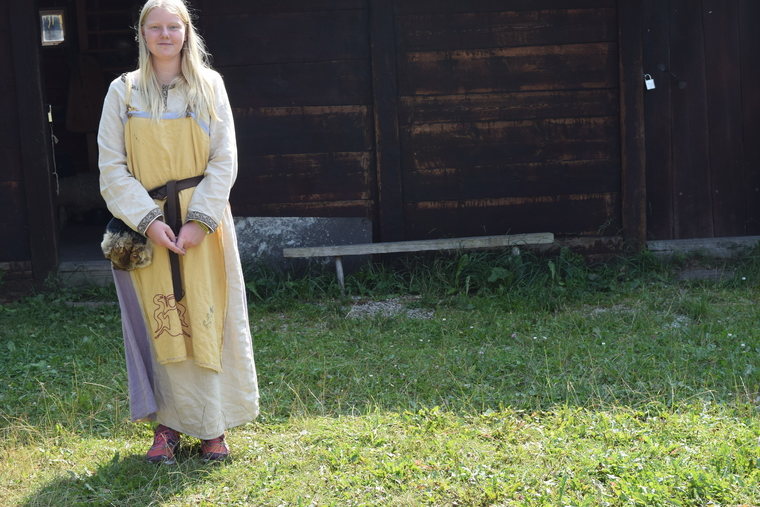 Earthships in Taos, New Mexico have off-grid houses where they build into the ground and use tires filled with dirt as insulation. This dwelling also seems to be built into the ground.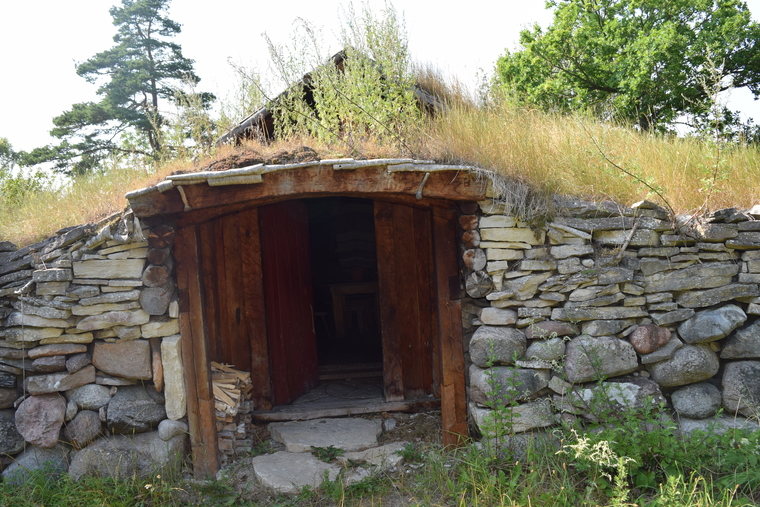 There was a model of a Viking ship inside. Only the people who travelled were Vikings.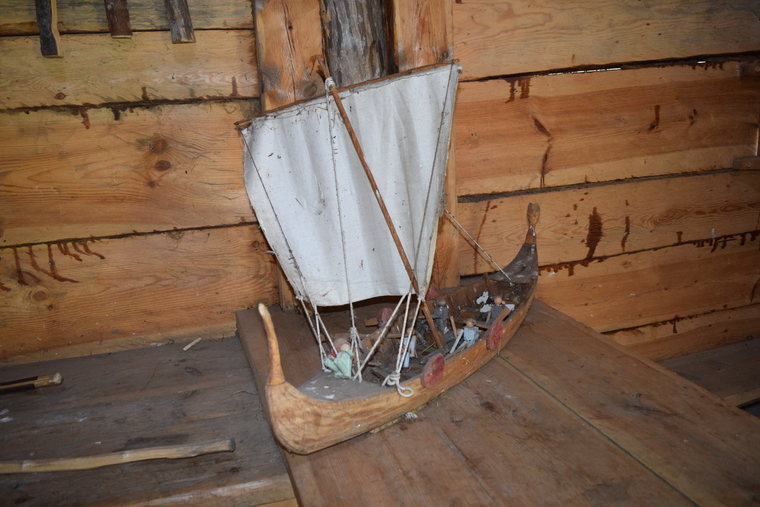 This building has kind of a thatched roof.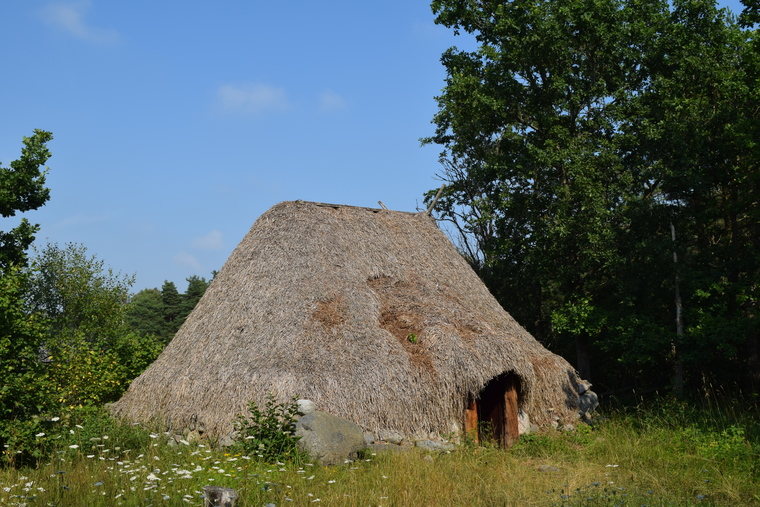 We returned to Burs for the evening. In the morning Daniel was heading back home to the mainland and I'd have only a couple of days before flying back to London. So the next day I said goodbye to my friends and set off to explore on my own.
When I had visited an old bluegrass friend in Idaho, she introduced me to a friend who had visited family in Sweden. He even had a photo of a ship grave on Gotland on the inside of his fiddle CD. I went to Klintehann to visit the Gannarve Ship Grave.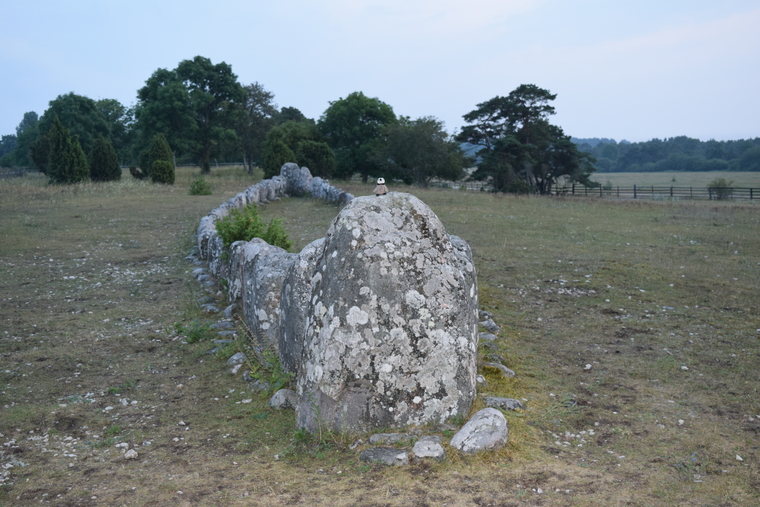 I was happy to see a flock of black sheep.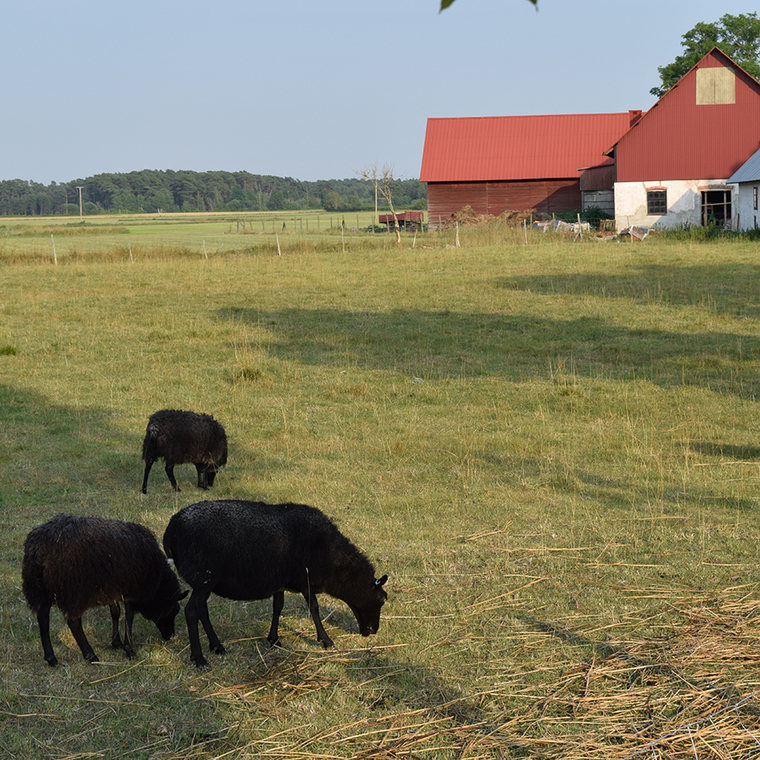 I loved Sweden and can't wait to return and see my friends and the mainland. The Borderland moved to a quarry in Denmark but it would be nice to see Denmark too. Have you been to any of the Nordic countries?