After I bought my brother's 22′ RV in Louisiana for going to Burning Man, I had to get it home to Vancouver Island. The way home took me through Idaho. I was going to pass right by where my long term friend, Cherie, lived.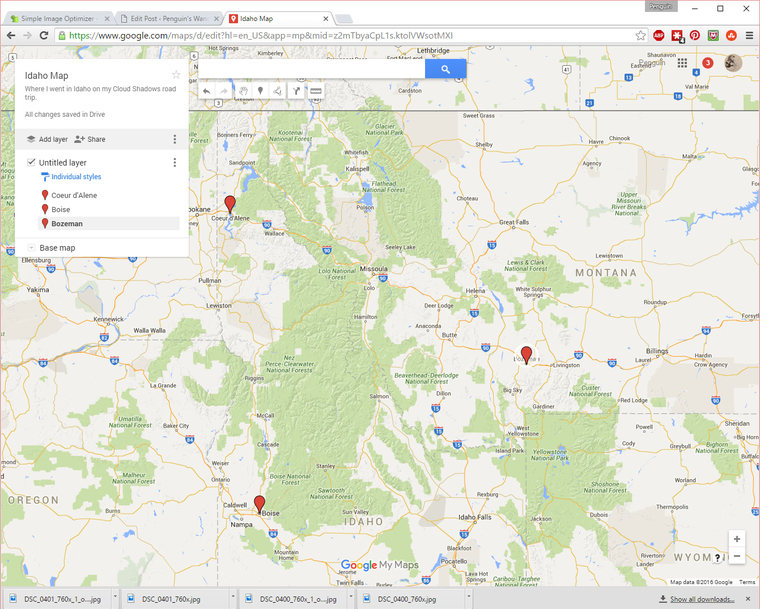 The Google My Maps is Idaho Map
My grandfather was from Boise, Idaho. He moved there with his widowed mother as a baby in a covered wagon from Iowa. I had heard about canyons in Idaho but Highway 90 was no problem at all.
We had intended to arrive the night before but the distances were too great to continue before bedtime. I hadn't seen Cherie for a few years. We first met around 2000 at the Chilliwack Bluegrass Festival outside of Vancouver, BC. I was still new to the fiddle and struggling to play by ear and chunk chords. Cherie had driven from Bonners Ferry, Idaho. I'm pretty sure she had her bass with her. Fiddles are so much easier to carry.
A couple years later she let me know that her friends that she knew from Weiser, Idaho (National Oldtime Fiddler's Contest) were starting the Centralia Oldtime Music Campout in Washington. I went for the first nine years. The music festivals were safe places for my kids to grow up during the summer. This was especially true for Centralia which was small town America.
After knowing Cherie for so many years it was nice to be seeing her again.
We stopped for a visit and lunch at the fiddle shop in Coeur d'Alene where she works.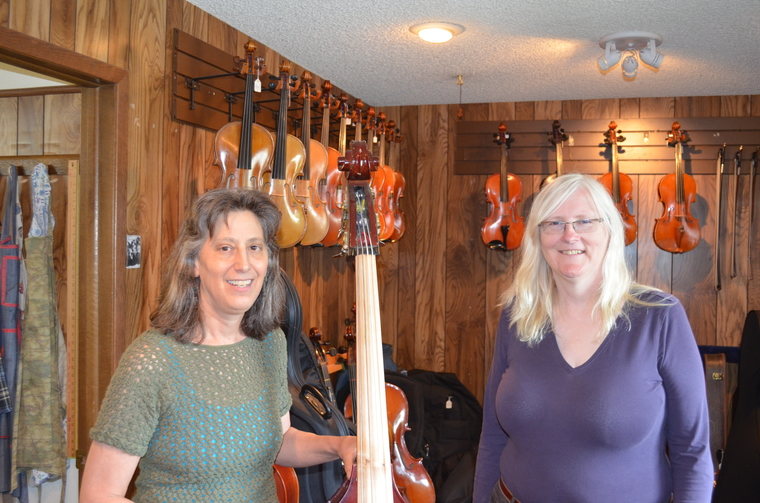 Arvid Lundin, the store owner, had a fiddle CD that he created with a photograph of a ship grave on the island of Gotland in Sweden. I was planning to go to The Borderland festival on Gotland a few months later. It made me determined to see the ship graves on Gotland. Here's the Gannarve Ship Grave in Klintehann that I saw.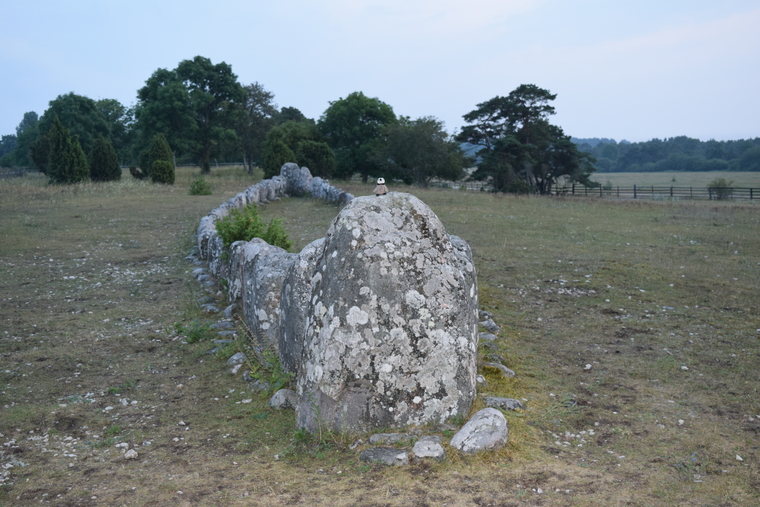 Cherie was going to have a music party on Saturday night. I thought that I had to get the RV into Canada within 30 days of transferring the ownership.  I should have stayed because the border crossing with the RV was a mess anyway.
My brother had first introduced me to bluegrass festivals and I went with him to a few in Washington and northern Oregon. What had impressed me most was that almost everyone participated in making music. They gathered around campsites and jammed together. Many retired bluegrassers drive their RVs from one festival to the next. That way they're with their community and enjoying music.
I still travel with my fiddle. It's an inexpensive way to have fun and meet people. It's never too late to learn an instrument. Do you play?