I've been working my way through the Toastmaster's Advanced Manual Humorously Speaking. This speech was my one for the fifth project – the humorous speech. The transcript is below the video. I arrived at this topic from a scattered direction. After the speech some of my fellow Communicators commented that it was really Laundry 101 – tips.
The Good, The Bad, and The Ugly
I stole the title from Clint Eastwood because it matched what I wanted to talk about.
At Burning Man they have a concept of MOOP (Matter Out Of Place). So if you have a Kleenex in your pocket; it's in its place. If you have a Kleenex on the ground; it's out of place. Basically it's kind of like littering. But I was thinking about other things like bleach, and food, and dye and how when they're used correctly they're good – they're in their correct place. But sometimes accidents happen and they're not in their correct place.
Mister Toastmaster, Fellow Communicators, and Honoured Guests:
Laundry & Bleach
1st Encounter
Whether something is in its correct place or not is sometimes a subjective thing. However, with bleach I think we can agree when it's a good time, and when it's a bad time. (place) You use bleach to get bright whites but it's really bad if you use bleach with colours, and it's ugly. It produces permanent stains.
When I was a kid somehow I remember carrying a bleach bottle. It was supposed to be empty. It should have been washed. I don't know what an eight year old was doing with a bleach bottle. But I spilled some on my sneakers. It left little white dots. That was my first encounter with bleach.
2nd Encounter
My second encounter was at a Pony Club Camp up island with my daughter. I got put on dish duty. There was the bucket with the soapy water, then the water to rinse, then the bleach. I had to pour the bleach but somehow managed to pour the bleach, and somehow sprayed my brand new black pants; that were pretty much painting pants after that.
3rd Encounter
My third interaction with bleach was my daughter's show shirt for horse shows because they're very fussy about how you look. It was a white shirt. Horses are inherently dusty and dirty so the sleeves – the cuffs – were all brown with dirt. I couldn't get it clean in the laundry. I put it through a couple of times, and then I thought it's a white shirt – I'll use bleach. I can tell you right now; do not do that with synthetics. Because all that happened was; it still had the dirty cuffs but now it had little blotches of grey.
So that's bleach.
Laundry & Food
Moving right along to food. It's nutritious. It's tasty when it's in the right place but it's bad when it's in the wrong place on your clothing, and it's ugly when it leaves stains. When people look at you and they think "You look dirty and sloppy. You must not care how you look."
Turmeric
I had a friend who was wearing this beautiful sweater and we went and had lunch at Mattick's Farm. He got a soup that was basically turmeric. It was bright orange, bright yellow. My husband and I used to call turmeric indelible yellow because once you got it on your counter tops, it took forever to get it back off. My friend got it right on his sweater. I can tell you – you can go to Michael's and buy a tiny little Grandma's stain remover and it takes out turmeric.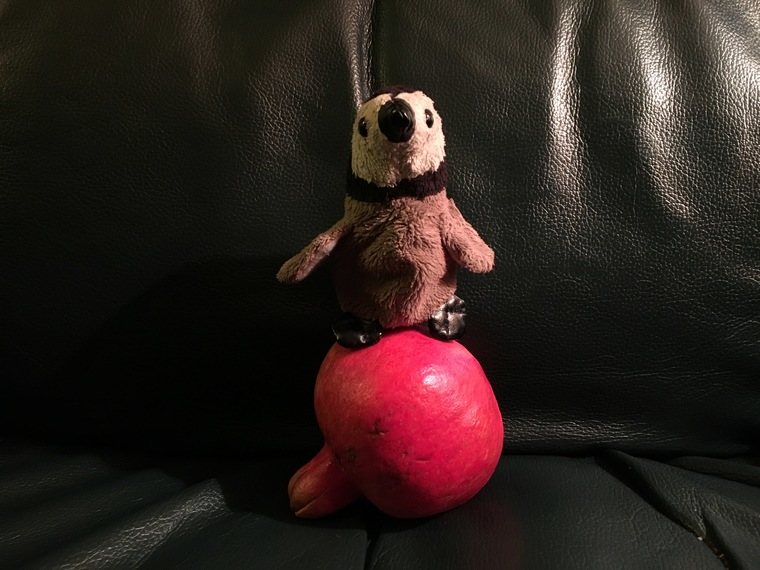 Pomegranate
When I was in university I made the mistake of loaning this green dress to a friend. She wore it try eating a pomegranate. I can tell you; pomegranates – you wear an apron! That was the end of that dress.
Risk Management
You can have some risk management.
For the bleach it was
For food you can:
wear an apron,
own a stain removal chart,
own Grandma's stain remover or
avoid wearing white when you're eating anything red because everybody should know –

red is instantly attracted to white clothing.

take your coffee black because if you spill coffee when you're not quite awake

If you don't take milk it comes out.
If you take milk, you're in trouble.
Laundry & Dyes
My third thing is dyes.
Dyes are good when you want to turn your wool into another colour or if you want to have art and you want the colours as in coffee. Coffee is used in Iran for coffee art. Beautiful paintings done kind of like watercolour only with the sepia tones of coffee.
It's bad if you get dyes on other clothes. If you wash a red shirt with a white shirt and they're both cotton, and the red shirt's never been washed before –
You're going to end up with a pink shirt as well as a red shirt. I've done that before. So it's ugly if the colour transfers.
Risk Management
The risk management there is you need to
separate your whites from your colours, or
wear synthetics because they don't pick up the colours.
So bleach, food, and dye are good when they're used properly but some days, things just don't go right.