As part of my Salt road trip to the Grand Canyon, I wanted to revisit Taos, New Mexico. I had attended a TurtleWeavers women's writing workshop there in about 1999. It had been held at San Geronimo Lodge on the outskirts of town. I had wanted to go to Taos for a long time because that is where Natalie Goldberg lives. She wrote "Writing Down The Bones" which is about free writing every day. I read a few of her how to books on writing, and her novel "Banana Rose". The writing workshop was from a New York writer though named Emily Hanlon.
This time I wasn't flying into Albuquerque and then getting picked up in a van with the other workshop attendees and driven straight to Taos. I had seen interesting desert scenes flit by without any opportunity to take a photo. This time I was in my 22′ RV.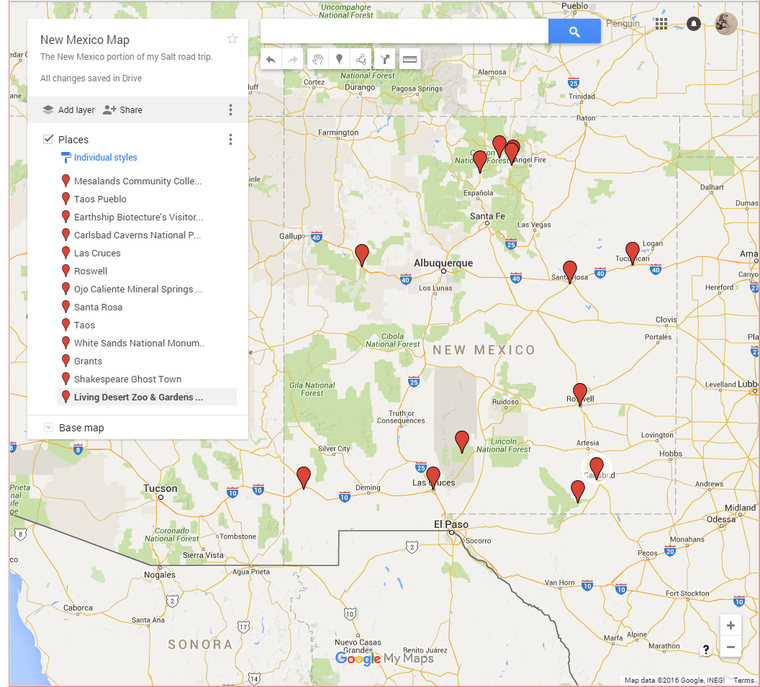 To get to the actual Google My Maps the link is:  New Mexico Map (link isn't working at moment)
When I was approaching Grants on Highway 40 from the west, I saw cheap motels. I was getting tired from driving so much over the past few weeks. I found a tiny campground with excellent wifi and was happy to stop moving for awhile. The next day I set off for Taos.
Taos is a tourist town but I found a second hand bookstore with some great deals. I came out with a stack of books including "The Girl with a Dragon Tattoo". EJ sat at Burning Man one year reading it so it has to be good to hold a person's attention like that. I checked out other bookshops, and then a restaurant for some supper. Penguin insisted that the penguin socks be included.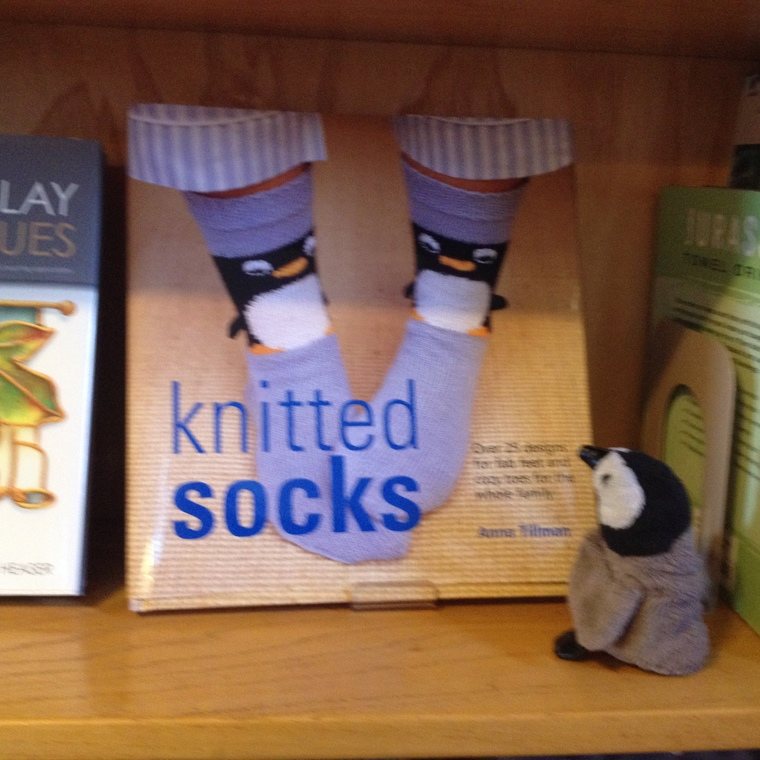 I remembered that a lady in my writing retreat had gone somewhere native afterwards. This time I saw that it had to have been Taos Pueblo. I went for the first time. It is the oldest still inhabited residence in the United States and has been there for over a thousand years. They live without electricity and running water. Water is taken by pail from the river and heat comes from fireplaces. A long time ago there were no front doors. There were holes in the ceiling and ladders to descend to the ground. If enemies came they would haul up the ladders. Check the Internet before going. I went in April last year but this year they're closed for most of the month.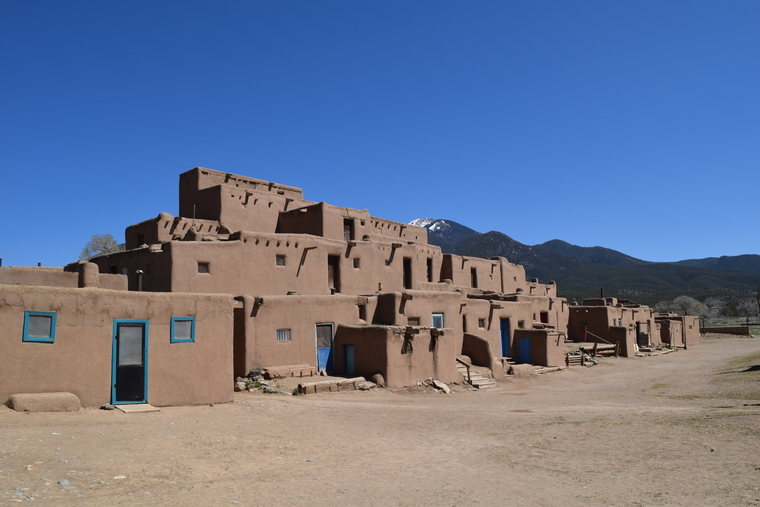 After I left Taos, I went across the Rio Grande Gorge Bridge to see the Earthships. These are self-contained off-grid houses in a suburb. They have a wall of earth packed rubber tires as insulation, a greenhouse porch for plants, a recycled water system, and generate their own electricity. They cost about $200,000 USD to build. They have solar panels. The model house was a very nice adobe one but you have to take a self-guided tour. It lacked the sense of community that I had at Arcosanti in Arizona.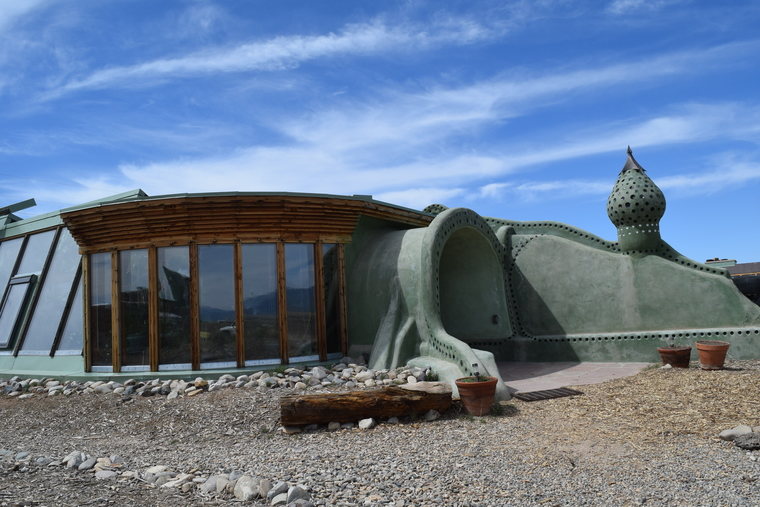 After Earthships I noticed that the highway cow crossing signs had been altered.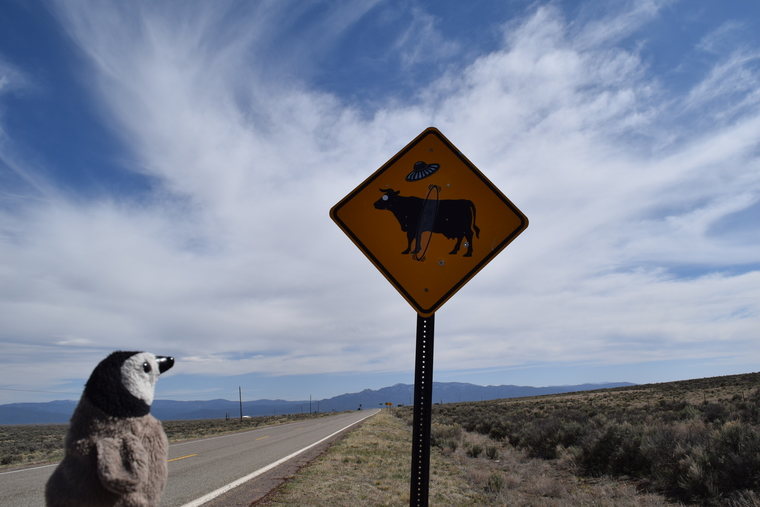 I continued to Ojo Caliente which is a spa. Mostly I overnighted in Walmart parking lots. My camp spot was flat,  inexpensive and in the trees with a picnic table. It was far cheaper than staying in the adjoining hotel. I really enjoyed going in the different mineral baths. The mud bath was strange but fun and I met a nice couple. This was their weekend celebration because the wife had just retired.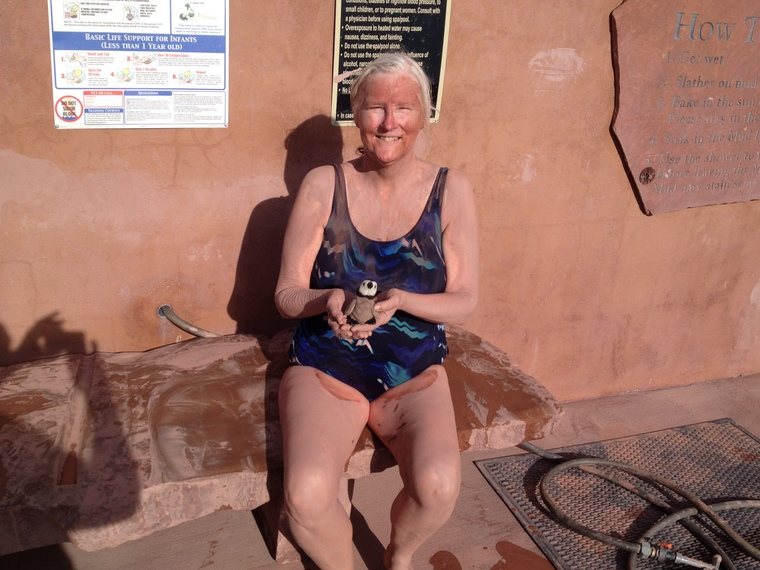 I headed east again. I didn't stop in Santa Rosa but it has a Blue Hole where people like to go diving. Santa Rosa and Tucumcari are both on the famous U.S. Route 66. Tucumcari has a tired feel to it but the Mesalands Dinosaur Museum is very impressive. My son wasn't with me but he's been into dinosaurs since age two when I took him to the London Museum of Natural History. I had to go have a look.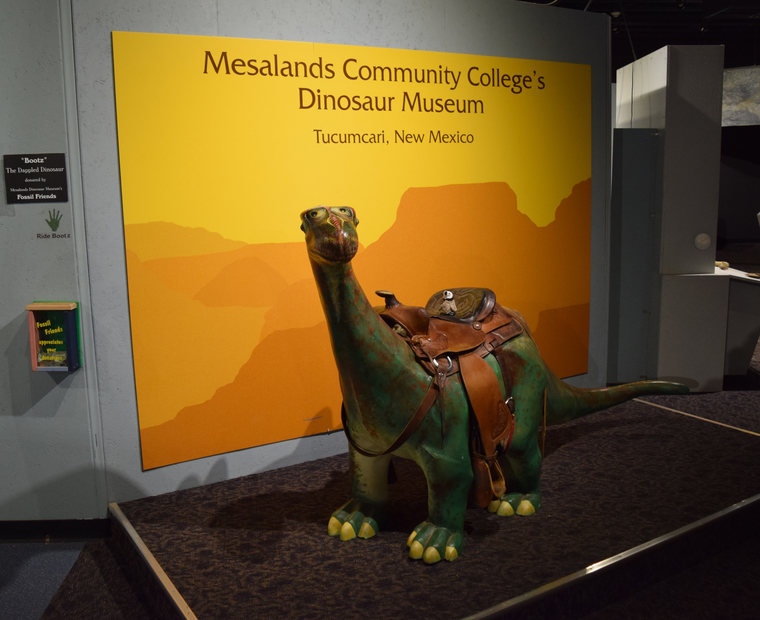 Where's Penguin?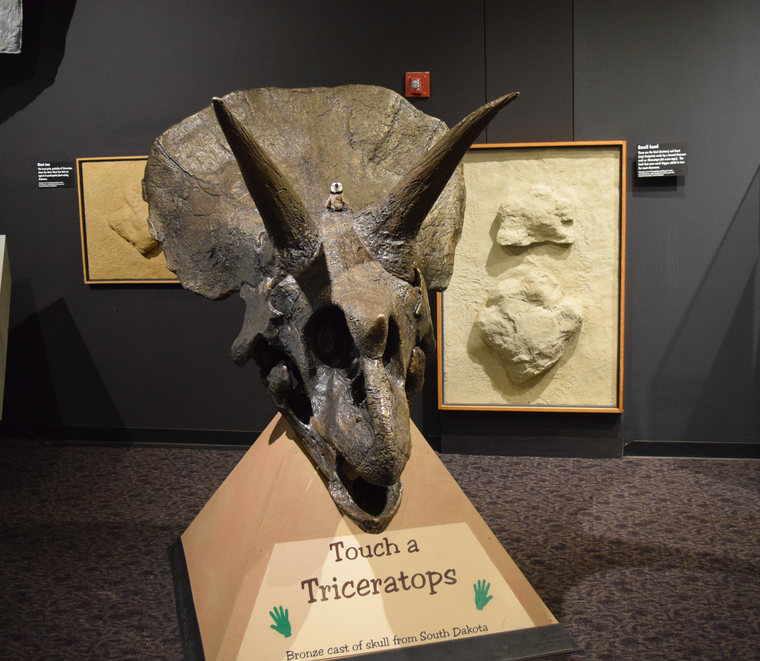 He likes to ride on monsters.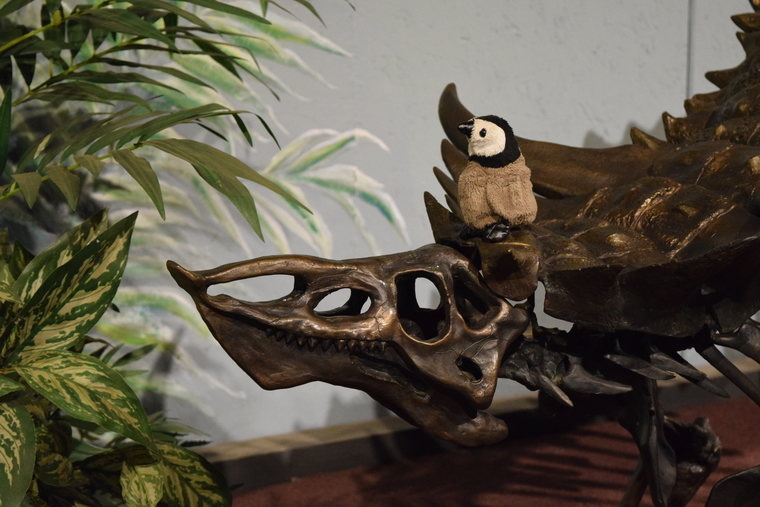 When I was leaving the museum I stopped to admire a manatee poster. The staff were nice enough to give me two of these special endangered wildlife posters.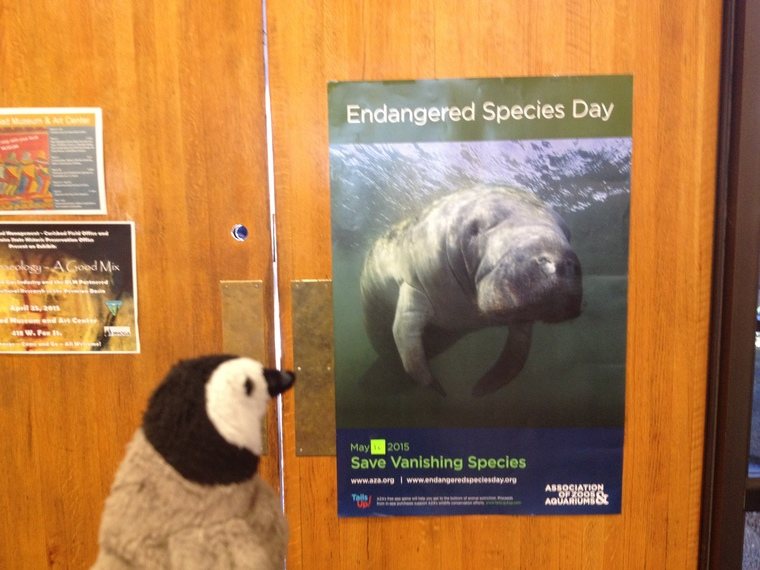 I continued to Texas but then returned to New Mexico and passed by Portales. They have a humorous billboard.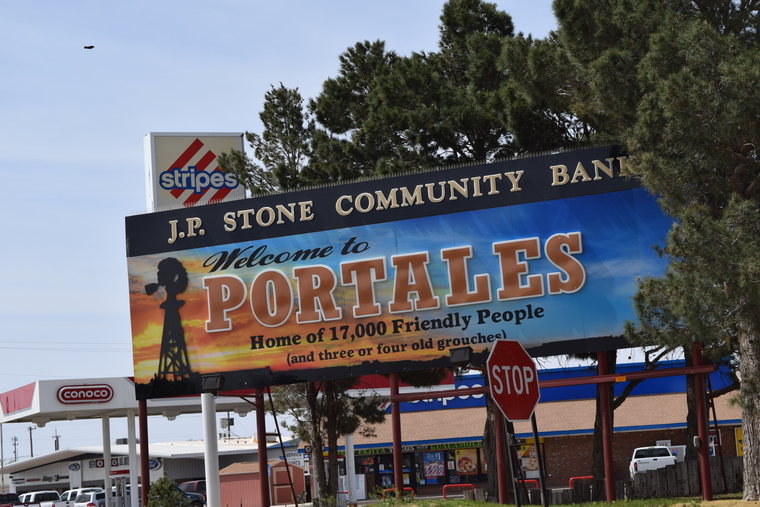 They have quite the collection of old farm windmills too. I would have liked to have wandered around inside the fairgrounds but it wasn't open.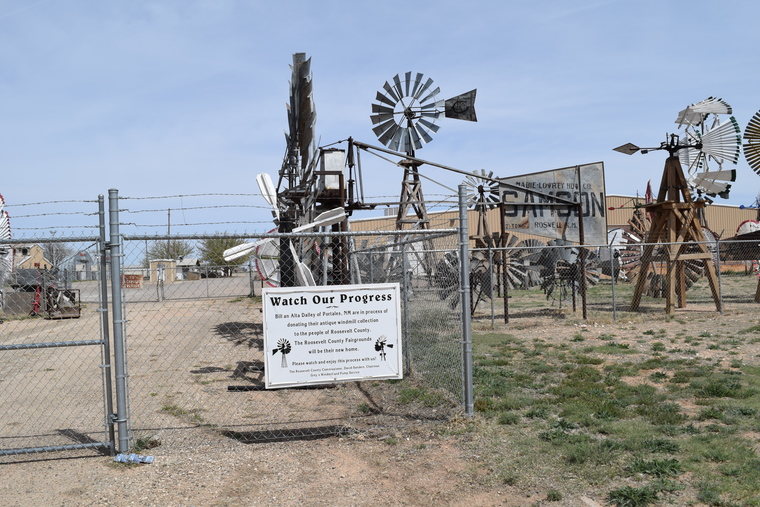 Afterwards I continued to Roswell. Unlike run down Tucumcari on historic but basically abandoned U.S. Route 66, Roswell looked like an affluent city. I went to the UFO Museum because it's kind of a "have to" visit in Roswell. The Richard Dreyfuss movie,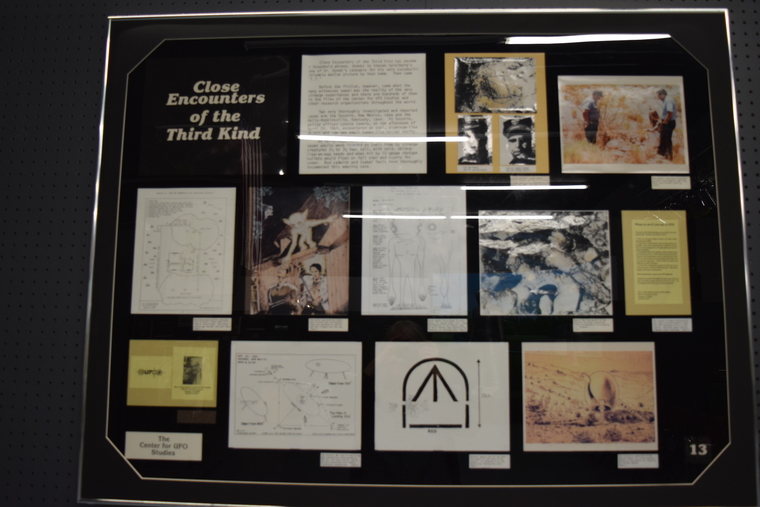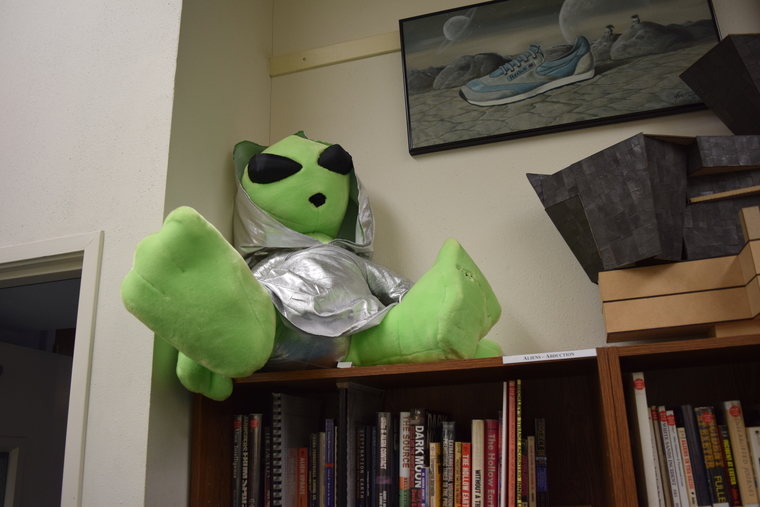 Surprisingly it was the two art galleries that astounded me with how great they were. So if you go to Roswell make sure you have time to look at them.
The main one was the Anderson Museum of Contemporary Art. It has a Roswell Artist-in-Residence program and features the creations from there.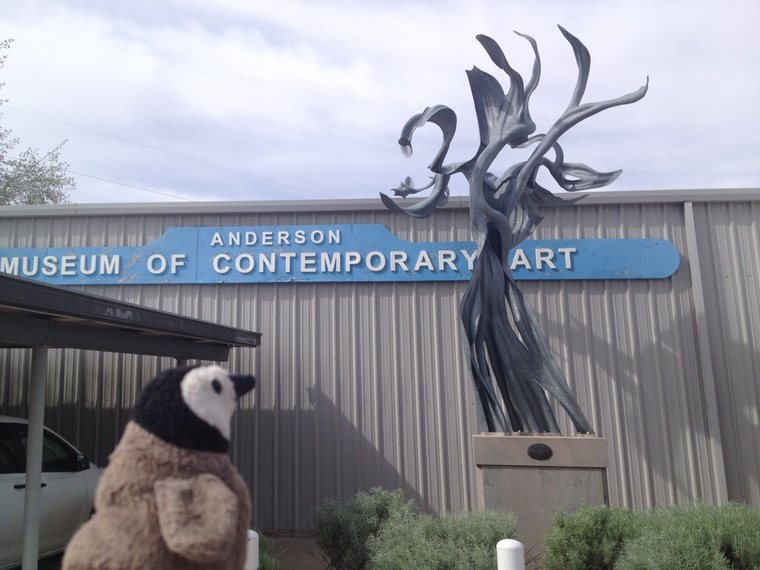 I really liked the sharks made from golf bags.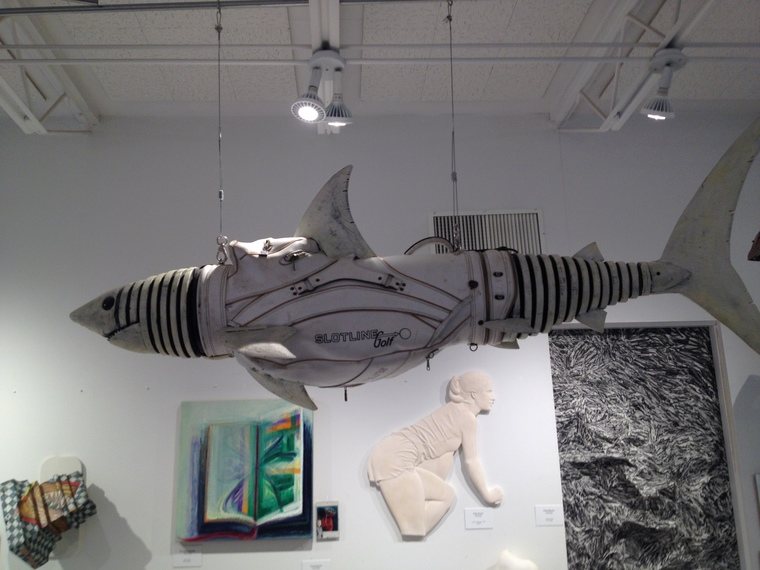 I continued south to the Carlsbad Caverns National Park.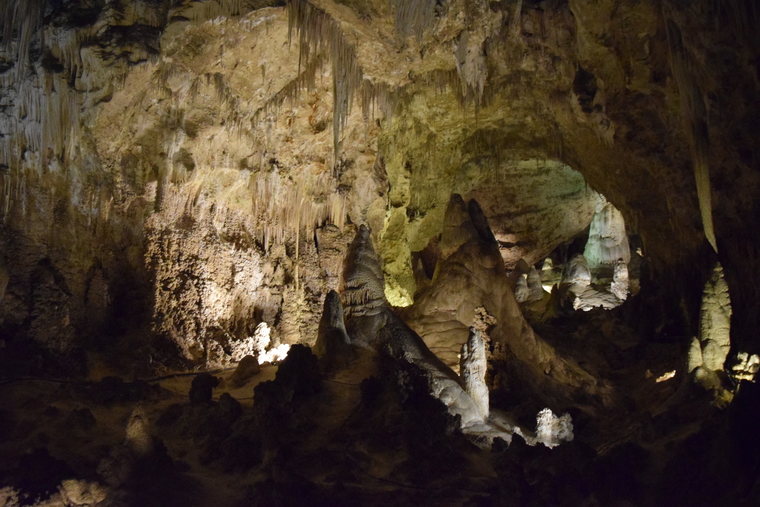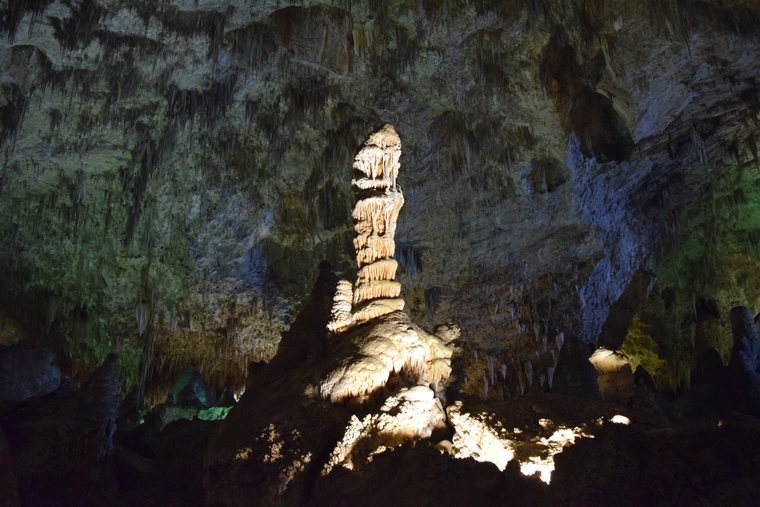 Afterwards I went to the Living Desert Zoo and Gardens State Park also in Carlsbad. The plants were labelled including their uses like this Mormon Tea. There were birds and other animals on display. A large greenhouse had non-local cacti and succulents inside also all well labelled.
Then I went to take a look at White Sands National Monument. I expected it to be flat like Black Rock Desert which is also gypsum based. It was quite different and had very large dunes. People were having picnics, and some were sliding down the hills on magic carpets and the like.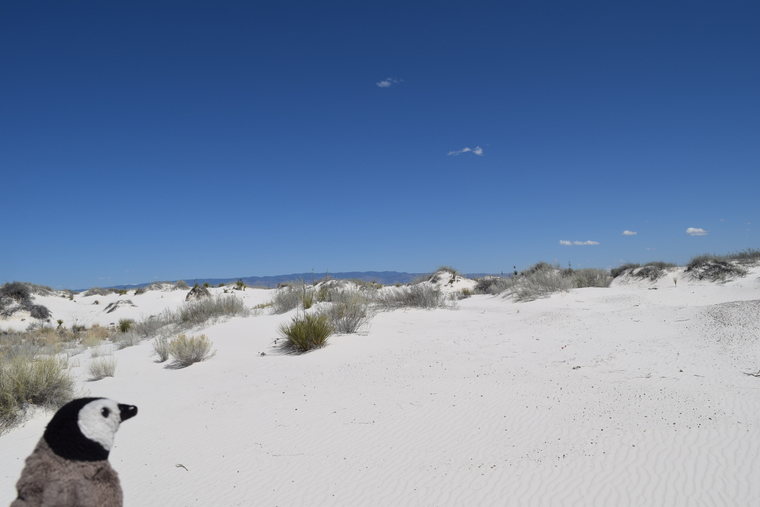 Heading back towards Arizona but on the southern Highway 10, I discovered Shakespeare Ghost Town. There was a tour going on that I managed to join. I'd never been to a ghost town before so it was interesting to be told tales of the Wild West.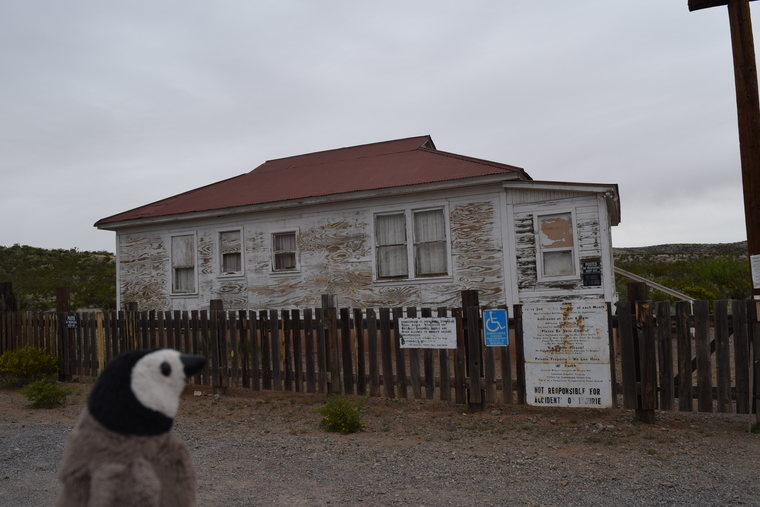 This little town had everything needed such as an inn, and blacksmith. A coach came through regularly, and gun fights were a reality.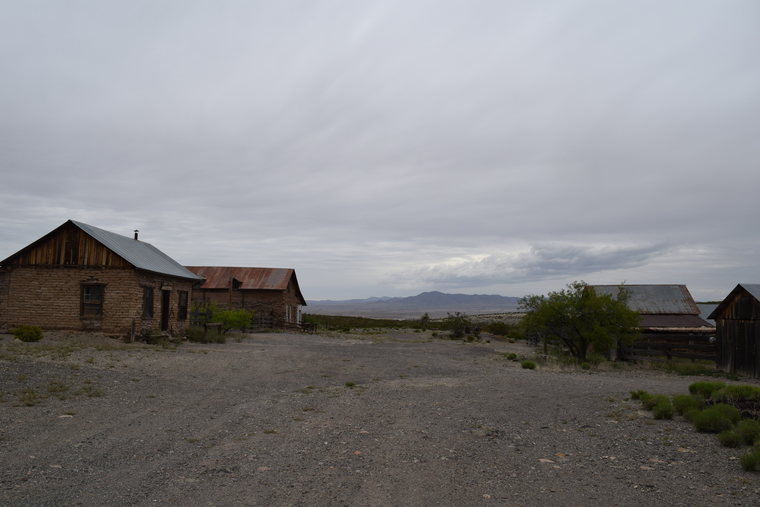 New Mexico is well worth a visit. There is so much too explore in a fairly small state. Have you been to New Mexico?