I've been exploring beaches ever since I got Rover, a Morkie puppy. Here are six beaches in Victoria, British Columbia that are good to take your dog to. Victoria is at the southeast end of Vancouver Island.  This March has been incredibly warm so spending time by the water is great.
To help you plan your day trip with your dog, I used Google My Maps to pinpoint where these six beaches are.  The actual link is below this screenshot.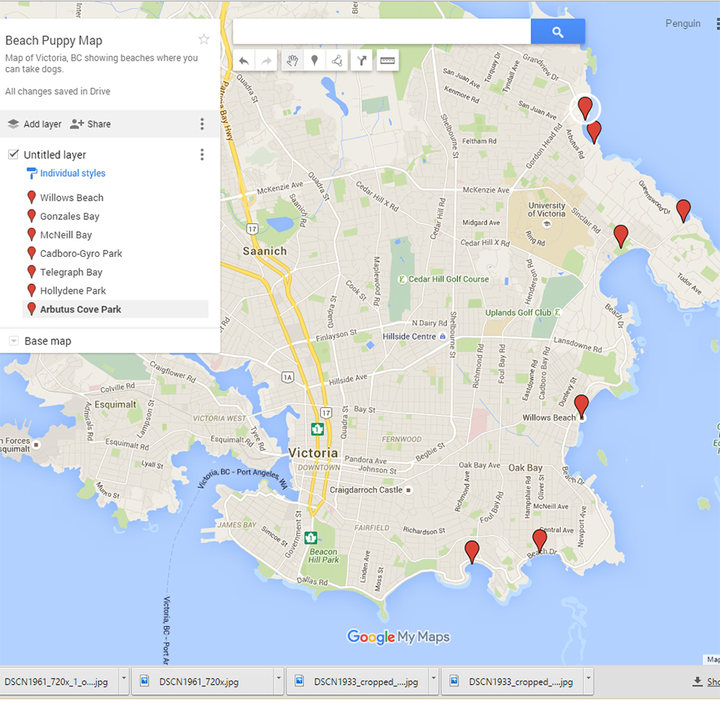 Click on the link below to access the actual map. It will open in a new tab on the browser:
Starting with the southern tip of the Saanich Peninsula following the shore northeast, here are the beaches.
1. Gonzales Beach
I had never been to this beach before and I don't know why. It is an awesome sandy beach but there were many large dogs so I kept Rover on leash. There is a tiny parking lot at the end of Foul Bay Road and Crescent Road that can fit about six cars. Then you must descend a long fairly steep staircase down to the beach. There were kids building sandcastles, people throwing balls for dogs, and the occasional guitarist chilling near the wall.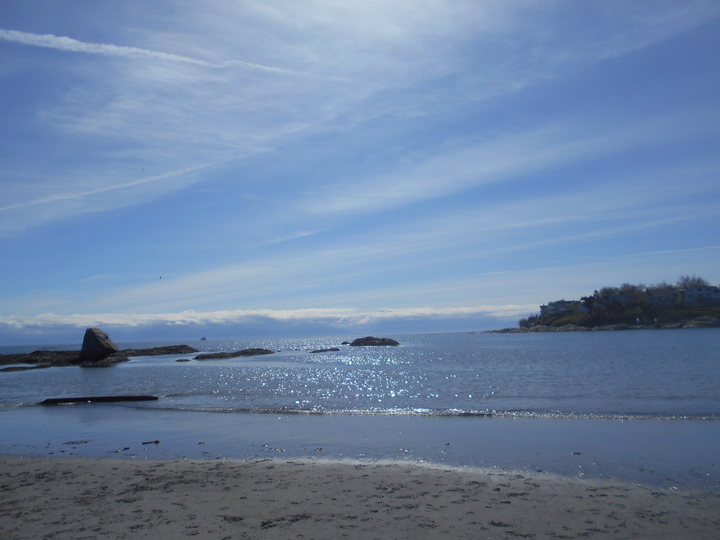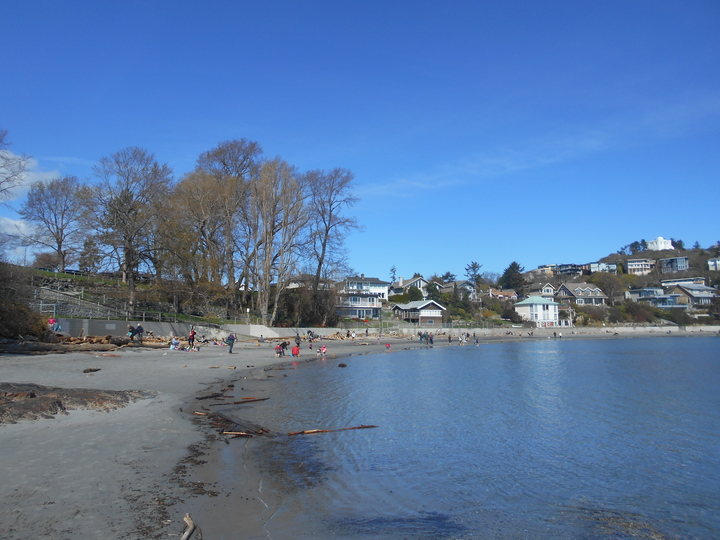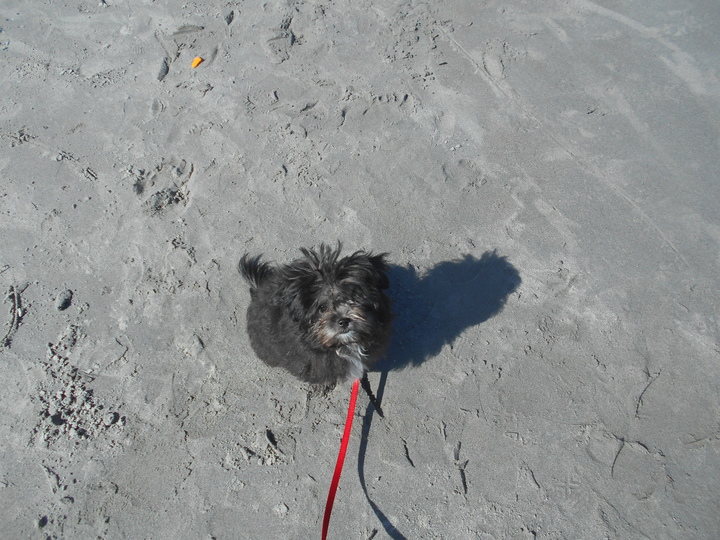 2. McNeill Bay
This beach is at the end of Oliver Street and Beach Drive in Oak Bay. There is plenty of street parking along Beach. For a new dog owner a bonus is that there are very few staircases to the street. There aren't many steps. My puppy met his best friend here and they played off leash the whole time. The beach is covered in small pebbles and is open to dogs year round.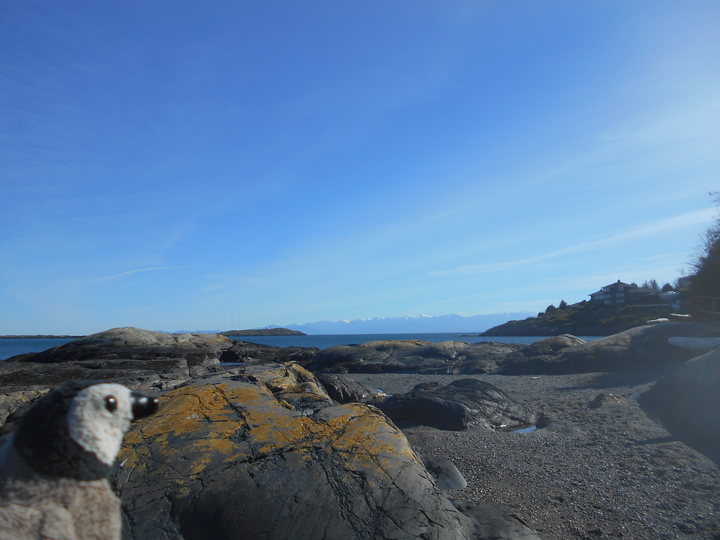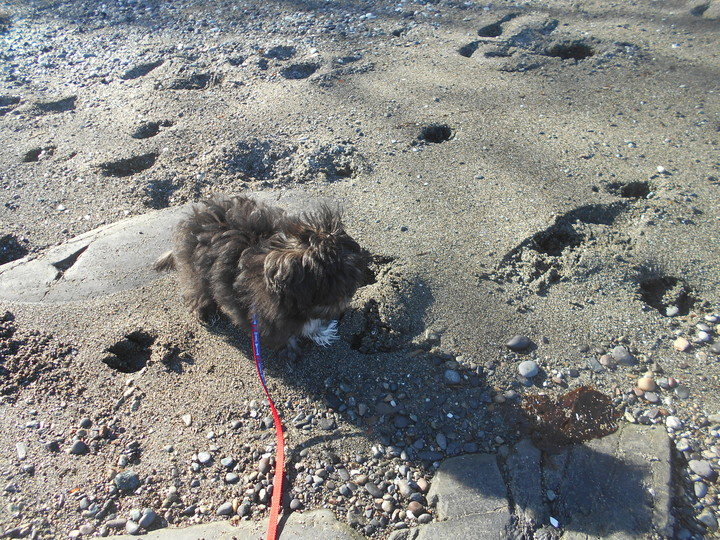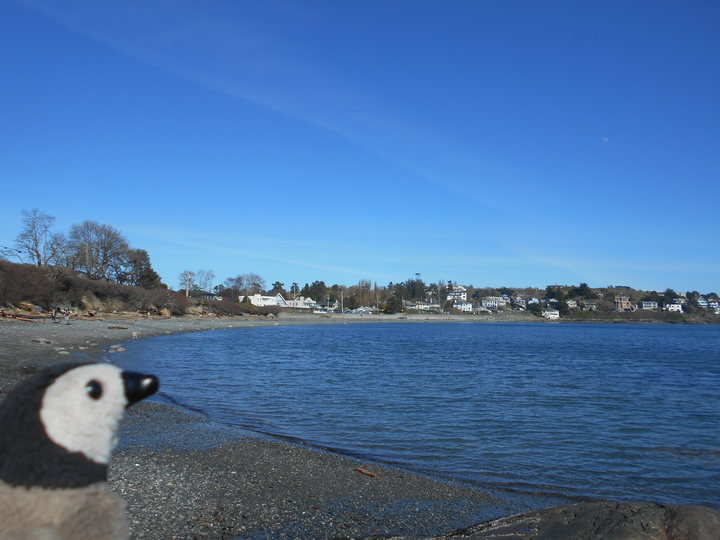 3. Willows Beach
Now is the time to enjoy this major beach in Oak Bay. Dogs are not allowed on the beach between May 1st and September 30th. It has a large parking lot with easy access to a paved walkway that goes along the entire beach. The beach itself is sandy. In the summer there are non-stinging moon jellies in the water. There is a small play structure near the public washrooms (which are closed during the winter).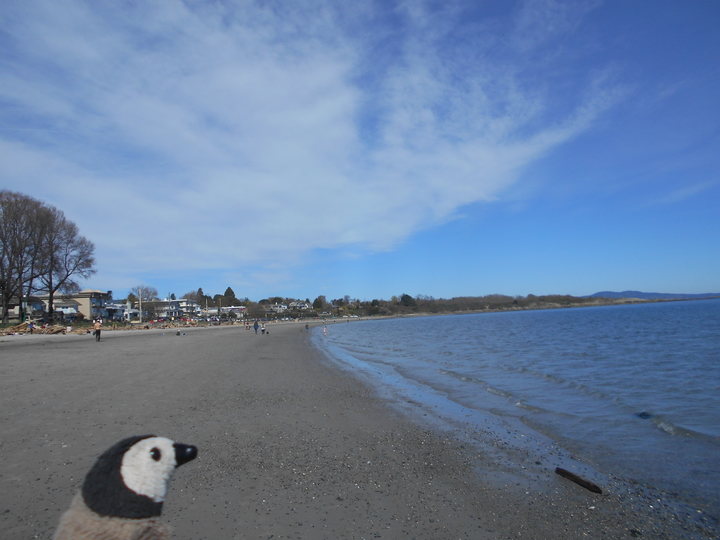 In the summer you can buy ice cream cones and french fries from the takeout window of the Oak Bay Tea Room. The logs on the beach were carried there at high tide during fierce wind storms.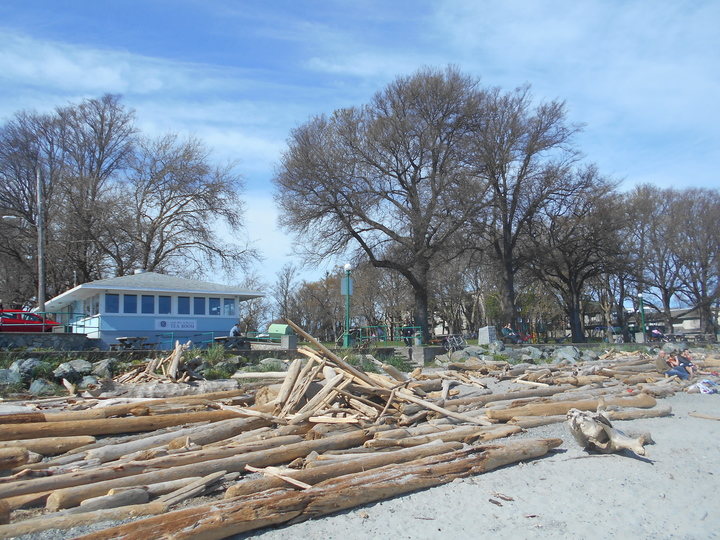 Before I got Rover, I considered getting a Scottish terrier. My Scottish aunt used to send us calendars with plaid and Scottish terriers on them. The movie "Coraline" has Scottish terriers in it.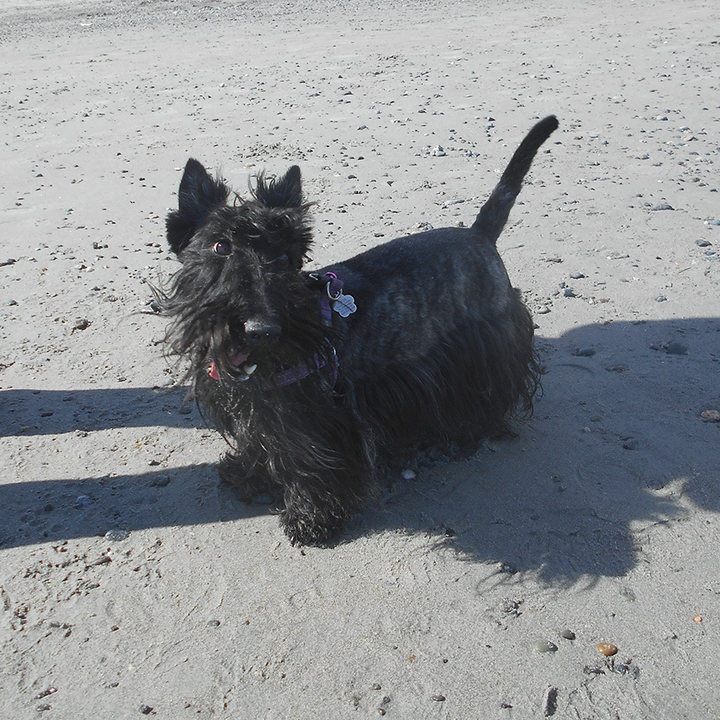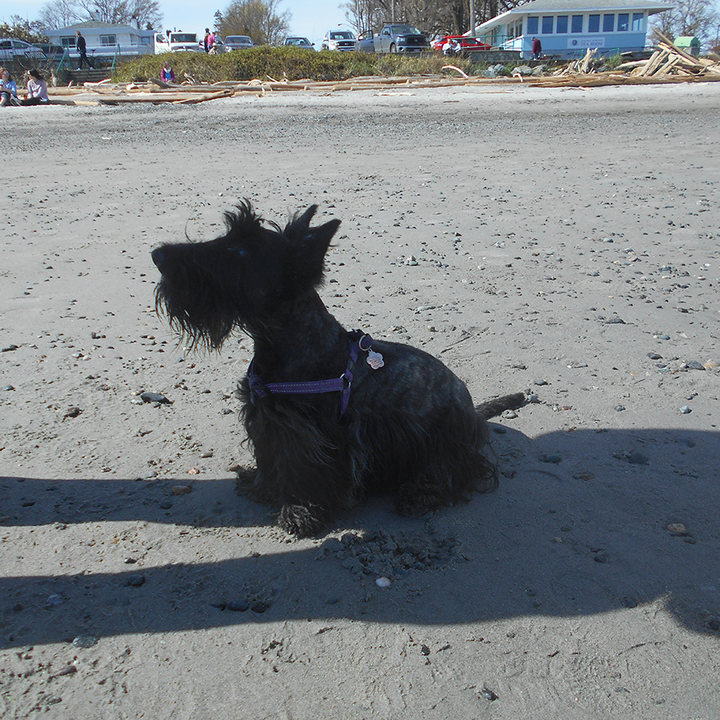 Mount Baker in Washington state is visible behind the left sailboat. Be aware that sometimes on beaches in Victoria, cell phones pick up American cell towers with resultant long distance charges for local in town calls.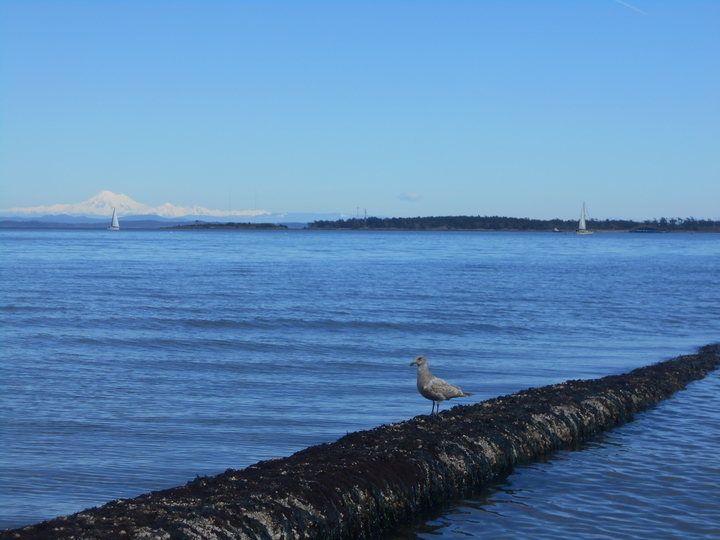 This Yorkshire Terrier looks different from Rover. Rover's mother is a pure bred Maltese and his dad is a pure bred Yorkie. He is a designer breed called Morkie.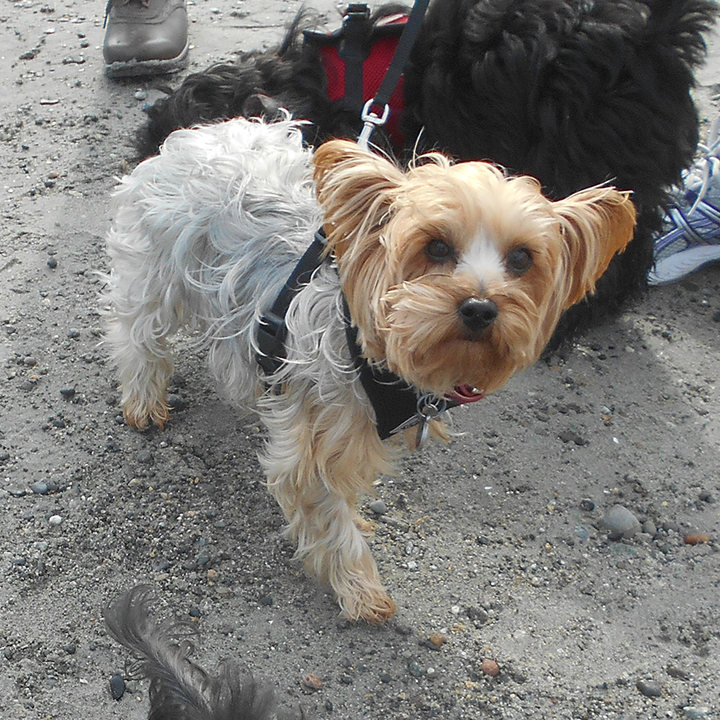 Salt and pepper Morkies and the Yorkie.
This dachshund loves the water.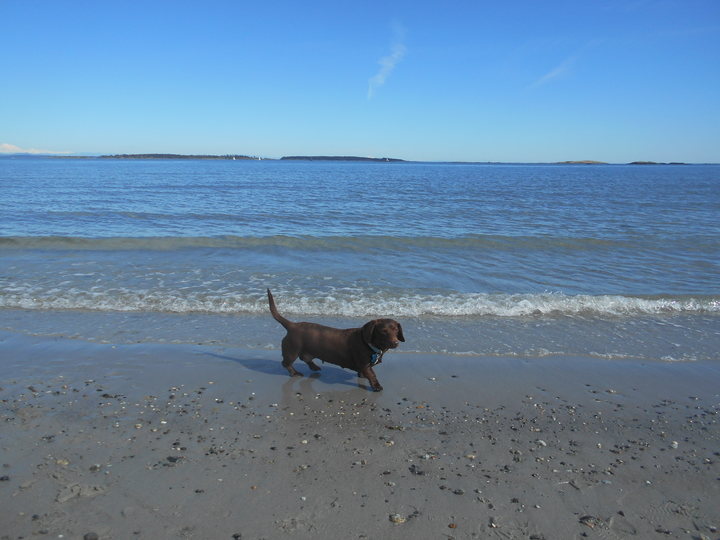 There was a black lab that loved to chase a ball into the water.
The Olympic Mountains on the Olympic Peninsula in Washington state were very clear today. The Black Ball ferry line runs the Coho car ferry between downtown Victoria and Port Angeles. It can be a rough ride between the ferry vibrating and then rolling with the waves. The other ferries, that leave from the north of the Saanich Peninsula, pass between islands and have a gentler ride. The Coho is the one you take to get to Forks where the Twilight vampire novels were set. Port Townsend east of Port Angeles is an interesting town with a great deal of music including hosting the Festival of American Fiddle Tunes.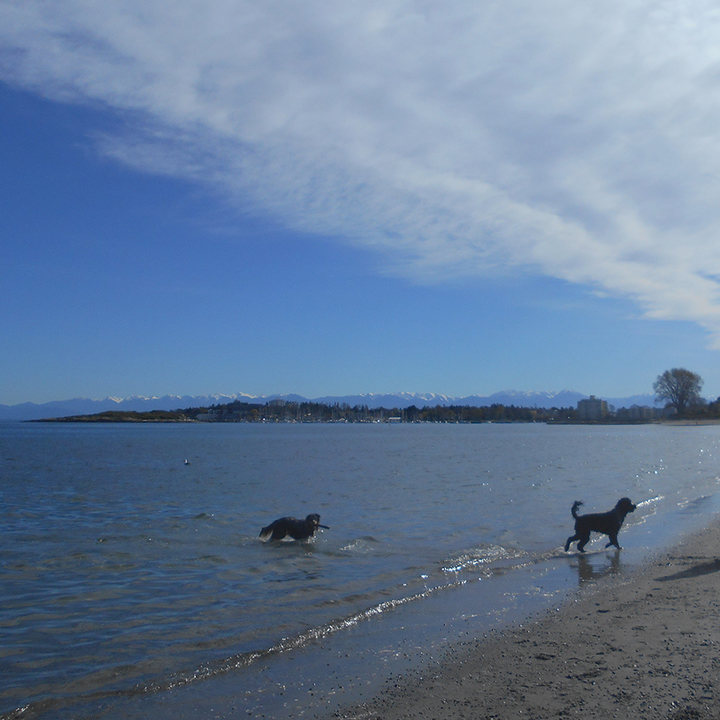 Rover's friend, Hugo, was curious about what the kids were up to.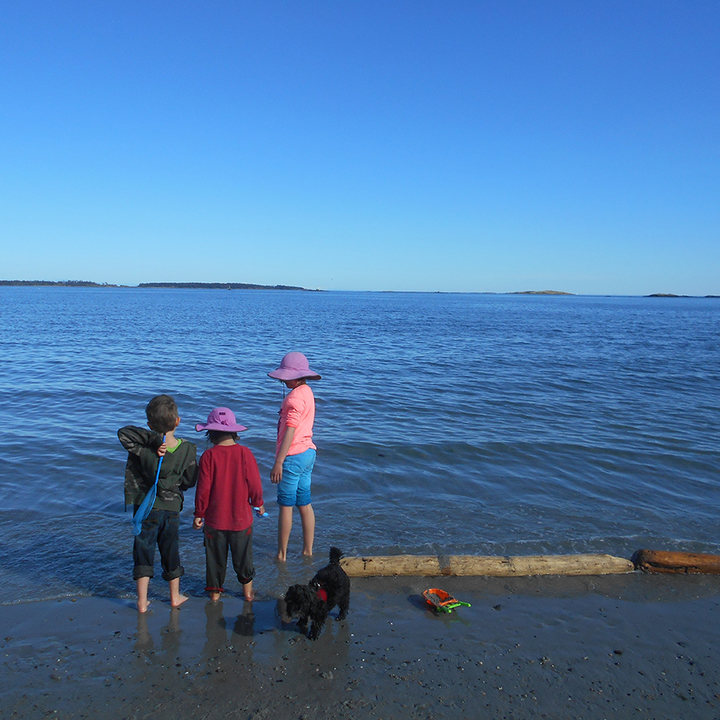 The Oak Bay Tea Party takes place here every June.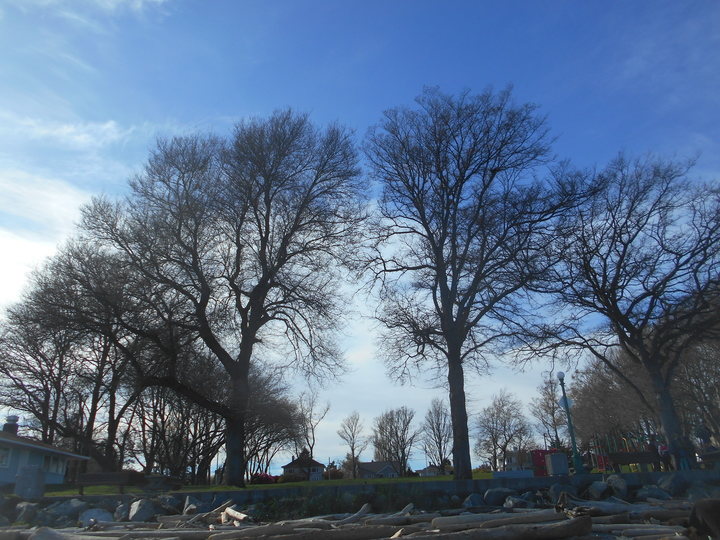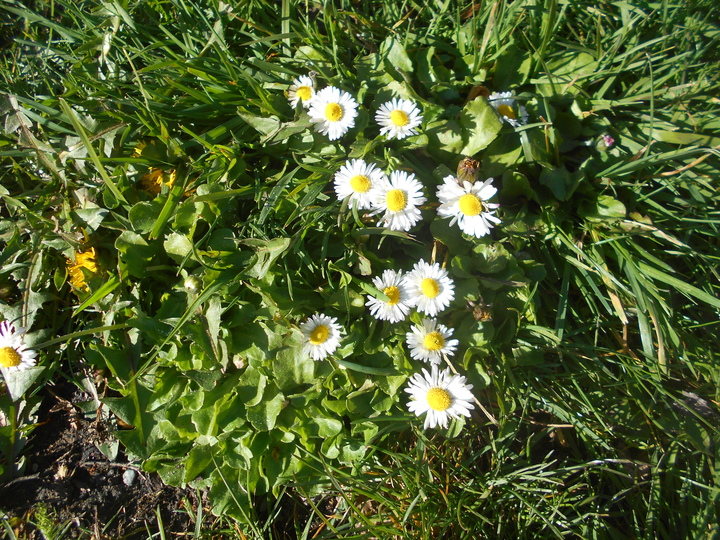 All the azaleas, rhododendrons, and cherry blossoms are flowering now in Victoria.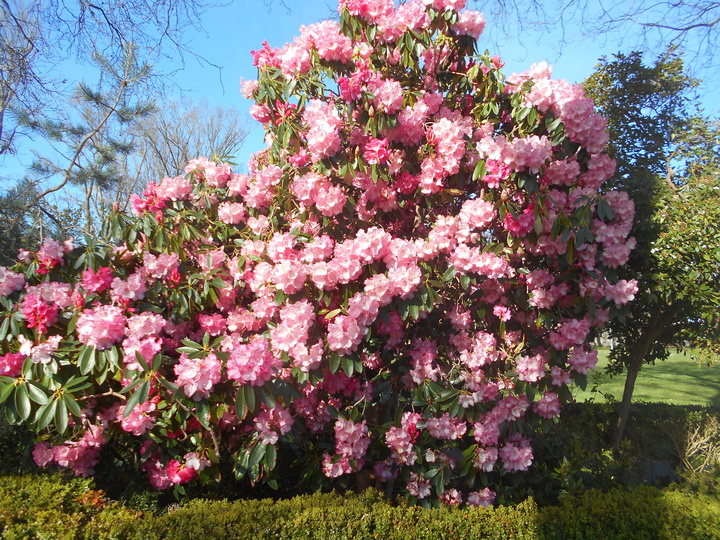 4. Gyro Park, Cadboro Bay
This is the major beach in Cadboro Bay. There are large cement sculptures for children to climb. These include an octopus, a ship, a salmon, and the fabled Cadborosaurus sea monster.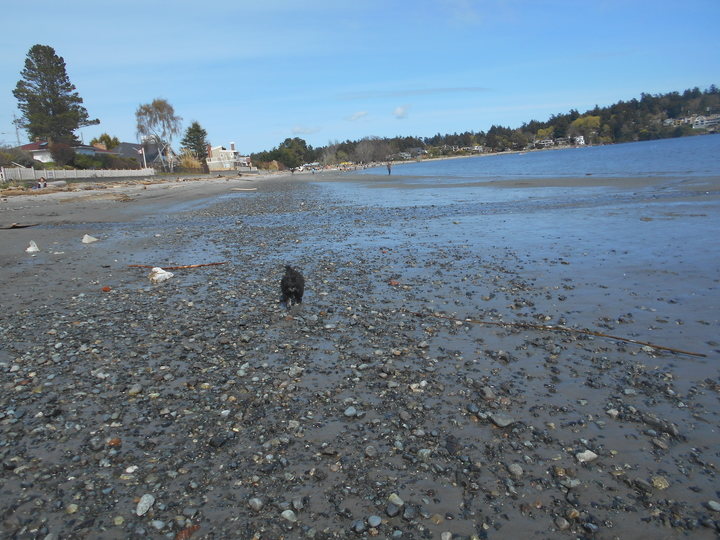 The beach got wetter and wetter and so did the puppies.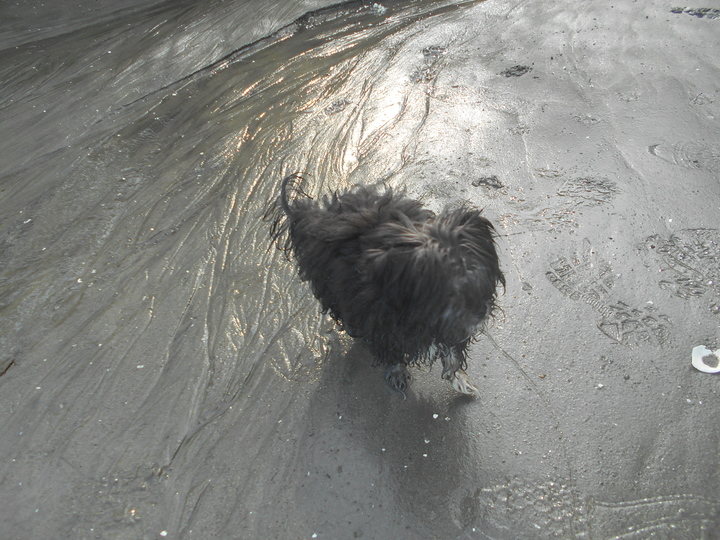 The barnacles were huge!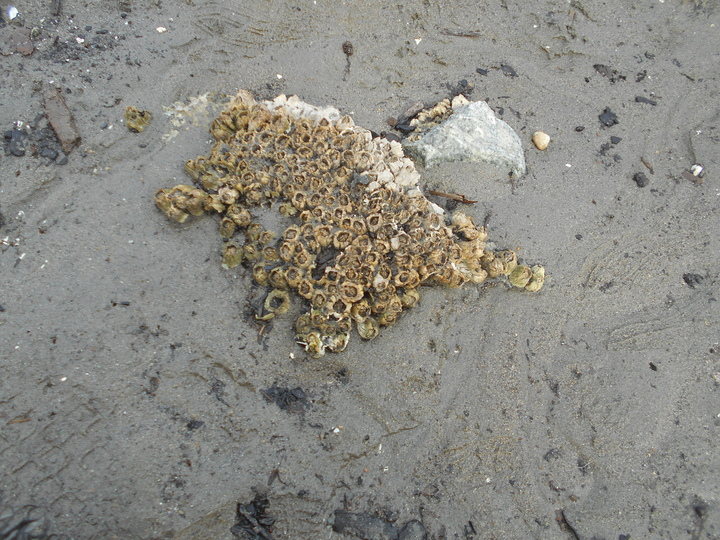 At the far end there were boats that had come unmoored during the winter wind storms and crashed on shore. No one wants to claim them once they've been destroyed. The city is getting upset that they'll have to pay to have them removed. So for now there they sit waiting.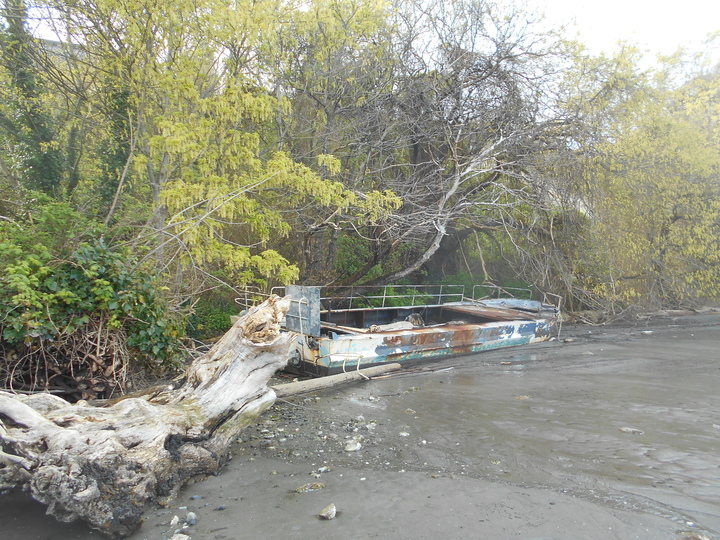 It was a beautiful calm day for a canoe ride. The people had crab cages with them.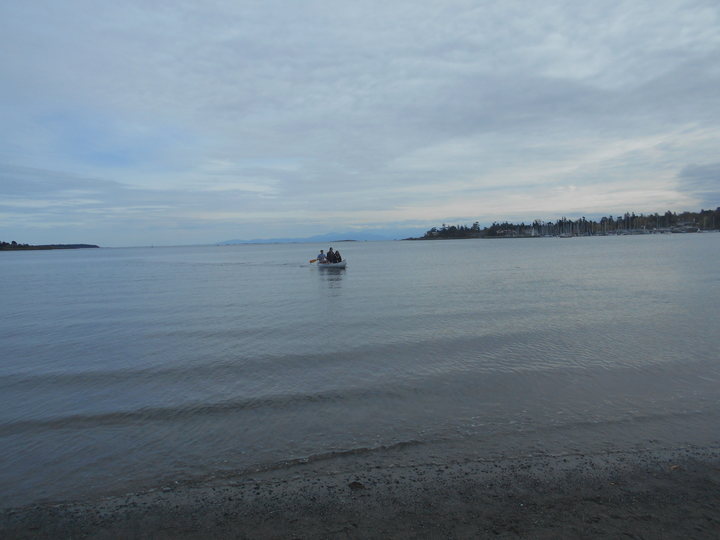 5. Telegraph Bay
Beach fires are no longer allowed but a long time ago a bunch of Burning Man friends had an event here. I don't think I've been back since even though it's fairly close to home. A service man was sitting on lunch break in his van. He said "There's a seal out there." It must have swum off.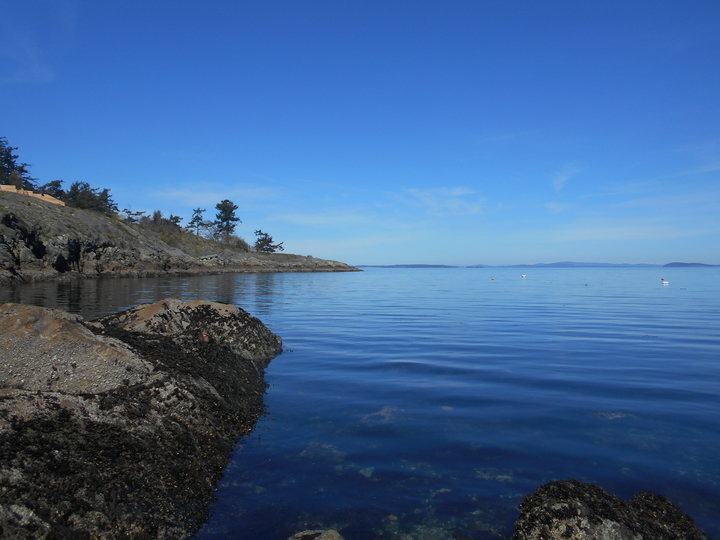 There were a couple of ducks but they didn't like me coming close to take a photo. The drake jumped in the water first.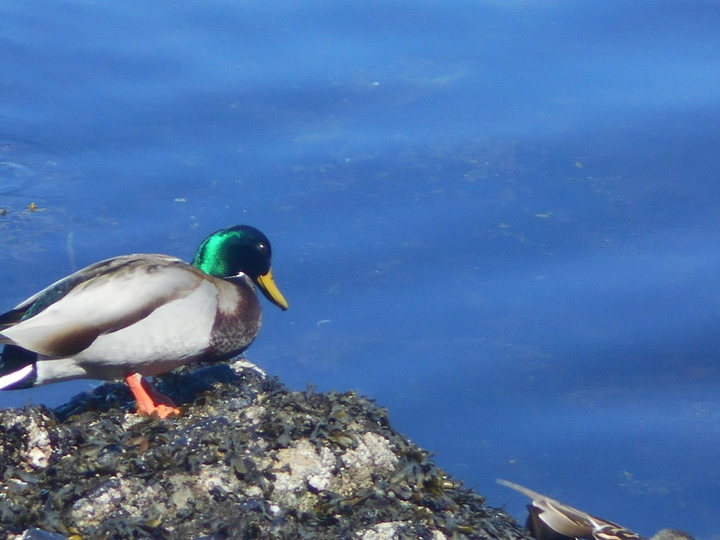 Then they both paddled away.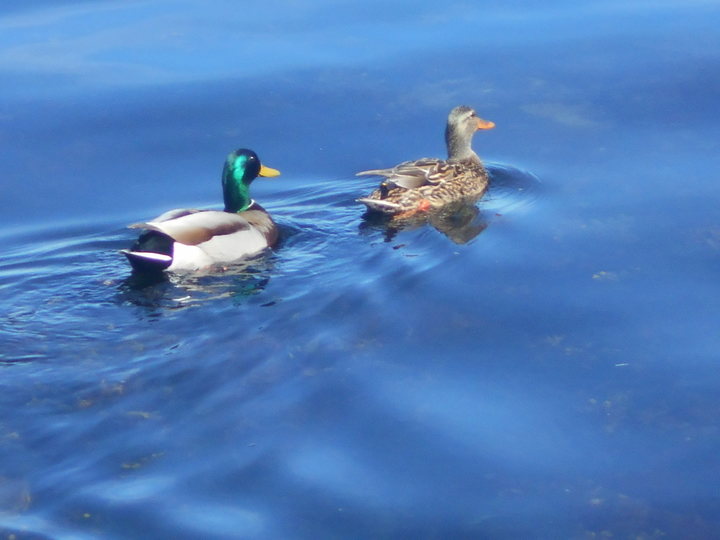 They got farther and farther away.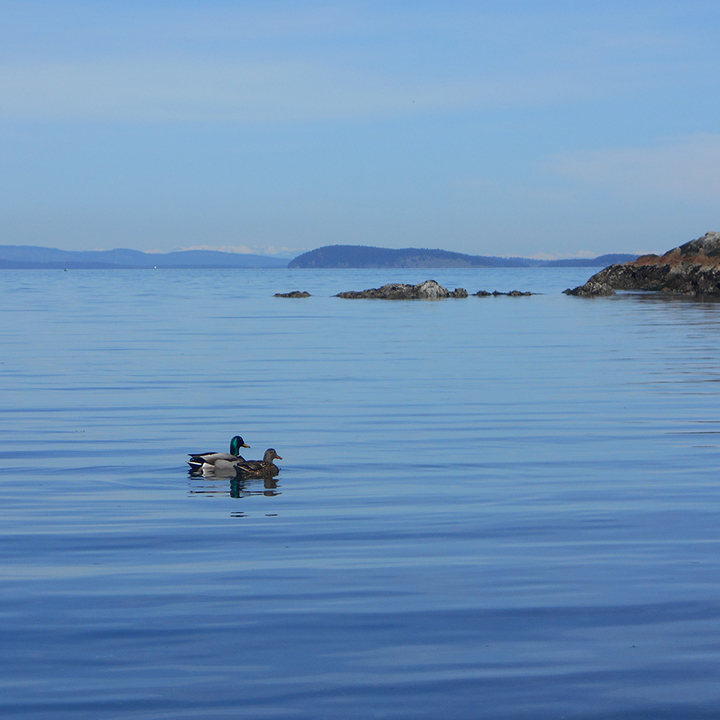 Rover didn't find it that exciting a place.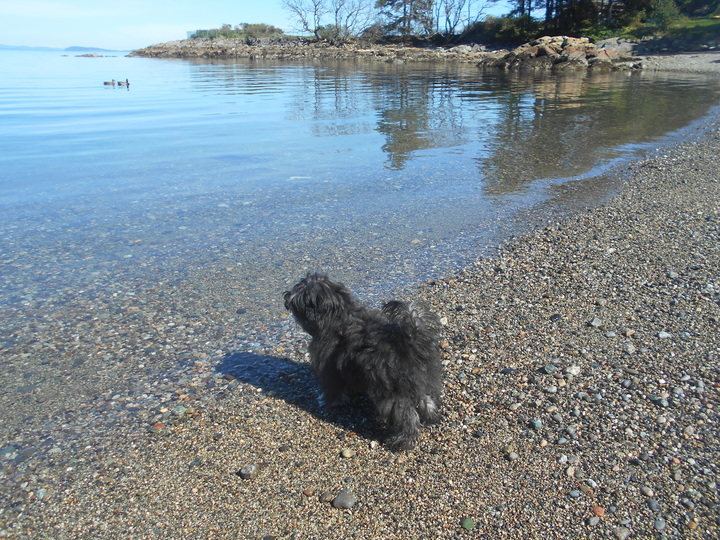 If you're looking for a quiet spot to hang out by the water then sitting on the giant rocks would work.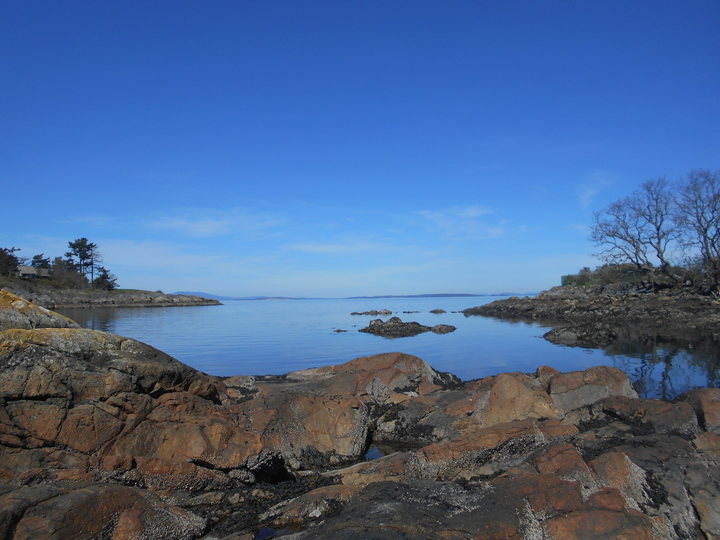 6. Arbutus Cove
This is my neighbourhood beach in Gordon Head. There is a tiny parking area followed by a path through the woods to the top of a cliff. I carried Rover down the extremely long staircase as it's too steep for his short legs. For anyone with mobility issues this is not the beach to go to. I went via Hollydene. The other side of the cove also has a steep staircase. Rover was the only dog on the beach on Easter Monday. I put him back on his leash when a couple pointed overhead at a circling bald eagle.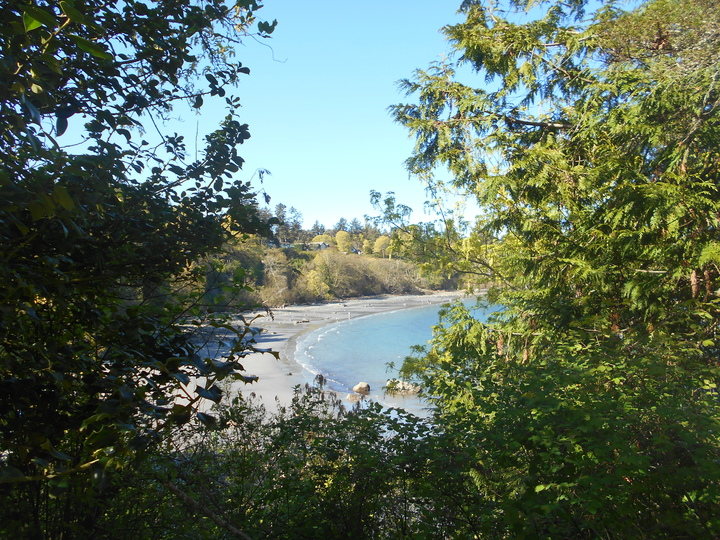 Almost four months old now, Rover finally stands still long enough for a photo. A couple of days ago I bought his dog licence from Saanich necessary at four months.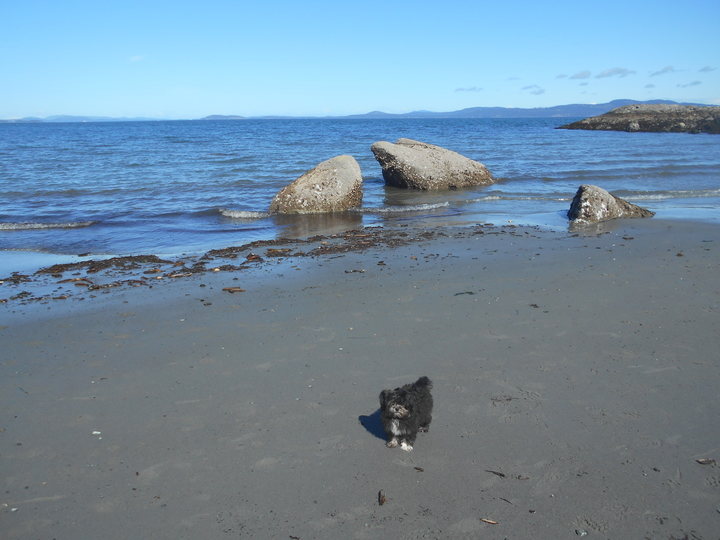 The temperature was perfect at the beach. Hard to believe this is March in Canada. Growing up in the east, I never knew that opting out of winter was an option.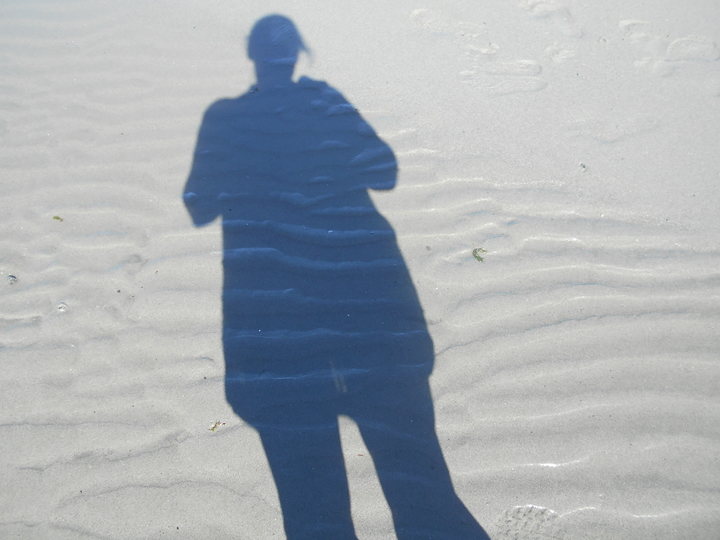 Rover made friends with some skimboarders.
Some people were flying a kite.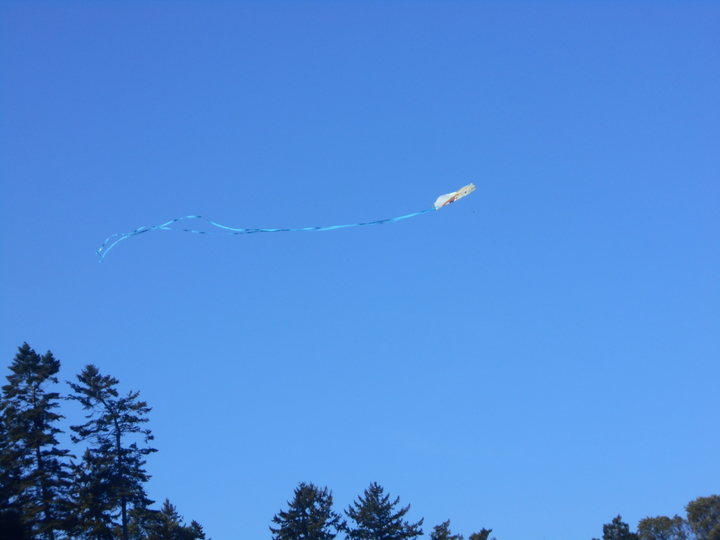 A bedraggled Rover ready to head home.
After we climbed the staircase I took a look at the end of the rocky point down below. There are a few park benches at the overlook.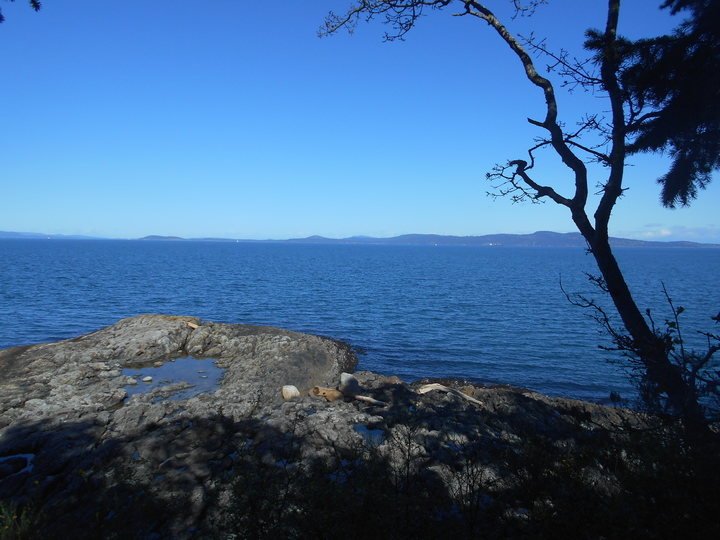 A final look at the beach before heading back along the trail to the car.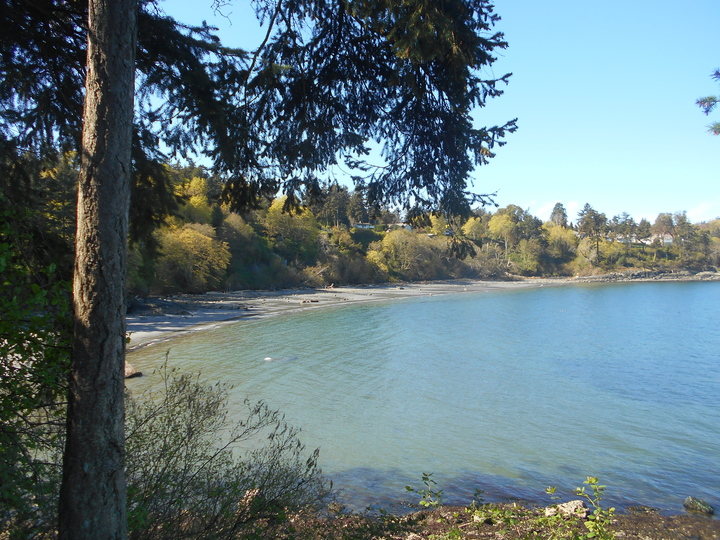 Even if you don't have a dog, these are all fun beaches to explore. If nothing else, it's a chance to go for a walk in a new place.
Here's the link to the map again:
I hope that you go and check out these beaches. Please leave a comment to let me know how you liked my article or if you have suggestions. And please sign up for my newsletter.