Below I list my favourite 10 art pieces. They may not be the same as anyone else's but everyone loved Moondancer. I'd say that was the real hit of this year. The gold art car in the featured photo is Little Abraxis. I hadn't seen this dragon before.
Biking to See the Art
This was my eighth big burn. I started attending in 2009. The last couple of burns weren't great. In 2014 four of us got stuck in a Honda Accord for 18 hours on gate road because of two thunderstorms and a hail storm. When we got in we also only had two bikes to share. We skipped 2015 in favour of going to Florida instead. In 2016 I started south in a convoy with friends but only got as far as Snoqualamie Falls, WA. An emergency back home had me transferring my passenger and her bike to my friend's vehicle. Then I turned around. I managed to return and arrive Thursday of burn week. My bike decided to bounce off the bike rack at the Peace Arch damaging its wheel. Thanks to Wonder Camp I was able to ride a little bit. This year I couldn't find the key to unlock my old bike. So I didn't take it in to get a new wheel. I decided to buy a new bike in Reno at Black Rock Bicycles. Due to my cell provider having Roam Like Home, I was using my phone. Still scared to look at the bill on the data usage with roaming though. I discovered that not only was the bike shop going to be closed the next day which was Sunday, but they were also completely sold out and had no bikes left to rent. So I called a couple of shops in Grants Pass, Oregon and went to look at bikes. I really liked a beautiful pink cruiser but it was $700 heavy, and would be tempting for someone to steal. I saw one on playa but covered in dust it wasn't as enticing. I ended up buying a 7 speed bike in Medford for about $500. I bought a U-lock which actually ended up being easier to store and use than the cheap locks. I'll be able to use the bike at home too. Having a really great bike meant that this year finally I was able to go check out the majority of the art work on the playa.
Art is Subjective
A friend posted someone's article on this year's best art but they weren't the pieces that I would pick. So here I present to you, the art that I resonated most with. The artists are named and a link is provided for their own information.
1. The Color Wheels
By Philippe Feslon and Compagnie Off from Indre-et-Loire, France.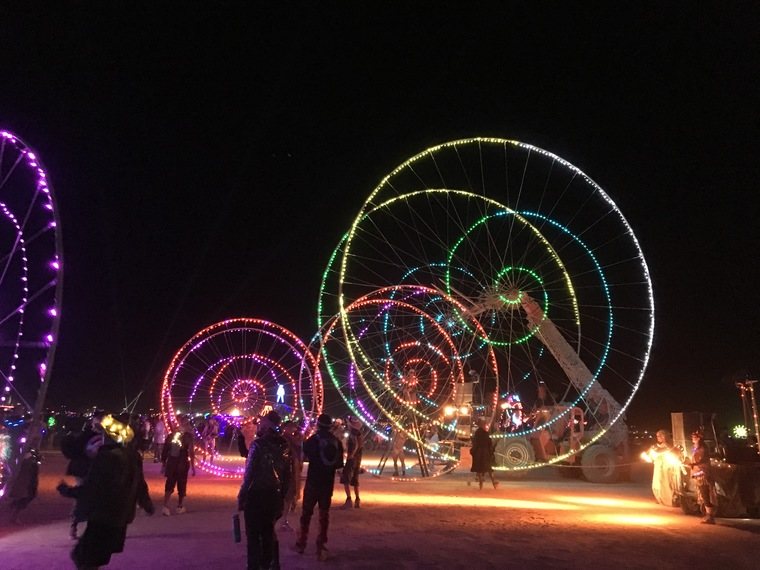 What I liked most about the Wheels were what a simple but powerful idea they encompassed. They were comprised of two connected wheels with a handler walking them forward from the middle. I heard they asked for a six hour commitment. The first time I saw them they were far away, then I saw them in Black Rock City, and then I was lucky enough to see two almost choreographed shows on the playa. There were a few different sizes, and the biggest one was attached to a crane. At the end of their routine they become attached to each other and they start to move vertically up. I could watch them perform for hours and hours. I hope they come back.
You can find more information about the Color Wheels here.
There's also details here about bringing the Color Wheels to Burning Man.
2. This Too Shall Pass – Moondancer
By Lekha Washington from Mumbai, India.
Another simple but powerful idea. At first it was like how are there two moons in the sky? It caught our curiosity. We watched the imposter pass through the phases of the moon and wondered how it could have been programmed that way. It was far away and we could only speculate.  As it appeared more often, we discovered that the moon was attached to a girl's bicycle. An art piece attached to a bike was a novel idea to me.
Eventually I managed to be close enough for answers. The artist's friend told us about it. The artist's name was Lekha Washington. The moon was an 11′ balloon that needed to be refilled with helium every day or so. One side was painted black, and the other side white. There were LEDs inside to light it up. There were some craters but the artist painted what she wanted. The wind turning it was what caused it to show different phases of the moon.
It was so effective. I hope it'll be back again maybe with more of the solar system in attendance. Some people called it the moon or Faux Moon (French for fake) or Fake Moon. It tricked a lot of people.
You can find more information about Moondancer here.
3. The Orb
By Bjarke Ingels, Jakob Lange, and NABO from Valby, Copenhagen, Denmark.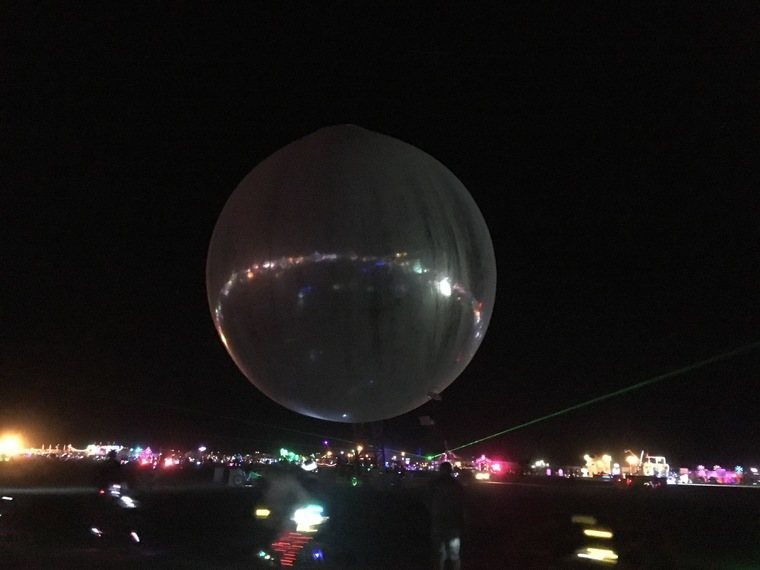 Horror films frequently have a big alien ship hovering over the Earth. This is what I was reminded of when I first saw the Orb.
You can find more information about the Orb here.
4. Autonomous Dancing Disco Bot
By Chris Wollard from Tulsa, Oklahoma.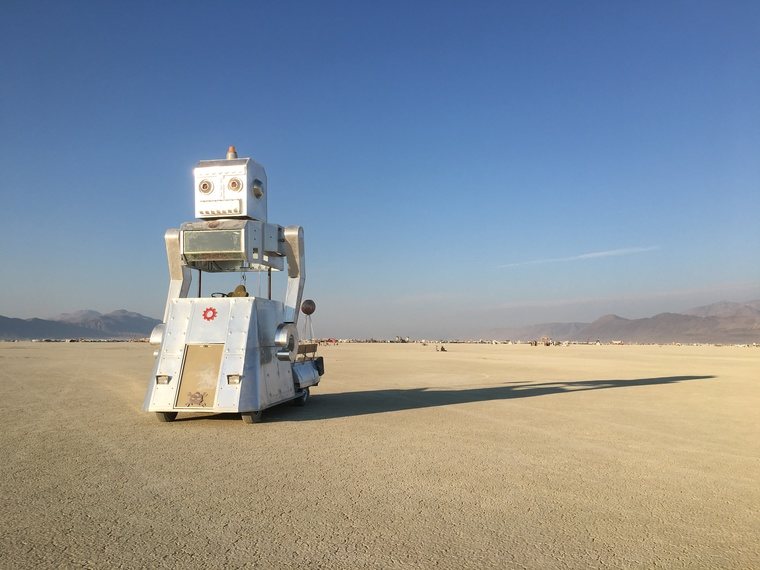 I fell in love as soon as I saw this art car. It was a bigger than life sized version of my childhood robot. The one whose whirring and bumping into things had me jump onto the safety of the chesterfield when I was small and it first made an appearance.
You can find more information about the Autonomous Dancing Disco Bot here.
5. Baba Yaga's House
By Jessi Sprocket Janusee and Baba Yaga's Book Club from Sparks, Nevada.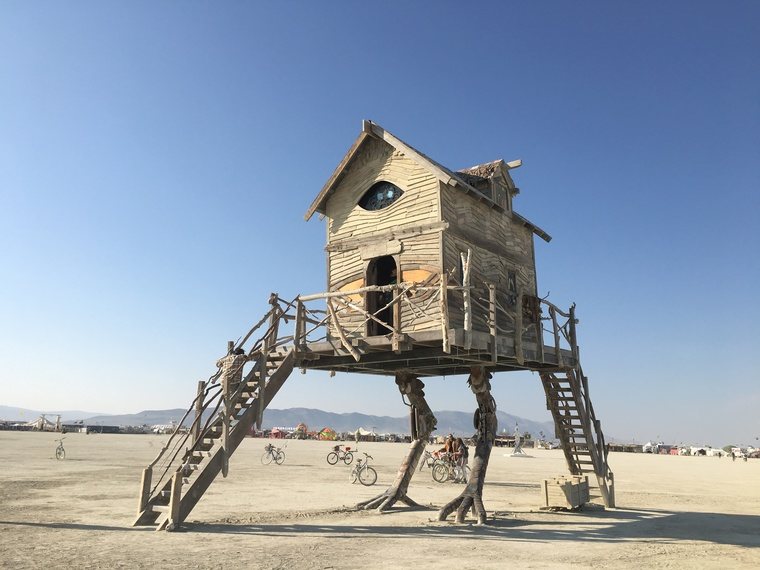 I play a table top miniatures game by Privateer Press called Warmachine / Hordes. In my Grymkin army one of my favourite warcasters is the Old Witch who is on her house robot called Scrapjack.
You can learn more about the Baba Yaga House here.
6. Singularity
By Rebekah Waites from Los Angeles, California.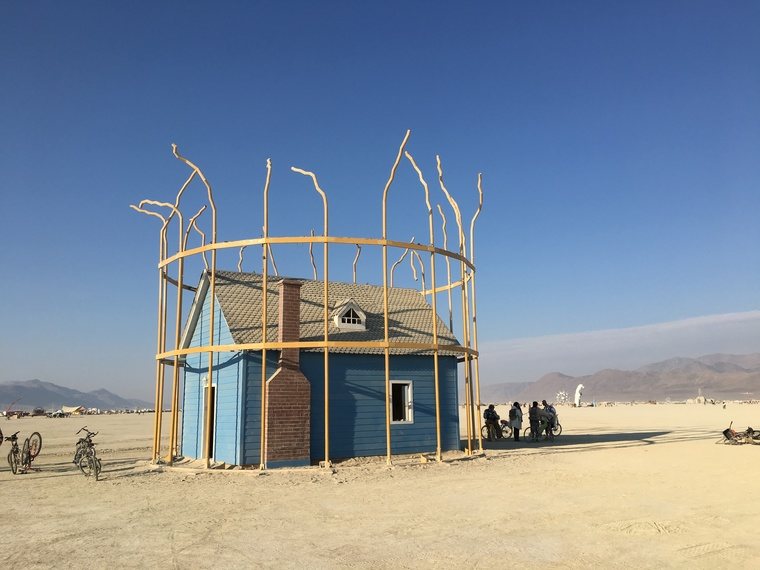 For the very first time I made an effort to learn how to read the art map. I marked out the big burns so I'd know what to see first. Singularity was one of these. I didn't know what a singularity was. In this case it was a house, inside a house, inside a house and it was a wonder to behold. Sad that it burnt though.
You can read more about Singularity here.
7. Rearing Horse
By Barry Crawford from Elko, Nevada.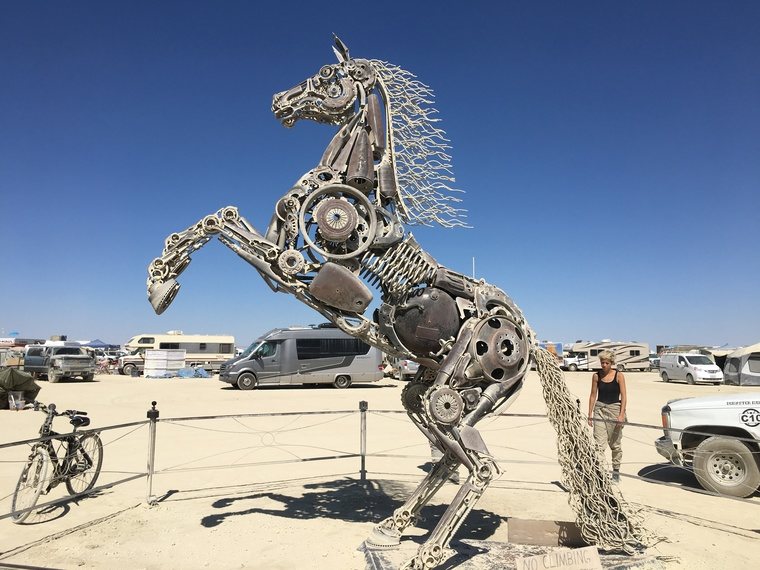 I have a horse. Usually not rearing though but I like horse stuff like statues.
You can find more information about the horse and artist here.
8. CROWN
By Charles Gadeken from San Francisco, California.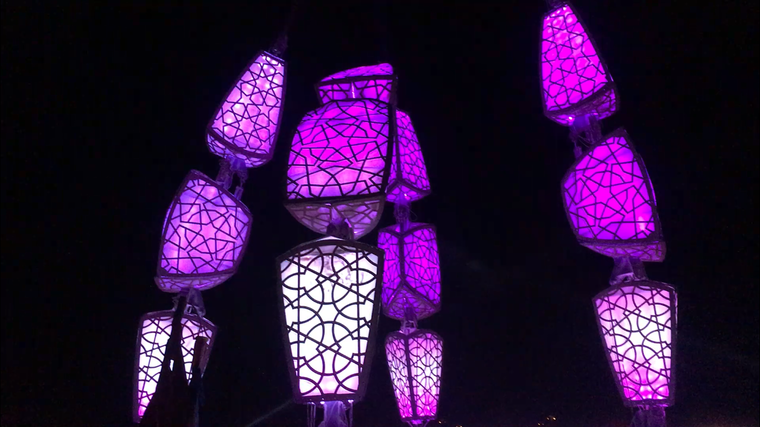 We met the artist. He was part of the Flaming Lotus Girls team since 2000. I would love the opportunity to work with them as well. The four spires move through hydraulics with ever changing lighting. There is a control panel that you can play with.
You can find more information on CROWN here
9. BEBOT
By Andrea Greenlees, Andy Tibbetts, and Josh Haywood.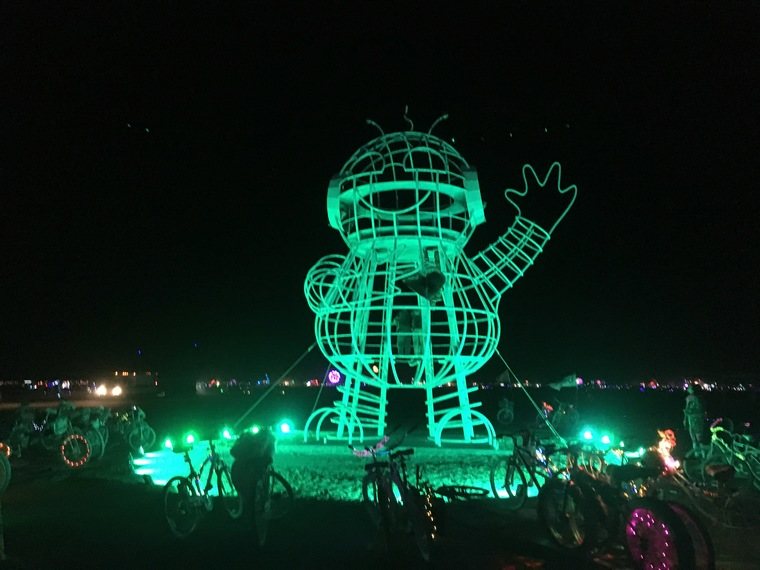 This little cute guy was off to the right of the Man. He reminded me of the minions in "Despicable Me". He was built to be climbed and had ever changing colours. He was 35′ tall.
You can find more information about Burning Man Project on BEBOT here.
10. Carousel Candeo
By Deniz Nicole from Ojai, California.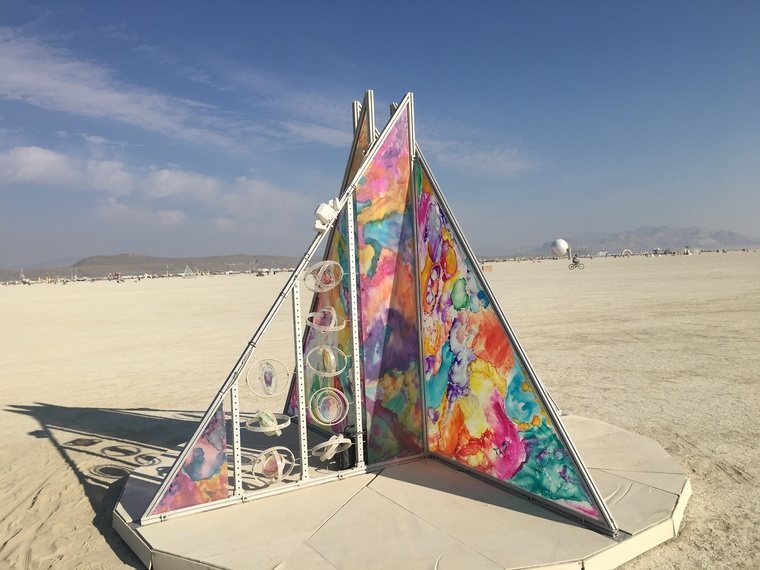 This piece is made of tempered glass with the bright colours painted with fire. The gimbals add to the fun by being able to spin them as well as the entire carousel.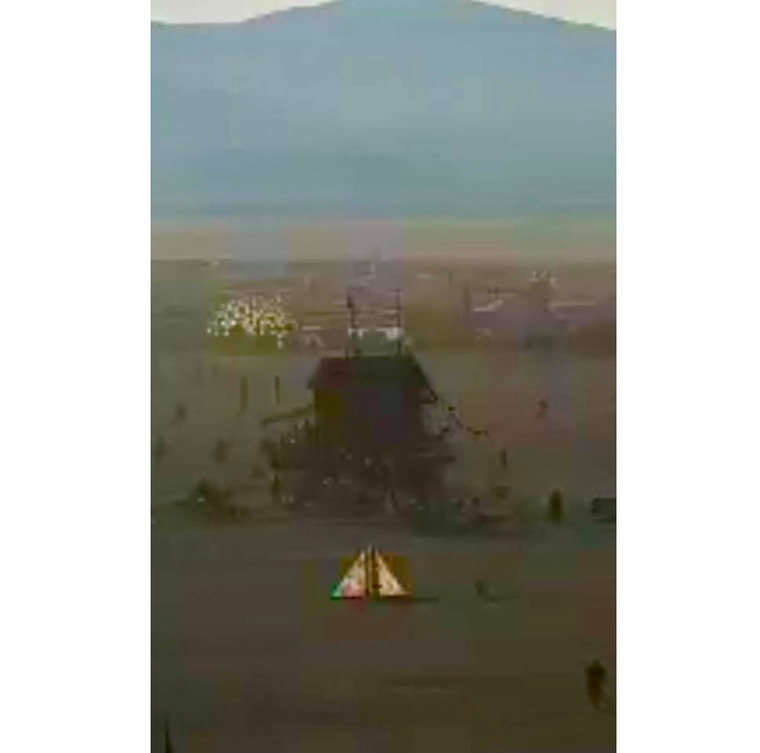 In the dawn light it shone like nothing else on the playa. This photo is thanks to the live feed, and alertness of Ray Cirino who captured this still at 7:30 am one morning. The Baba Yaga house looms behind it in the gloom.
You can find more information about Carousel Candeo and further art projects here.
Special mention to the Black Rock Observatory.
Sorry I have no photo but a visit there was very memorable. I'd recommend that you seek them out if you haven't already. For the very first time I looked through a telescope and could easily see the craters on the moon. I was very excited by this and am very grateful to have had this opportunity. You can find more information about Black Rock Observatory here.
As always I missed some art. Luckily others document what I've missed so that we can all enjoy it from the comfort of our homes.
For more information about Burning Man's 2018 Art Installations.