Having a small RV makes travel and camping so much easier. Before I bought my brother's 21' 1998 Coachmen Starflyte motor home, I had never even considered acquiring one. Why not? I simply didn't have the funds for such an expensive purchase. This one was possible because my brother only asked for $4,000 USD and another $1,000 for getting the engine and everything checked out. I've put in considerably more over the five years I've had it. I'll go into the associated expenses in another post. For now I'll go into the RV advantage.
Good things are:
1. You have walls and lockable doors. Much safer than a tent.
2. Because it's a mini-house you have all the comforts of home. Assuming that you've brought food and water you can retire inside.
3. Cheaper than a motel or hotel especially if you stay at a Walmart or other store, or at a rest stop. If you don't need services there is no need to stop at an RV park. Some of the RV parks are nice but if you have neighbours on either side then the only benefit is electricity, water, and sewer drainage. Unless you're planning to stay for more than one night there's no advantage.
4. You can save money on meals by using your own kitchen and food.
5. You can stop anywhere for the night. Some people enjoy "boondockin" especially on Bureau of Land Management (BLM) land. There you get the best scenery.
6. Unlike a camper trailer there's no messing with hookups or raising and lowering parts. It also drives like a car so there's no learning curve. Where it's not as good is that you can't disconnect a pickup truck from it and then go exploring on roads that are twisty and narrow like some parts of Death Valley.
7. It's better than a van with just a bed because it has full plumbing in the kitchen and bathroom.
8. Easier than having a camper top on a pickup truck as you need someone else to help put the camper on and off. I like the fact that I can just get in and turn the key and go. Which I can't do right now because I need to replace the starter battery.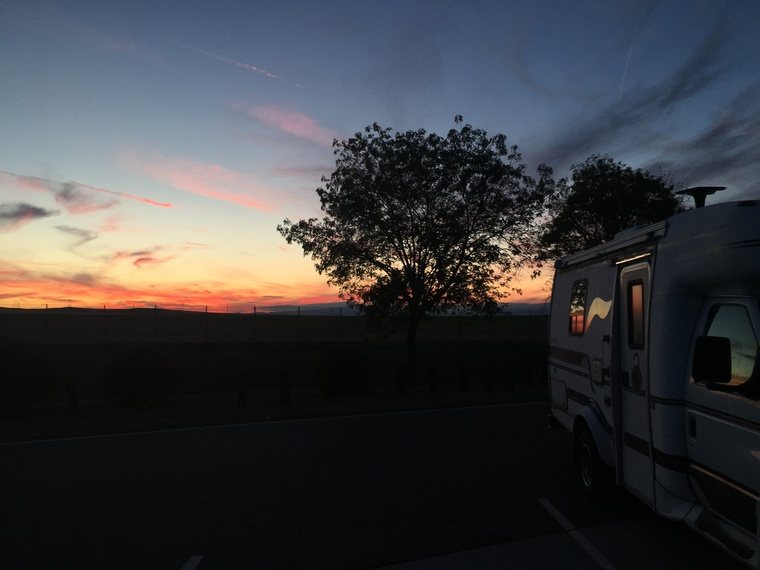 I had an older gentleman ask at a gas station if he could take a peek inside. He had a camper where you have to climb a ladder to go to bed. He said it was getting too difficult for him. He liked that mine has the bed at the back instead of over the cab.
A lady working at Yellowstone Park liked the small size of mine. She thought she could be quite comfortable with one. 21' to me is a great length. Only a touch longer than a car it almost fits in a regular parking lot space. I met someone with a really big RV. They said they couldn't overnight at Camping World because of the way the parking lot was divided by barriers. Kind of makes me wonder if that was on purpose to keep the big rigs out.
In Conclusion
I love my little Beastie. After I get some issues fixed I'll be able to take it camping again this summer. If you can afford one (plus repairs if it's an old one) I recommend doing it.