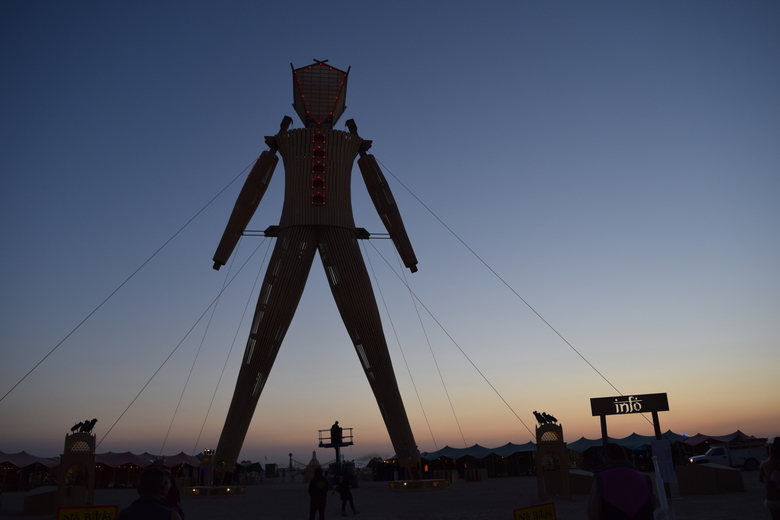 Burning Man is an art festival held in the Black Rock Desert in Nevada. It is always the week before and including Labour Day. People come from around the world to attend.
It originated on Baker Beach in San Francisco in 1986. A small crowd gathered to watch an effigy burn. An effigy is a wooden statue that may be a stylized man.
Burning Man is not a pagan festival. There is no religious significance to the event. It is not based on the Wickerman movie. There are misleading articles on the Internet that were written by burners as satire or to mock the naive who might believe they're true.
Synonyms for Burning Man:
burn – Various wooden sculptures are burnt creating a bonfire feel. Burning the art is supposed to be freeing or cleansing spiritually. Only the creators of the specific piece are allowed to destroy it. The burn remnants must be carted away as part of the event's leave no trace stance.
event – attendees of Burning Man prefer to call it an event instead of a festival due to its participatory nature. No spectators!
TTITD – That Thing In The Desert (Used in Facebook posts as in "I'm not going to TTITD this year." Probably partially as a way to avoid putting BM as a short form. (because, you know – the association of the abbreviation BM to portapotties.)
The Big Burn – as opposed to the regional smaller burns.
The Nevada Regional – implies that it isn't any more significant than the regional Burning Man events that take place around the world. This is tied in with people who love to argue whether or not going to "just" a regional event makes you a "burner" or not.
By the way: Do not call it "The Burning Man". It sounds all wrong. Either call it "Burning Man" or call it "The Burning Man Festival". Only people who haven't gone and don't know that much about it use the article in front of it. (Just like you wouldn't say "The Coachella" or "The Glastonbury".)
"It's only a week in the desert." This is an understatement and joke. A week in the hostile desert is a long time. You can die there, so be prepared like a good Scout.