Who doesn't love a brightly coloured desert flower? Against the sand coloured background they stand out vividly. I visited the deserts in March and April last year. The coordinator of the life drawing drop-in in Joshua Tree, told me "The desert is the most verdant it's been in years." It was the perfect time and year to visit the desert. Everything was in flower. There were more flowers than I would have thought possible.
I have grouped the flowers according to which desert area that I found them in.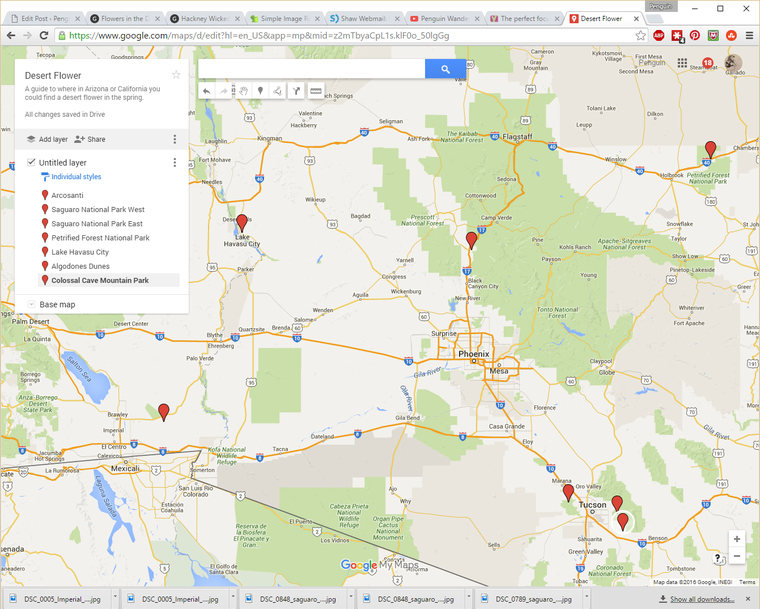 The link to the Google My Maps is here:  Desert Flower Map
I have attempted to identify each desert flower that I've photographed. Last spring, on my Salt road trip through the desert, I purchased three field guides. The links open in a new tab.
My favourite book is small enough to carry with you, and shows the entire plant but with smaller photos for details.
Cactus of Arizona Field Guide by Nora and Rick Bowers, Stan Tekiela
The next book has some interesting facts but it only has one photo per plant. I needed this book for all the non-cactus flowers in the desert.
100 Desert Wildflowers by Janice Bowers
I didn't find any of the plants in the following book but it would be very useful in selecting plants to grow at home. There is one called Aeonium arboreum 'Schwarzkopf' that I didn't see in the desert but I have seen in gardens. It has purplish black vaguely cabbage like heads on stalks. My Nick's Garden  article has Aeoniums.
Cacti and Succulents, An illustrated guide to the plants and their cultivation by Graham Charles
1. Arcosanti, AZ
These are flowers that I saw around Arcosanti. I believe that this is a New Mexico Thistle (Cirsium neomexicanum Gray).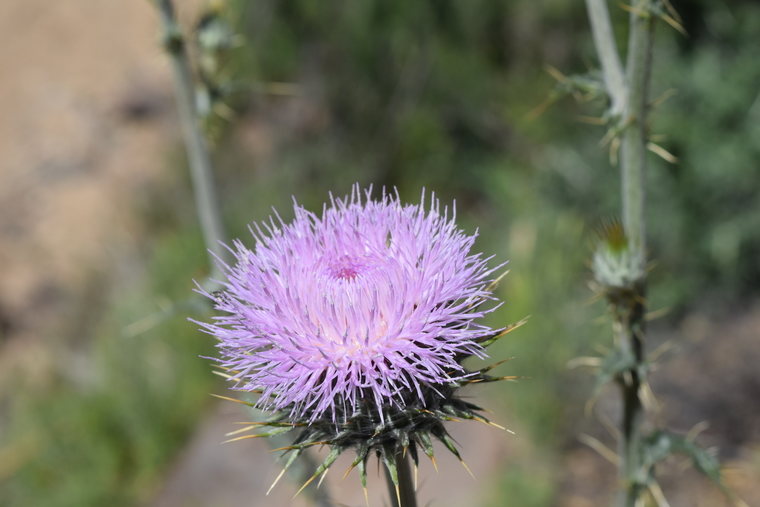 Next is an Indian Paintbrush (Castilleja sp.). It can't grow on its own. It needs a host plant for water and food. They are hemiparasitic.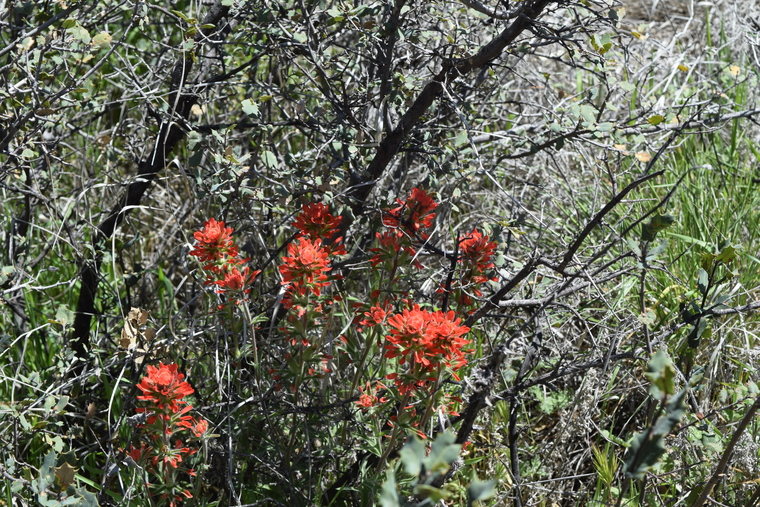 2. Saguaro East & West National Parks, AZ
The park is separated on two halves around Tucson. There were many bees buzzing around.
The Jumping Cholla has segments that detach easily. I made sure to never brush up against a cactus. It's hard to tell different types of Cholla apart but I think this one is a Cane Cholla (Cylindropuntia spinosior). The flower center on a Jumping Cholla has many white stamens which this one doesn't.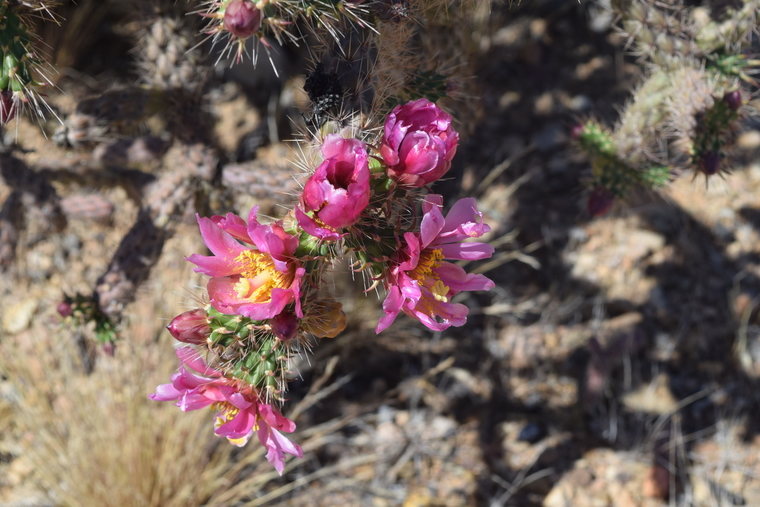 This is a Paperdaisy (Psilostrophe cooperi (Gray) Greene) member of the Sunflower family.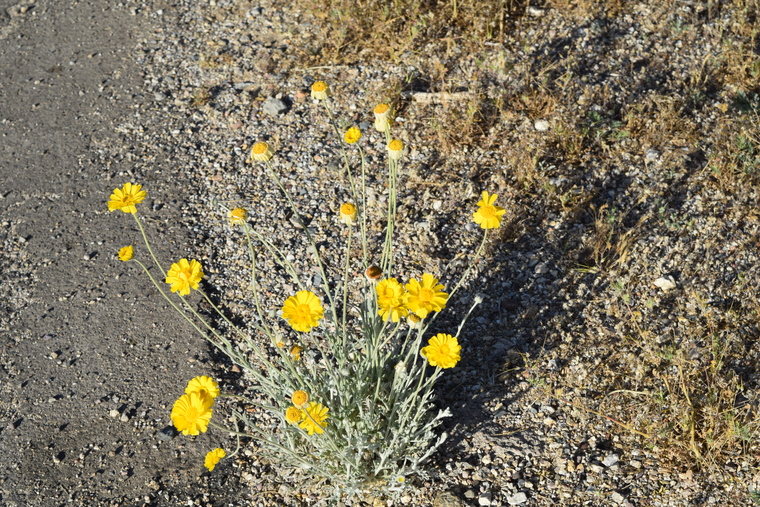 Below are Ocotillo (Fouquieria splendens Engelm) flowering in time for the northward hummingbird migration. I saw a great many Ocotillo on my trip. It is not a cactus.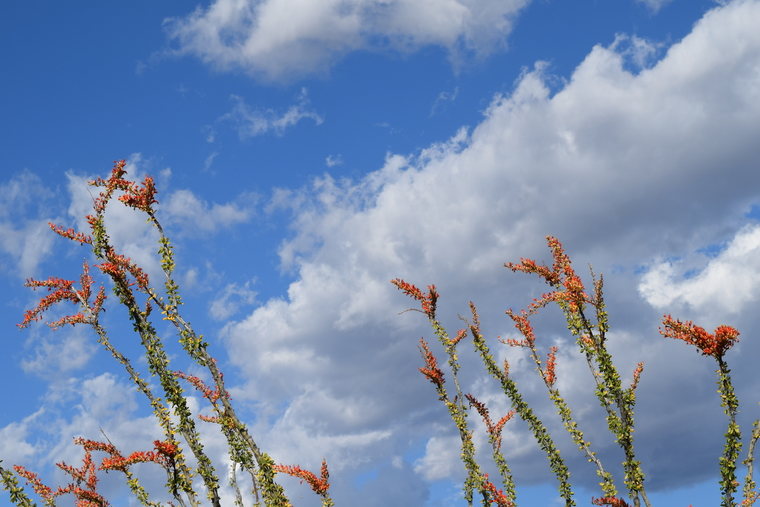 It's easy to see that this is Engelmann Prickly Pear with the big flat cactus leaves. The blossoms turn peach as time passes. I wish I had known that at the time I saw them as there were different coloured ones. Javelinas (wild pig like) can eat the leaves (called pads) including the spines for food and moisture. Their kidneys get rid of the oxalic acid that makes the Prickly Pear poisonous to other animals. People do eat the pads and I've seen them in American grocery stores. Eating too many can cause diarrhea.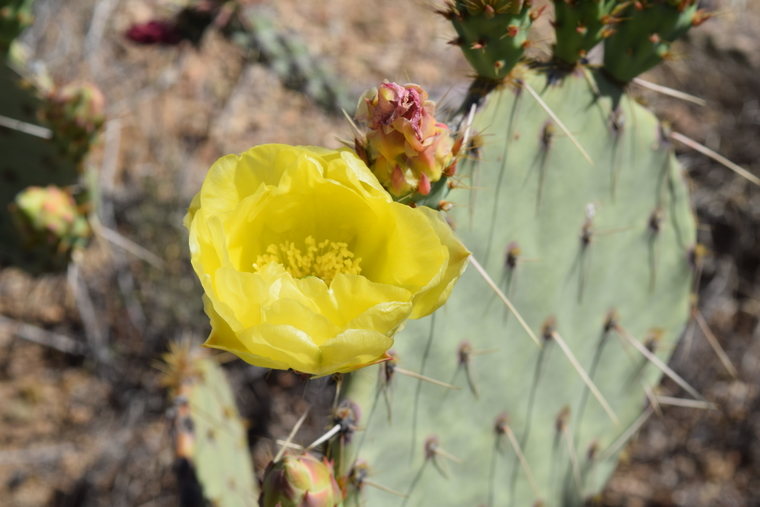 The red flowers with the yellow centers below are on a cactus called Buckhorn Cholla (Cylindropuntia acanthocarpa). In the old days, the American Indians steamed the unopened flower buds for food.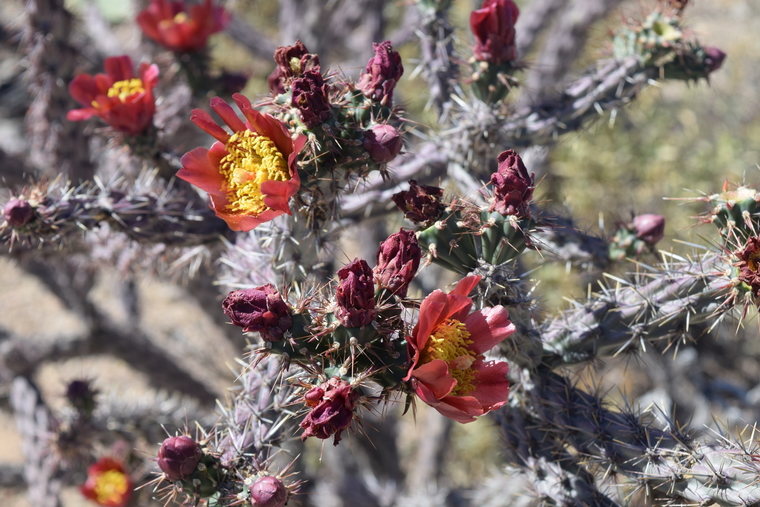 The clump of greyish flowers at the front are interesting but I couldn't find out what they are. Do you know?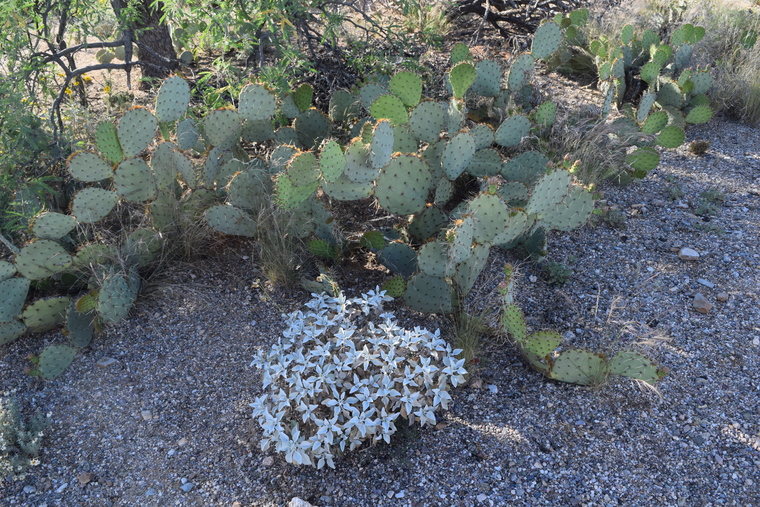 Penguin is looking at the Ocotillo.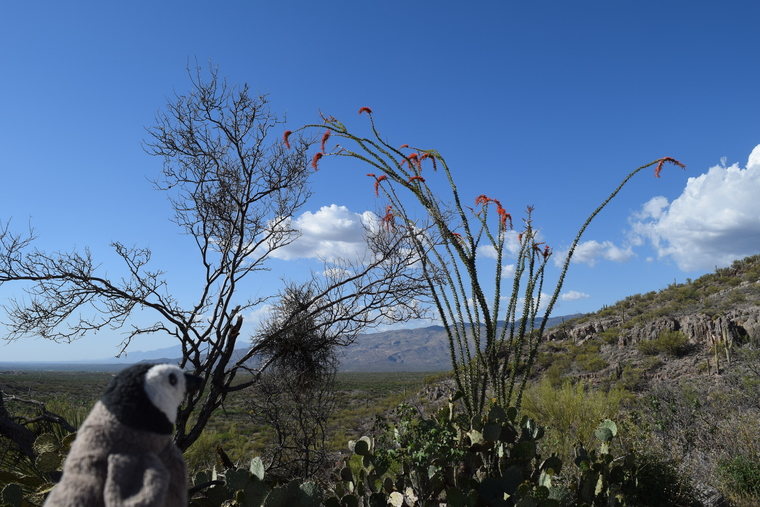 Another Prickly Pear.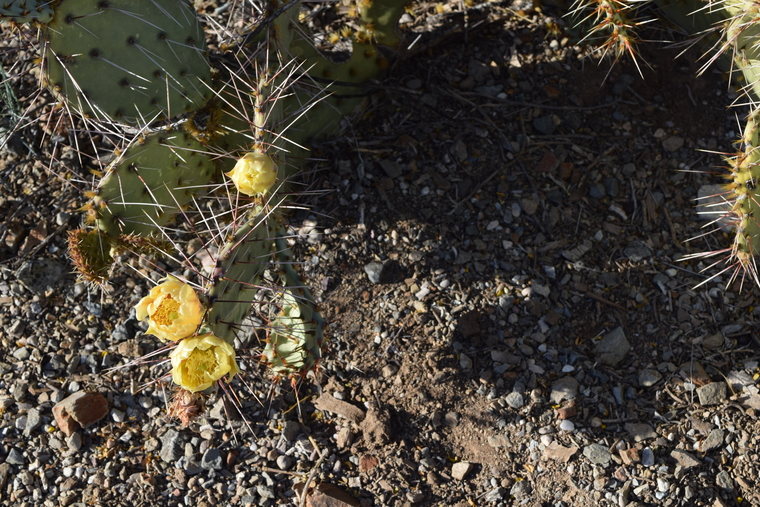 A border patrol officer stopped to look at my RV when I stopped at the off-road Ocotillo Wells area. I had wanted to take a photo of the deep green tree across the highway. The excitement of dealing with an official made me forget. Apparently so close to the Mexican border they check to make sure nothing bad has happened to tourists. He identified the yellow trees as Paloverdi. The National Park Service states that this is the Arizona state tree.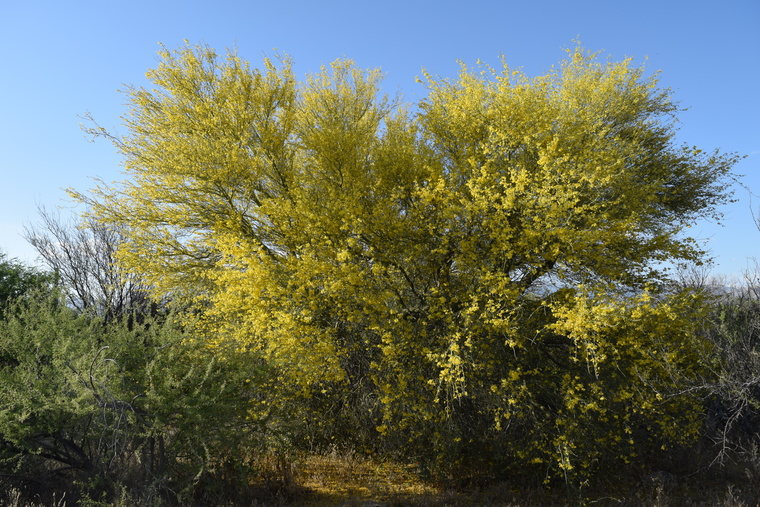 3. Petrified Forest, AZ
There were flowers among the petrified logs. The stems make me think that this is a Cane Cholla (Cylindropuntia spinosior).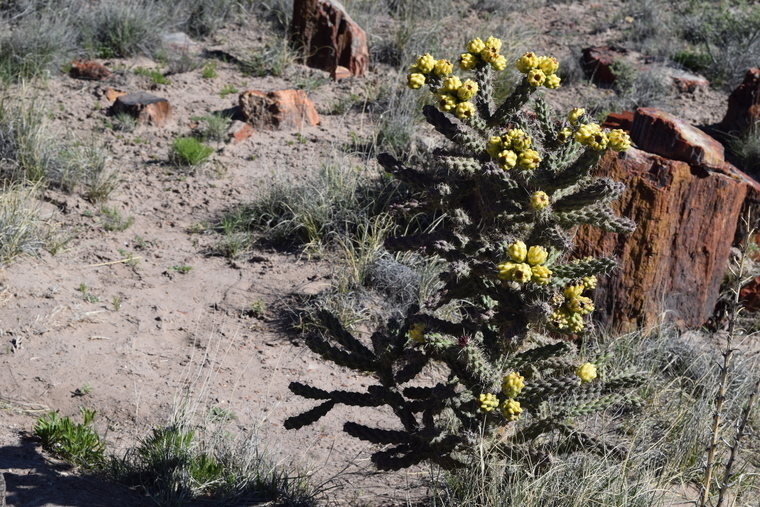 I think that Penguin is standing next to a Cream Cup (Platystemon californicus Benth.) which is a poppy.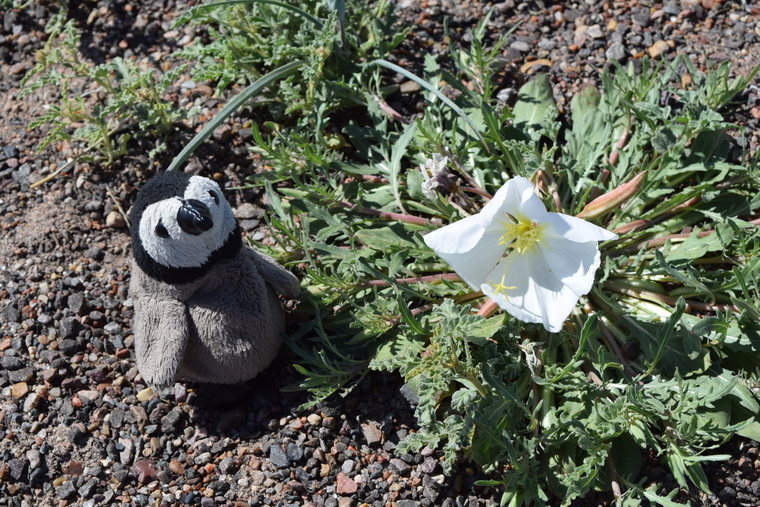 Now Penguin is standing near a Desert Dandelion (Malacothrix glabrata).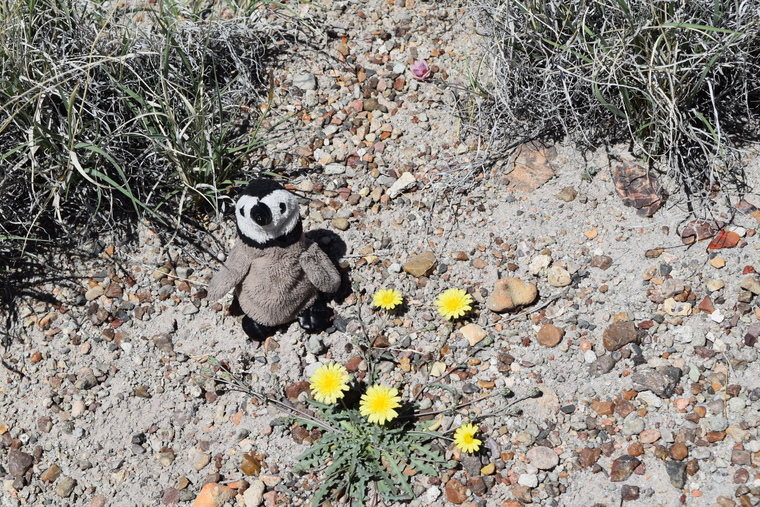 4. Lake Havasu City, AZ
It's hard to think of a lake as being in a desert. This was near the parking lot. I think this is another Paloverde.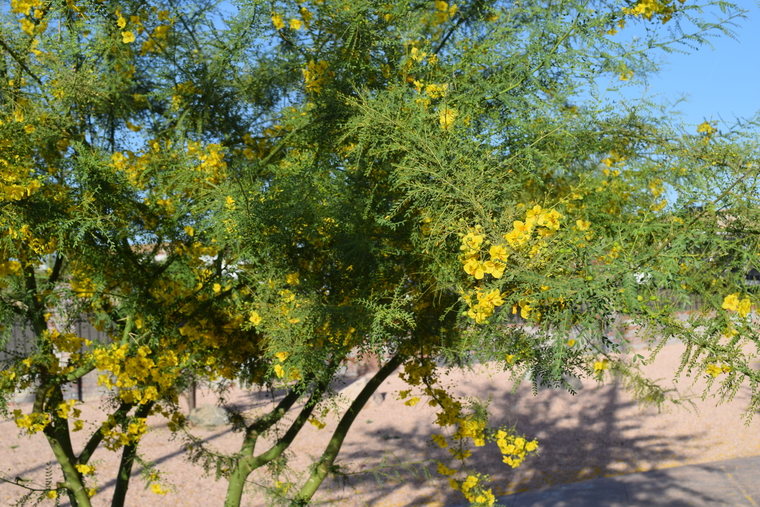 5. Algodones Sand Dunes, CA
I only managed to stop at a Highway 8 rest stop. These were small plants growing in the cracks of the curb. I couldn't figure out what they are.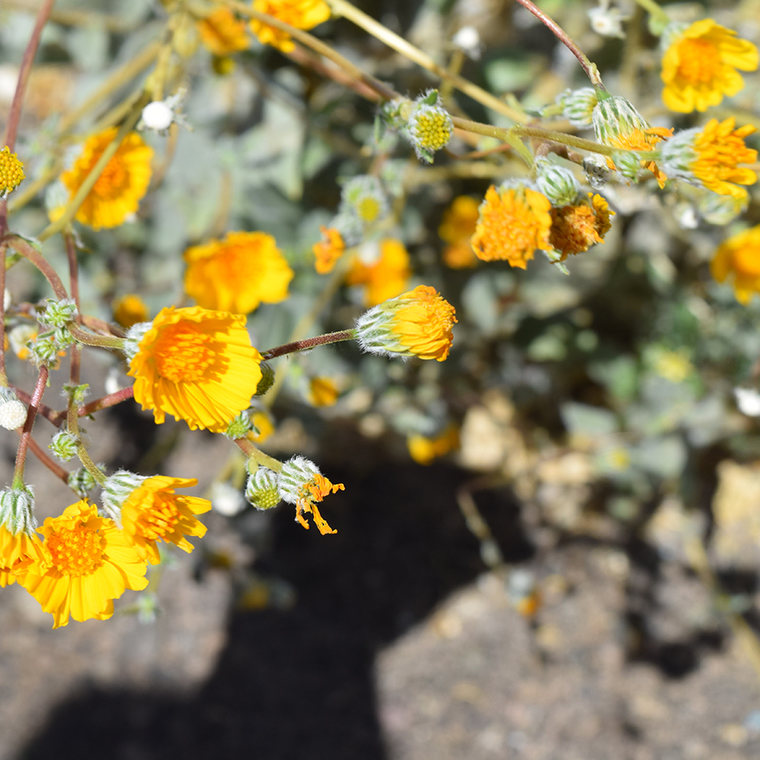 Tree at the rest stop. I think this tree is Ironwood (Olneya tesota Gray) since it has pink, sweet-pea shaped flowers.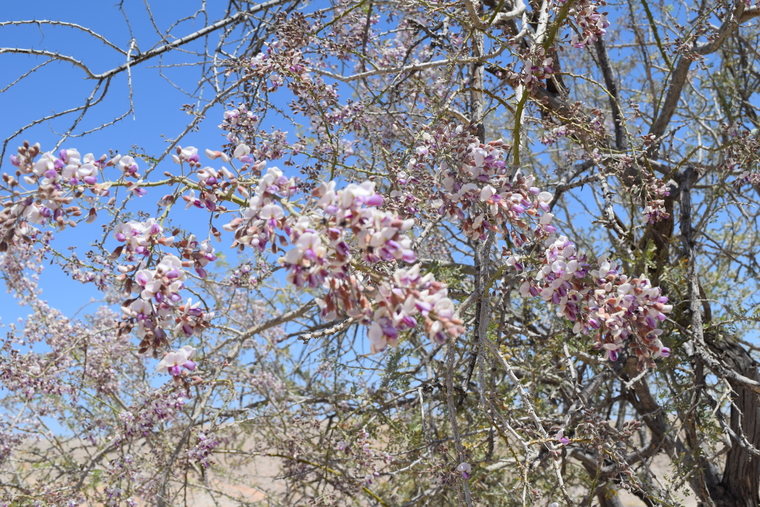 6. Colossal Cave, Vail, AZ
I saw a sign for this so I followed it not knowing what it would be like. There are some Prickly Pears.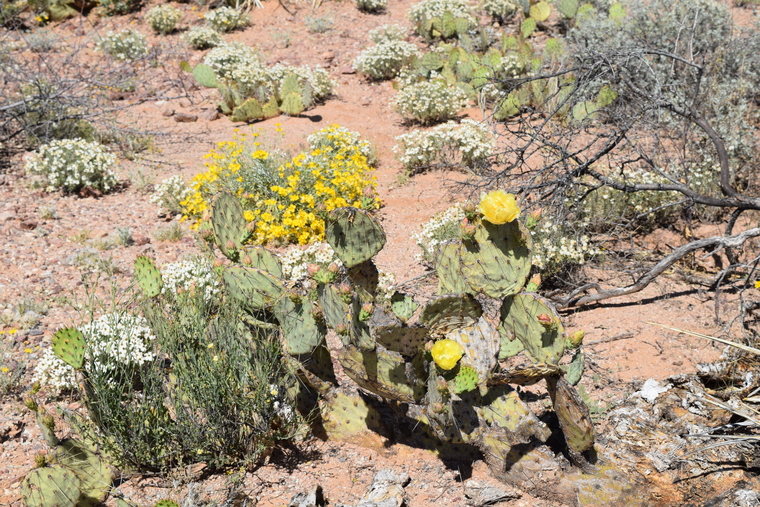 I'm glad that I took the opportunity to see what a desert can be like. In the olden days of the Wild West, ranchers thought that a desert was useless dead land. In truth, as I learned at the Saguaro National Park in Tucson, AZ, it was the cattle that trampled all the desert plant life. With the cattle gone, the plants are recovering. Have you seen the desert in bloom?