Our Cloud Shadows road trip from Louisiana to Vancouver Island took us to Montana.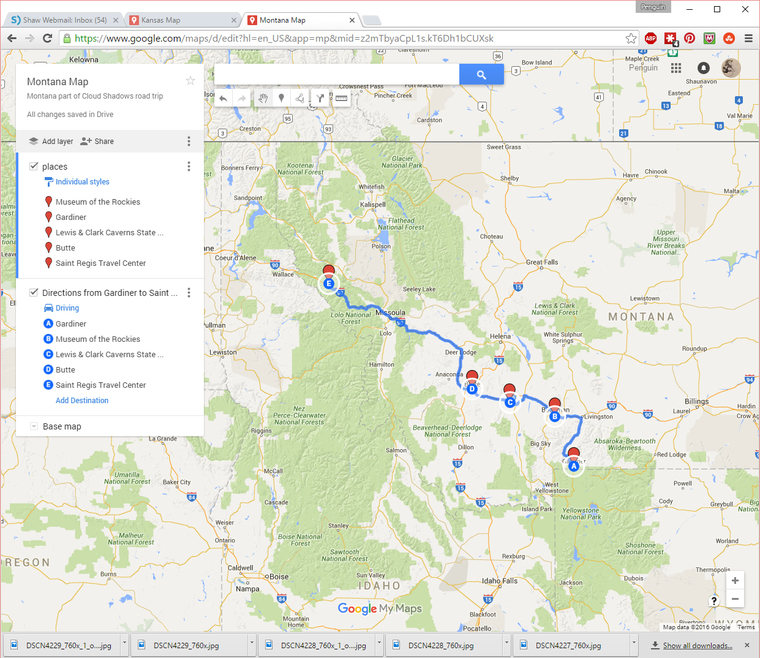 The Google My Maps link is Montana Map
My son and I each had our important destination there. He wanted to go to the Museum of the Rockies to see the dinosaurs. I wanted to revisit the Lewis and Clark Caverns that I remembered from when I was a toddler.
We left Yellowstone by going straight north. There was a cliff next to the road and no guard rails. My son said, "Make sure we never go out this way after dark."
We reached Bozeman in the evening and made our way through town to the campground. Then we went back to town to look for a place to eat. Everything was closing but we managed to buy a few things in a small grocery store. The town is pleasant and seems to be a university town.
In the morning we went to the Museum of the Rockies. Outside was Big Mike, a T-Rex.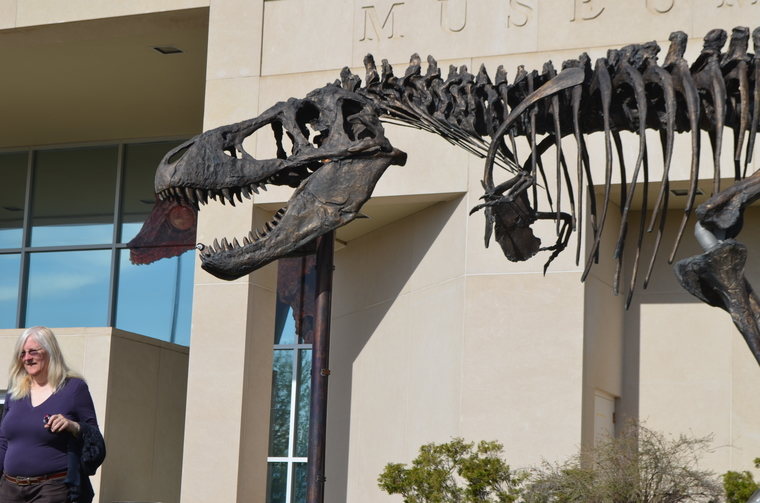 We had to get the obligatory photos of Penguin in mortal danger. Look closely below. Where's Penguin?
Did you find him?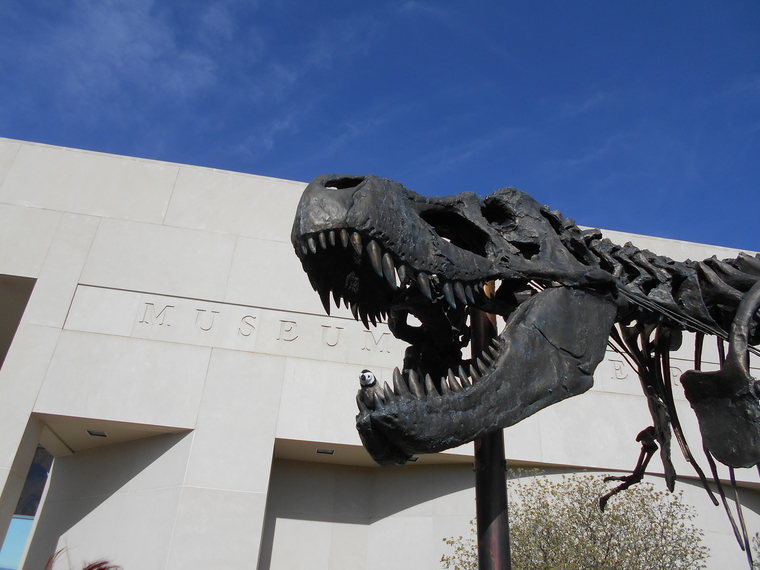 How about now?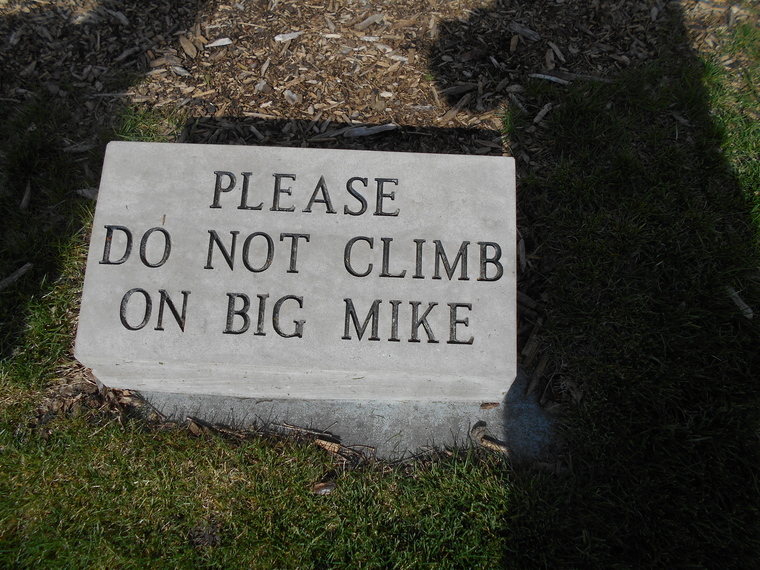 Penguin is a rebel and always breaking the rules.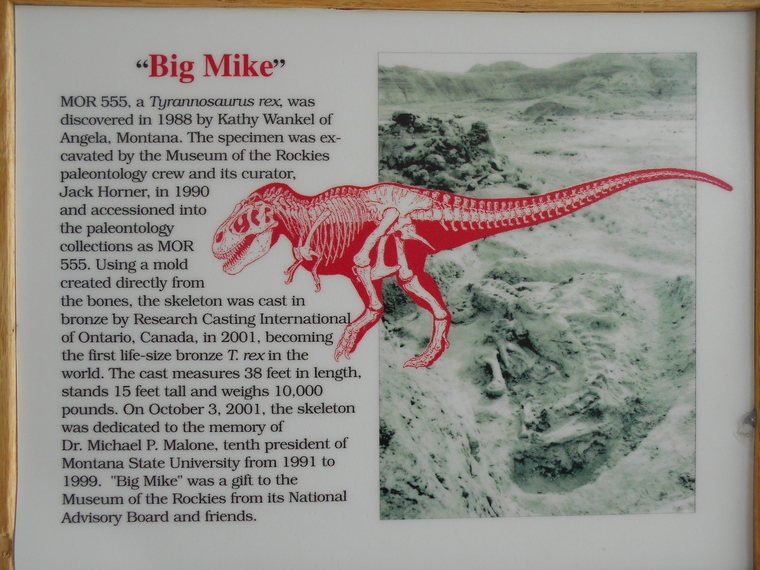 Inside the museum there were many dinosaurs.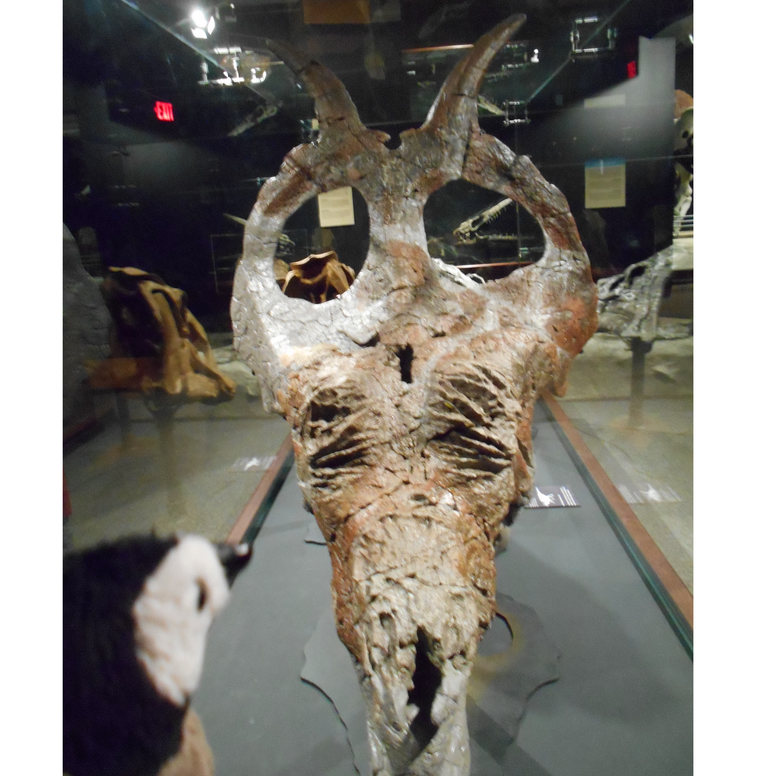 What I found fascinating was about the Triceratops versus the Torosaurus. They were the same dinosaur except that the Torosaurus was fully grown. There were examples of different skulls from different time periods. Well worth going to have a look.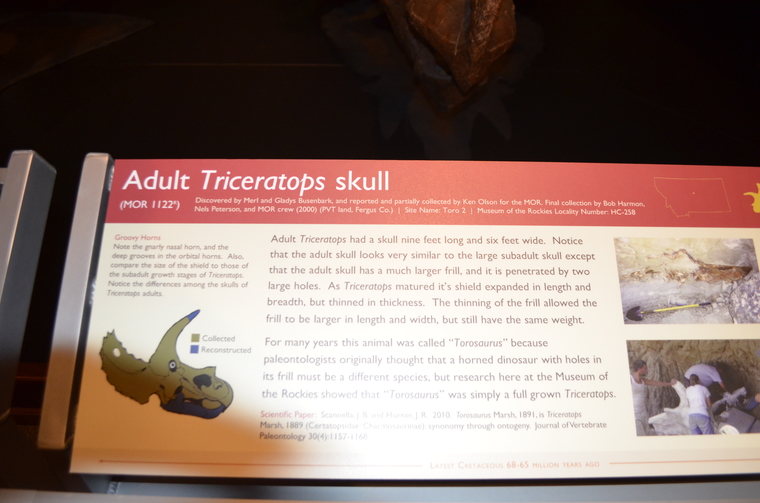 There was also an extensive gecko exhibit.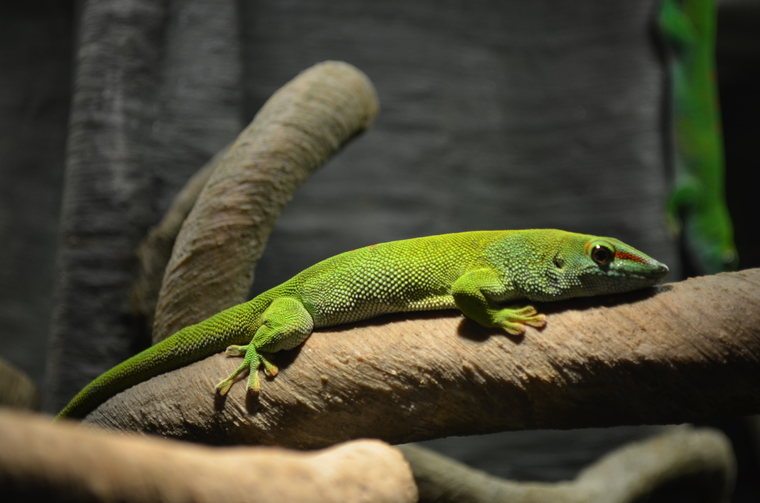 There was also a planetarium.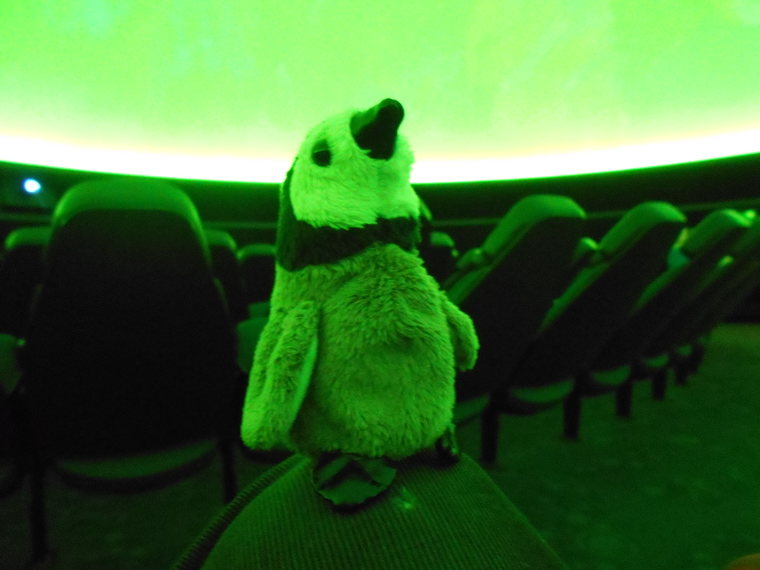 We all enjoyed the show.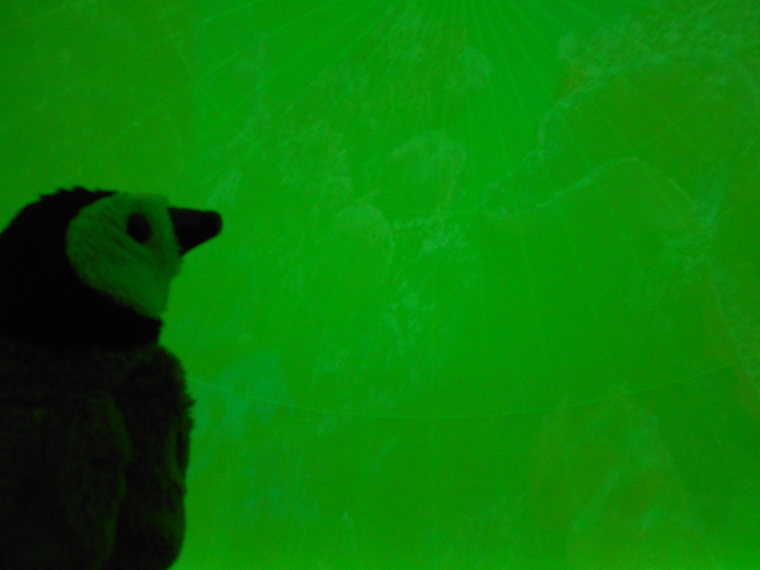 In the museum gift shop, Penguin found his page in a penguin field guide.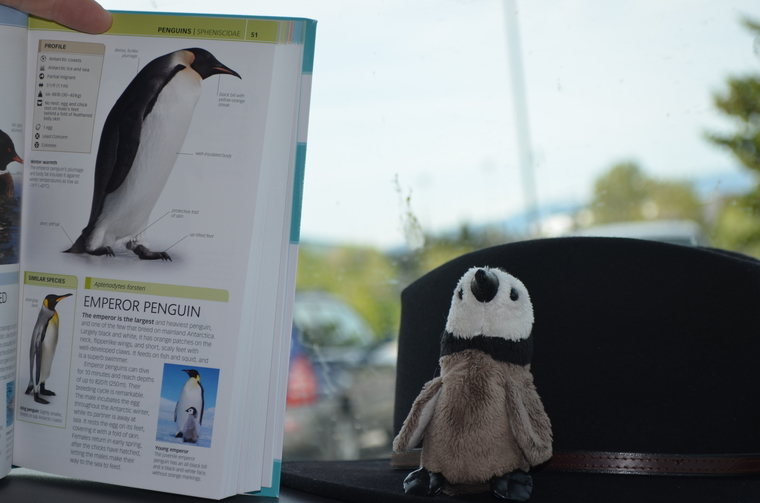 We left the museum in Bozeman and headed west.
The Lewis and Clark Caverns are close to Whitehall. You have to drive part way up a mountain. On the way there was a place to leave trailers. At the top is a parking lot and gift shop. I went and bought a badge / patch for my Scout blanket. I was a leader in Scouts Canada for many years. Sewing badges onto my campfire blanket is a way to collect and display inexpensive souvenirs of my travels.
The tour begins with hiking farther up the mountain. I didn't believe that my parents would have done that when I was little. I was right. There used to be a tram. No longer so we had a warm hike which is why they suggest carrying water with you. The view from the cavern entrance was extensive. We learned that Lewis and Clark were never near the cavern. They had only been far down in the valley.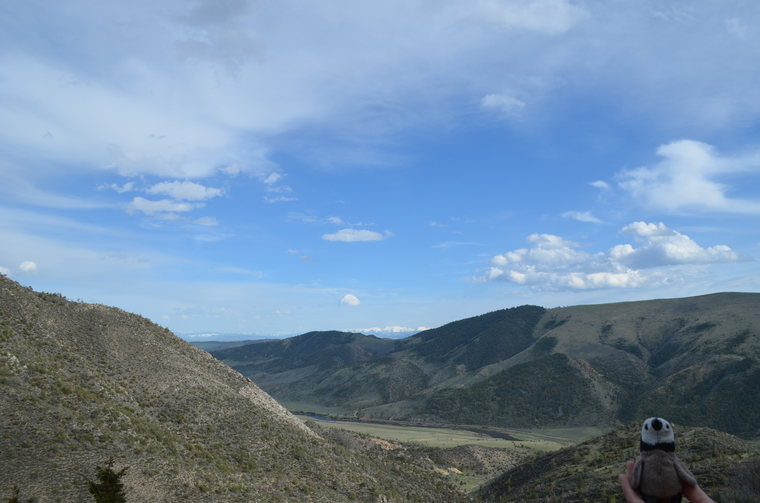 I remembered sitting on my dad's lap sliding down a short tunnel when I was little. We found the section of the cave. I sat on my own bottom and it got wet from the moisture in the cave.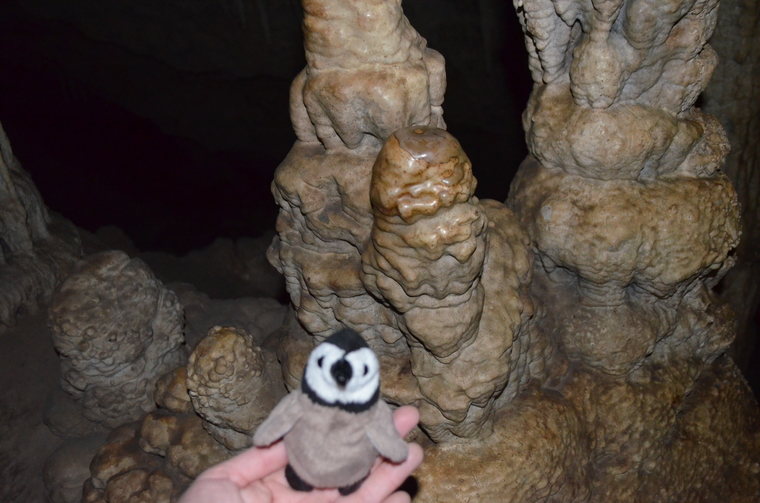 There were many photo opps for Penguin.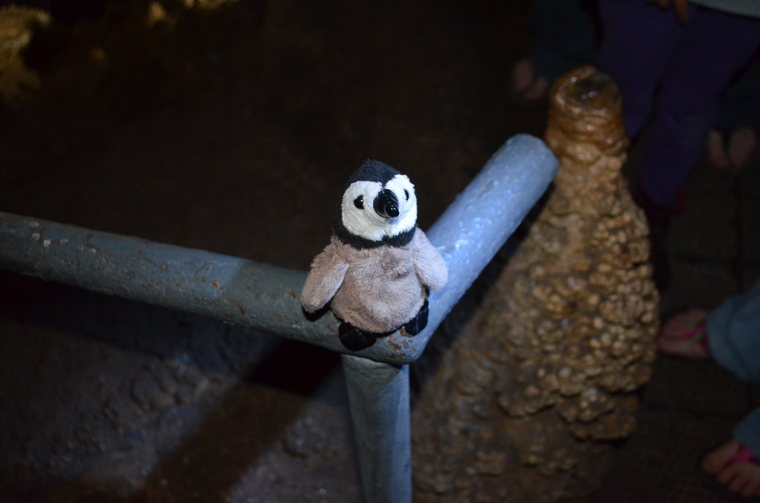 Near the end of the tour they turned on coloured lights to show the formations.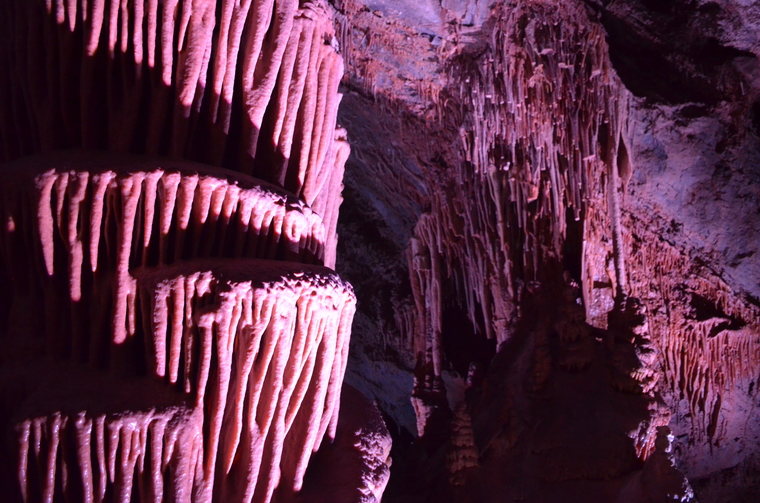 Back outside we saw where the tram had gone.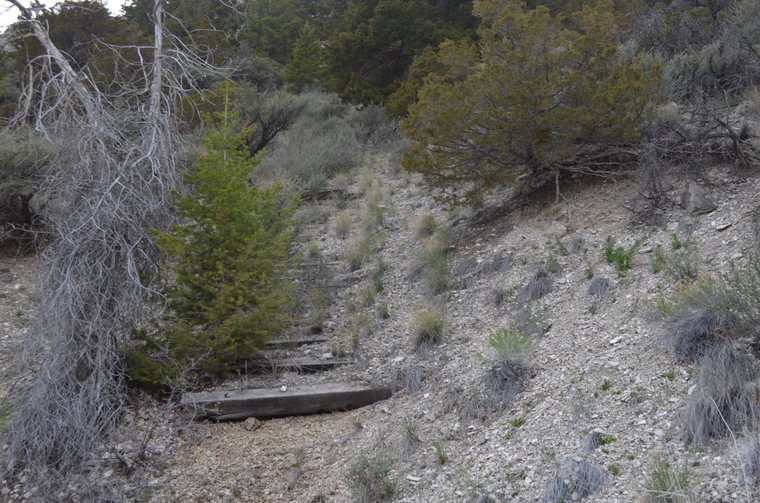 When we returned to the RV, it was quite stinky. That's when we learned about dropping tablets into the toilet to take away the odor. The advantage of cell phones is you can easily text questions to someone who knows like my brother.  I bought the RV from him.
We headed to Idaho to visit my musician friend, Cherie. She texted me "Around mile maker 33 in St. Regis, Montana there is a rest stop fun store that has really good homemade huckleberry ice cream. Good stop to make."
We found the store and saw the trout aquarium at the back of the store. There were three walls of tanks with different kinds of trout in each. I bought a pirate penguin purse there for me and a big brown plush bear holding a baby to take back to my 90 year mother. And of course we bought the homemade huckleberry ice cream!